AUSTIN, Texas – On Monday crews broke ground on the Austin FC soccer stadium. One of the many decisions going into the planning of the stadium, is what type of grass will be on the pitch.
Austin FC field will have real grass, not turf
Groundskeeper used to work at Fenway Park
Currently growing different grass varieties for Austin FC
Westin Appelfeller received a degree in turf science and went on to work as a groundskeeper at the legendary Fenway Park, home of the Boston Red Sox.
"I don't necessarily dream about grass, but I have woken up from many a dreams to think about grass." -- Westin Appelfeller, Austin FC groundskeeper.
After his time at Fenway Park, Appelfeller worked for the Philadelphia Union and Columbus Crew, spending a total of 10 years in Major League Soccer. Now he's doing what he calls his dream job by building the field Austin FC will call home.
"Working with the architects and the field designer and all that sort of thing, getting everything exactly how I want it, it's the most exciting portion of my career by far," he said.
RELATED | Austin FC Breaks Ground on New Stadium
While it is exciting, the job is more demanding than it appears. It's up to Appelfeffer to decide what grass will go over the turf.
"Soccer players, in general, want to play on natural grass more than anything," Appelfeller said.
PHOTO GALLERY: Austin FC Stadium: New Renderings Out
There are a lot of different types of natural grass, such as Seashore Paspalum, Tiff Tough Bermuda, and Latitude 36 Bermuda. Since January, Appelfeller has been raising patches of the different grass varieties outside the team office, trying to figure out which one will make the perfect pitch.
"They get about six to seven hours of natural sunlight a day, which we feel is about similar to what the actual playing surface at McKalla Place will have," Appelfeller said.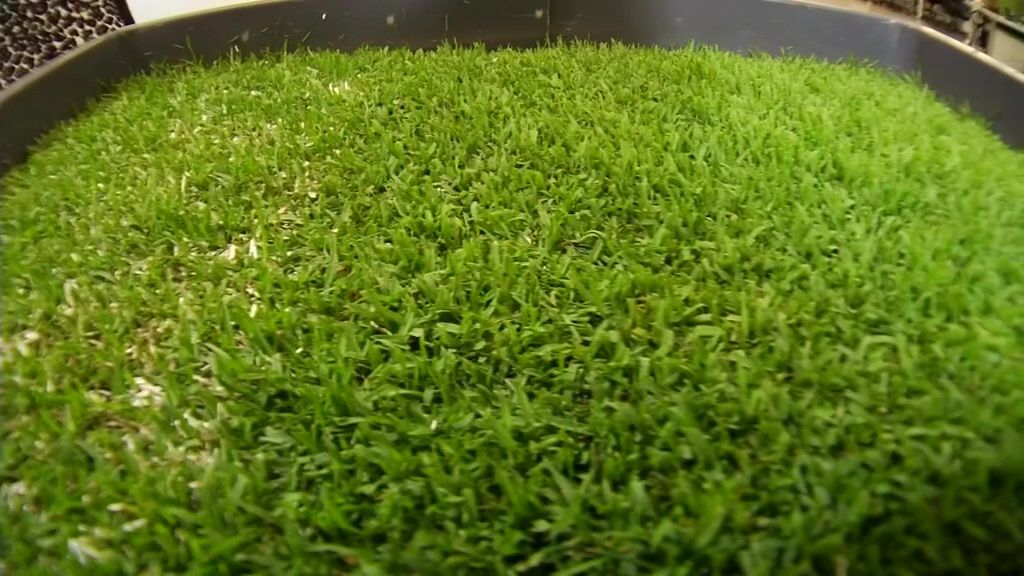 At this point, the grass samples are like his babies. Appelfeller waters them, feeds them, cuts them, and studies their behaviors; learning things like how they handle the Texas heat. He also uses a tool, called a sheer tester, which mimics a player's cleat tearing up the grass.
"It gives you a number that is how much pressure the grass can hold before it gives out. And we can use that number then to see, 'Well, this grass is stronger than this grass, or this grass is stronger than that grass,'" said Appelfeller.
That lets him know how quickly the grass would recover from a divot, and most importantly, how much water each type of grass would need to keep the athletes from getting hurt.
"The players have a lot of things to worry about. We want them to not have to worry about what the field is underneath them," said Appelfeller.
There is a frontrunner, but the team won't make a final decision until closer to kickoff.
"Whichever one we choose, it will be probably the first piece that gets installed in the stadium."
But one thing's for sure. Every decision Westin makes, will be rooted in Austin's soccer history.
"Just being involved in something from the beginning, it's exciting, the city's excited, we're excited, and I cannot wait for that opening match," said Appelfeller.​
The team is also looking at environmental factors as they make this decision, hoping to limit the stadium's carbon footprint. Some grass types require more or less water than others, some can take organic fertilizers, and some would require more electricity based on lights and fans needed to make up for a lack of sunlight.
RELATED STORIES: