Democrat Francis Conole has pulled ahead of Republican Brandon Williams in the race for New York's 22nd Congressional District, though the race remains a close one, an exclusive Spectrum News 1/Siena College poll released Friday found.
The poll shows Conole drawing 46% of support, with 42% saying they are backing Williams. That's a reversal from an exclusive Spectrum News 1/Siena College poll from early October, which had Williams leading Conole 45% to 40% for the Central New York House seat. With a four-point difference between the two, the result falls within the survey's 5-point margin of error.
Another marked change from last month's poll is name recognition. In that poll, more than half of voters, 55%, said they had no opinion of Conole, while 62% had no opinion of Williams. In the current poll, only 36% had no opinion of Williams while 30% have no opinion of Conole. Of independents, Conole has 45% of support to Williams' 39%. That's also a drastic change from the poll last month that found Williams leading with independents by 23 points.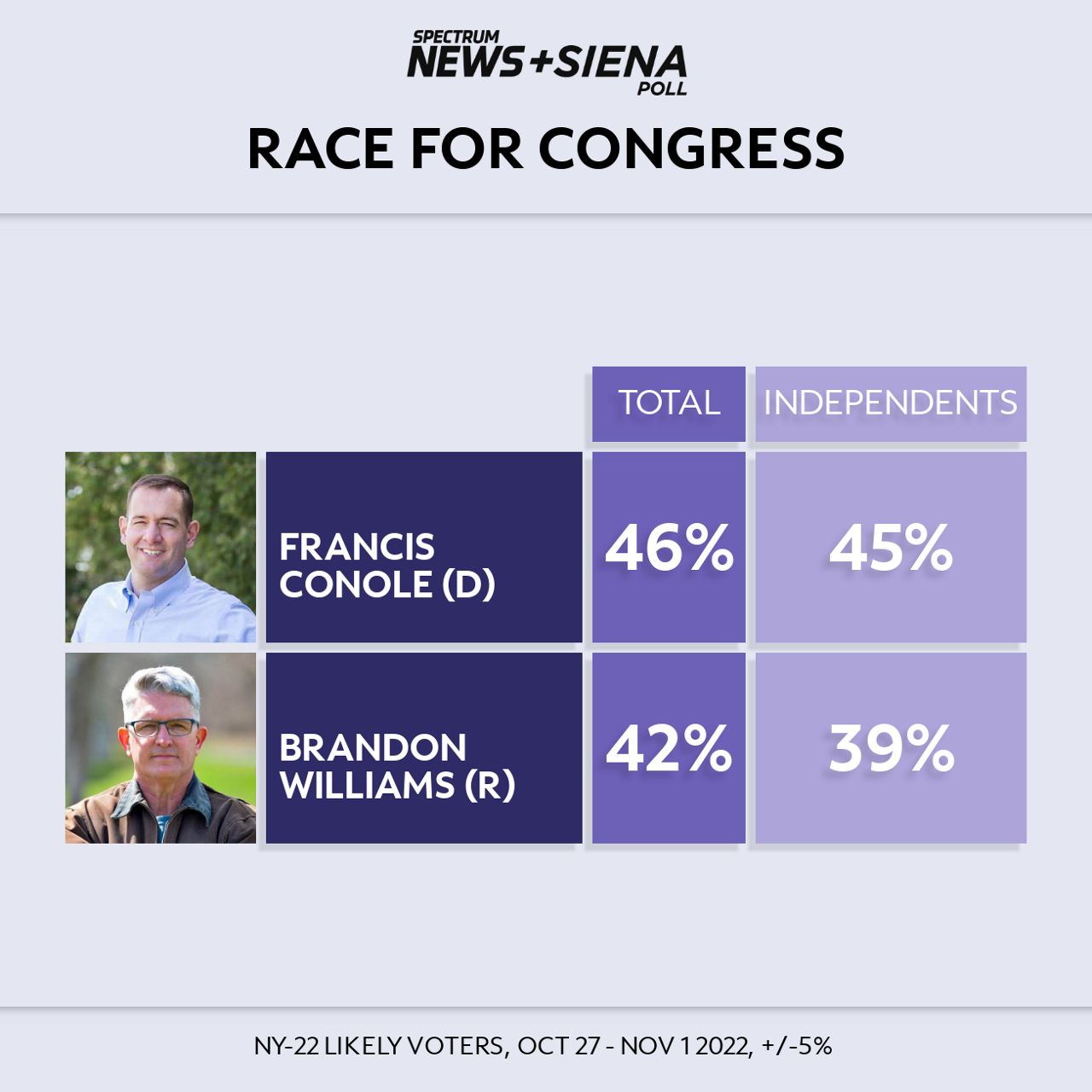 Among voters, 35% said they had a favorable view of Conole compared to 35% who said they had an unfavorable view; while 26% said they had a favorable view of Williams, compared to 38% who said they had an unfavorable view.
Steven Greenberg, pollster with the Siena College Research Institute, said the flip emphasizes the closeness of the race in a new district.
"We thought this race was going to be close in September with our first Spectrum/Siena poll. Clearly this race is going to go down to the wire based on this poll," Greenberg said.
The new 22nd District, redrawn as part of redistricting, comprises of Onondaga, Madison and Oneida counties, as well as a small portion of Oswego County. The region has long been a battleground for both parties in Congress and is a race that will be closely watched as both parties fight for control of the House of Representatives. Republican Rep. John Katko, who represents the current Syracuse-based 24th District, is retiring at the end of the year. Republican Rep. Claudia Tenney represents the current 22nd District but is running for the massive new 24th.
The race for New York governor among voters in the 22nd District is also close, with current Gov. Kathy Hochul leading with 48% supporting her bid for a full term, while Republican Lee Zeldin drew 45% support, also within the margin of error. This is a slight swing from early October when 47% of likely voters said they would support Zeldin while only 44% said they planned to support Hochul.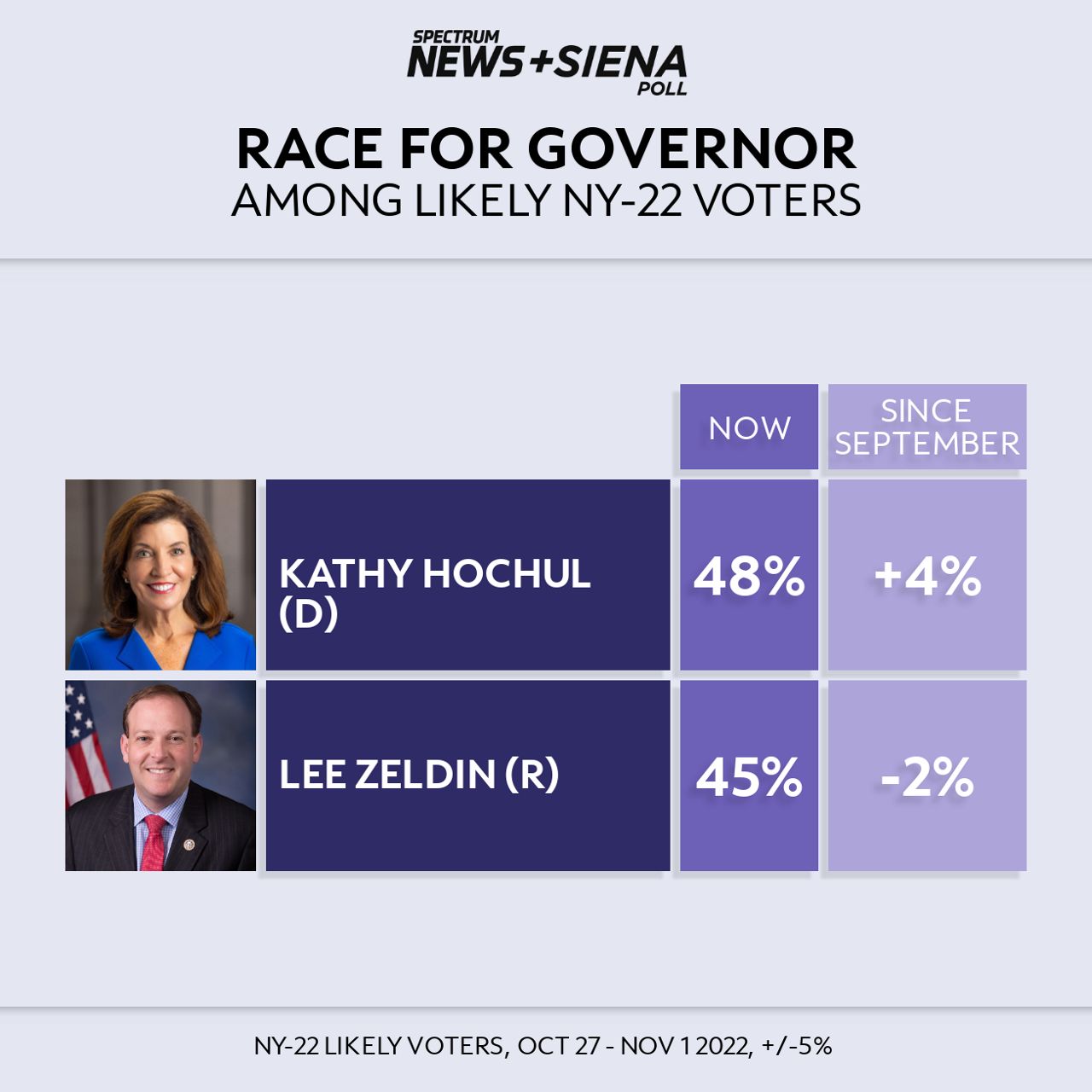 Friday's poll took place after Hochul, along with Sen. Chuck Schumer — also up for re-eleciton this year — and Onondaga County Executive Ryan McMahon announced that Micron would be investing $100 billion in the district by building the largest semiconductor plant in the U.S. in the town of Clay, just north of Syracuse.
President Joe Biden visited the region to discuss the deal on the first day the poll was conducted, while the initial poll released in early October was taken entirely before the announcement was made.
"One featuring the governor, one featuring President Biden with the governor, and certainly that looks like it had an impact among voters in Onondaga County," Greenberg said.
On a broader scale, the poll is of a district where 46% of respondents have a favorable view of President Biden, while 51% hold an unfavorable view; and 38% hold a favorable view of former President Donald Trump, while 58% have an unfavorable view. In the previous poll, 53% of voters viewed President Biden unfavorably while 42% did not. When it comes to Trump, 58% of voters held an unfavorable view of him compared to 35% of voters who held a favorable view.
"We've had incredible momentum over the past 30 days and people are really looking for common sense and moderation," Conole told Spectrum News 1.
Williams also remained confident of victory.
"An election is a lot like being on a submarine, there's no windows," he said. "The only poll that matters is on Nov. 8 and we'll see how we feel going into that night. We just have to go out and run through the tape. That's the only thing that matters at this point."
Meanwhile, when it comes to congressional control, 48% of voters back Democrats while 45% back Republicans. Of independents, 48% back Democrats while 42% back Republicans.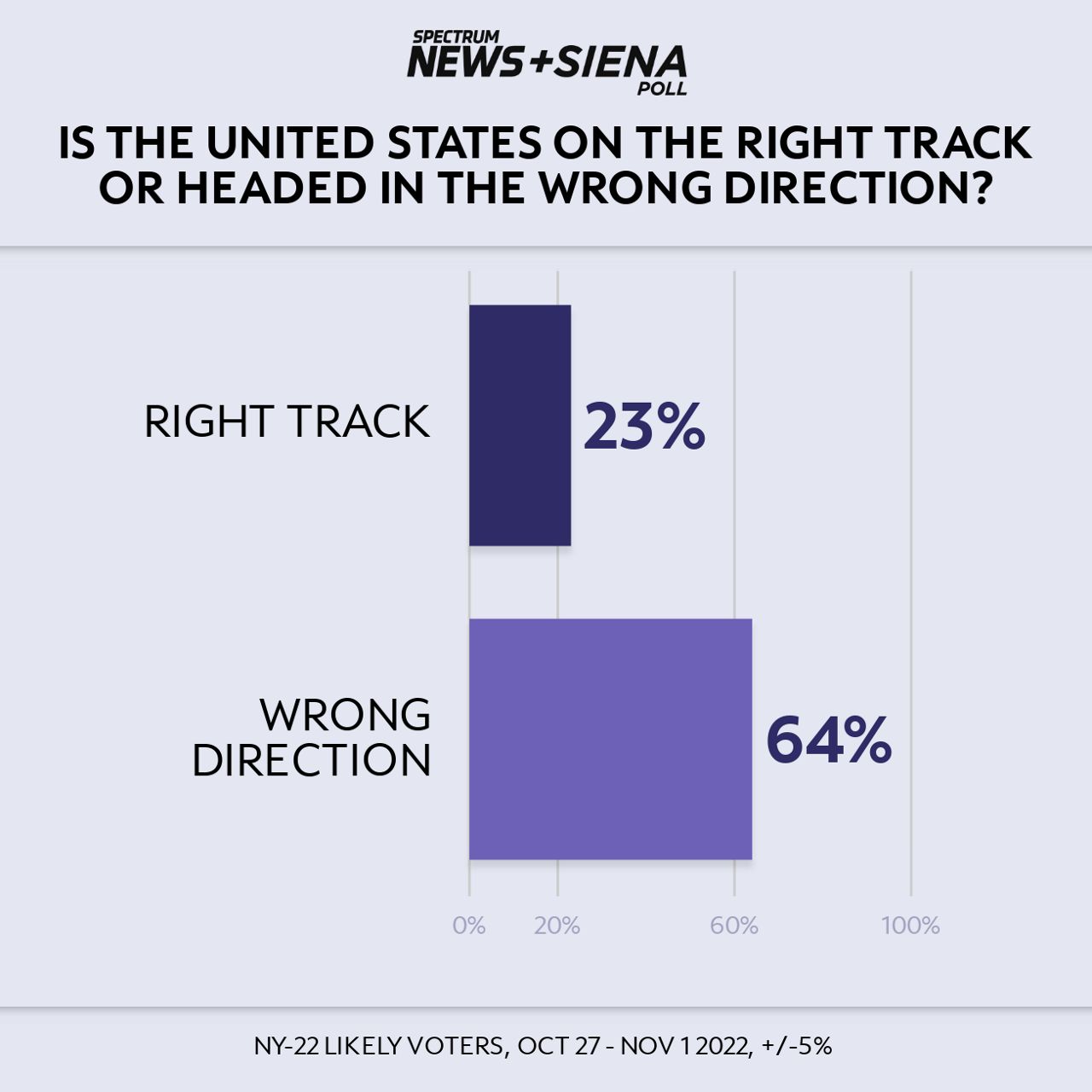 The poll showed minimal change in respondents' general mood about the state of the nation. Just 23% of respondents said the country is on the right track, while 64% said it is headed in the wrong direction. In early October, 63% believed the country was heading in the wrong direction, while 25% said it was on the right track.
The poll of 432 likely voters was conducted from Oct. 27 to Nov. 1, and respondents were contacted by phone.