Democrat Francis Conole and Republican Brandon Williams have spent two months making their case to voters in the new competitive — and unpredictable — 22nd Congressional District, and have a week left to get through to voters.
The voters are from a district that includes all of Onondaga, Madison and Oneida counties, as well as a small sliver of southeastern Oswego County. Comprising the cities of Syracuse, Utica and Rome, as well as large rural swaths of Central New York and the Mohawk Valley, the district has a diverse electorate from varied walks of life.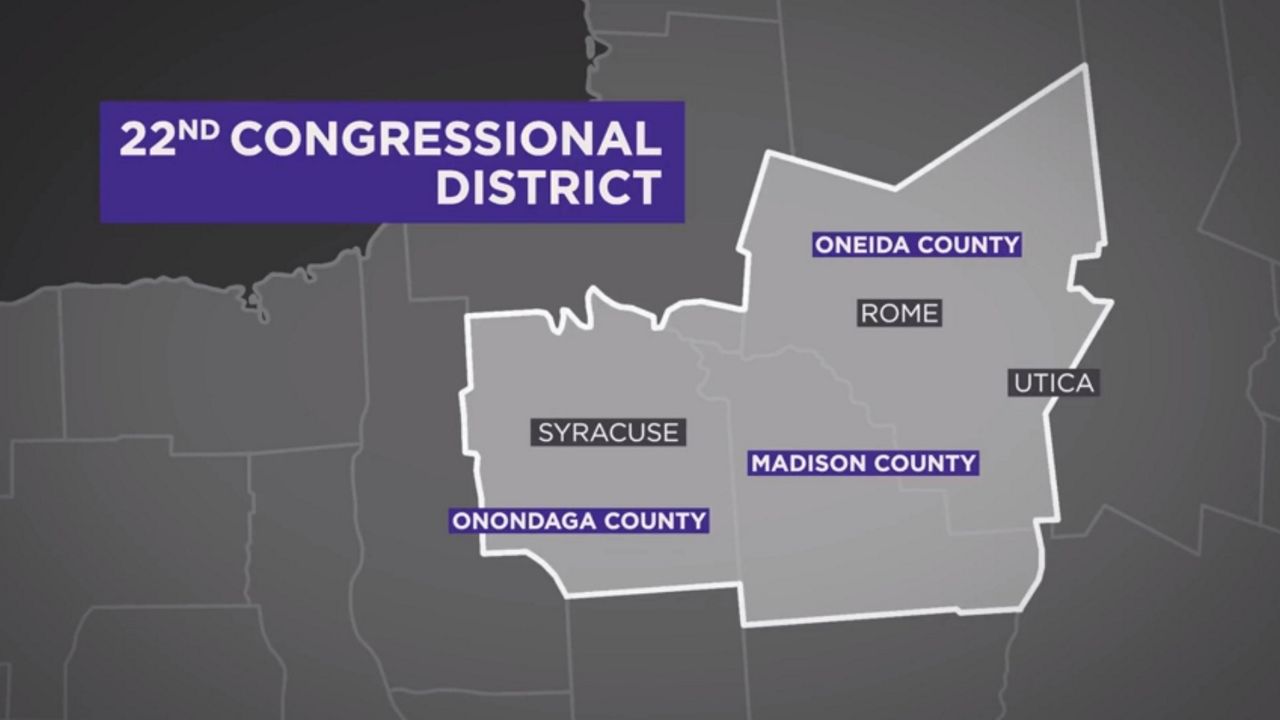 Republican Rep. John Katko has represented the Syracuse-based district for the last eight years. But now Katko is retiring. And Rep. Claudia Tenney, who represented the eastern half of the district, is now running in a different district altogether, New York's 24th.
So with new candidates and new congressional district boundaries in a different political era, Central New York is once again in a sort of political wilderness.
But it's not a complete mystery. On paper, the district comprises 36% registered Democrats and 31% registered Republicans, according to Onondaga County Democratic Elections Commissioner Dustin Czarny. Had the district existed in 2020, Joe Biden would've won it by 7.4 points
"It's still a Democratic-leaning district in terms of registration and in terms of national performance, but locally, obviously, John Katko held NY-24 for a long time and outpolled the other state and national Republicans in the area. So it definitely is a swing district," Czarny said.
That means the race between Conole and Williams is a toss-up.
"I believe this race is a close race. I believed that before I even knew who the candidates were," Czarny said.
And with no incumbent, knowing who the candidates are has been a challenge for both candidates. A Spectrum News 1/Siena College poll from early October found more than half of voters, 55%, had no opinion of Conole, while 62% had no opinion of Williams.
While that's a challenge, it's also an advantage.
"It provides opportunities for each candidate to define their opponent," said Grant Reeher, director of the Campbell Public Affairs Institute and professor of political science at Syracuse University's Maxwell School of Citizenship and Public Affairs. "It also provides challenges for turnout if you're looking for the congressional race to drive it. There's a lot of other races going on in the state, in particular, the governor's race. So this is a midterm where that could be more of a factor."
Conole has a brief local political history, since he did run for Congress in 2020 and lost in the Democratic primary to Dana Balter in the 24th District.
"Given that the city of Syracuse is wholly within this district, and that is going to be the Democratic candidate's base, you know, it's going to be the core of their path to victory, the fact that he ran in that primary should've helped him with name recognition even though he's not a household name," Reeher said of Conole.
"Brandon Williams is a completely new entity," he continued.
The Spectrum News 1/Siena College poll found Williams leading Conole 45% to 40%, which is within the 5.1 percentage point margin of error.
With such an evenly divided district, the race could come down to independent voters, which the poll found Williams with a commanding lead of 23 points over Conole.
"I think there's a lot of independents out there who are not happy with the direction that the state is going," Reeher said. "They do feel like taxes and spending are too high here. They may not have really crisp and clearly formulated ideas about what to do about it at the state level, but I think they probably think something needs to be done."
Since Democrats have full control of government at the federal and state level, that dissatisfaction can help Republicans running for office at both levels, especially since issues like the economy, inflation and crime are relevant in both Congress and New York state.
"There seems to be something going on in the state favoring Republicans more than we might have thought. And Williams, as a congressional candidate, seems to be tapping into that," Reeher said. "His campaign, I think, has been effective in tying Francis Conole to the Democrats in the state of New York, and particularly with his ads, Kathy Hochul, even though objectively, that connection is a little tenuous to say the least, but nonetheless it seems to be resonating."
Luke Perry, a political science professor at Utica University, said Conole has been trying to portray himself as a bipartisan figure, speaking fondly of Rep. Katko and other local Republicans, while also fitting the mold of his party.
"Conole's been emphasizing reproductive rights. He's been emphasizing government support of the middle class, along with several traditional Democratic issues such as health care, Social Security and these types of things. So I think that approach makes sense," Perry said.
"If Conole wins, I would probably say that in the end, the Democrats came home to him pretty uniformly both in terms of their vote choice, but even more importantly, they got themselves out to vote," Reeher said. "And then I would say probably there were enough independents that were very concerned about some of the social issues about gun regulation and maybe in the last couple weeks started feeling better about the economy."
The question marks may still remain in the years after the 2022 election, depending on how either Conole or Williams vote in Washington.
"I still think the district is not going to be comfortable with either a candidate that's really out on the left or a candidate that's really far out on the right. I just don't see that as the long term trajectory of the district," Reeher said, saying the shift back and forth the Syracuse-based district saw between 2008 and 2014 could potentially be repeated "until either the right Democrat or the right Republican gets in there again."