Democratic congressional candidate Josh Riley holds a 5-percentage point advantage over Republican Marc Molinaro in the 19th Congressional District, according to an exclusive Spectrum News 1/Siena College poll released on Friday morning.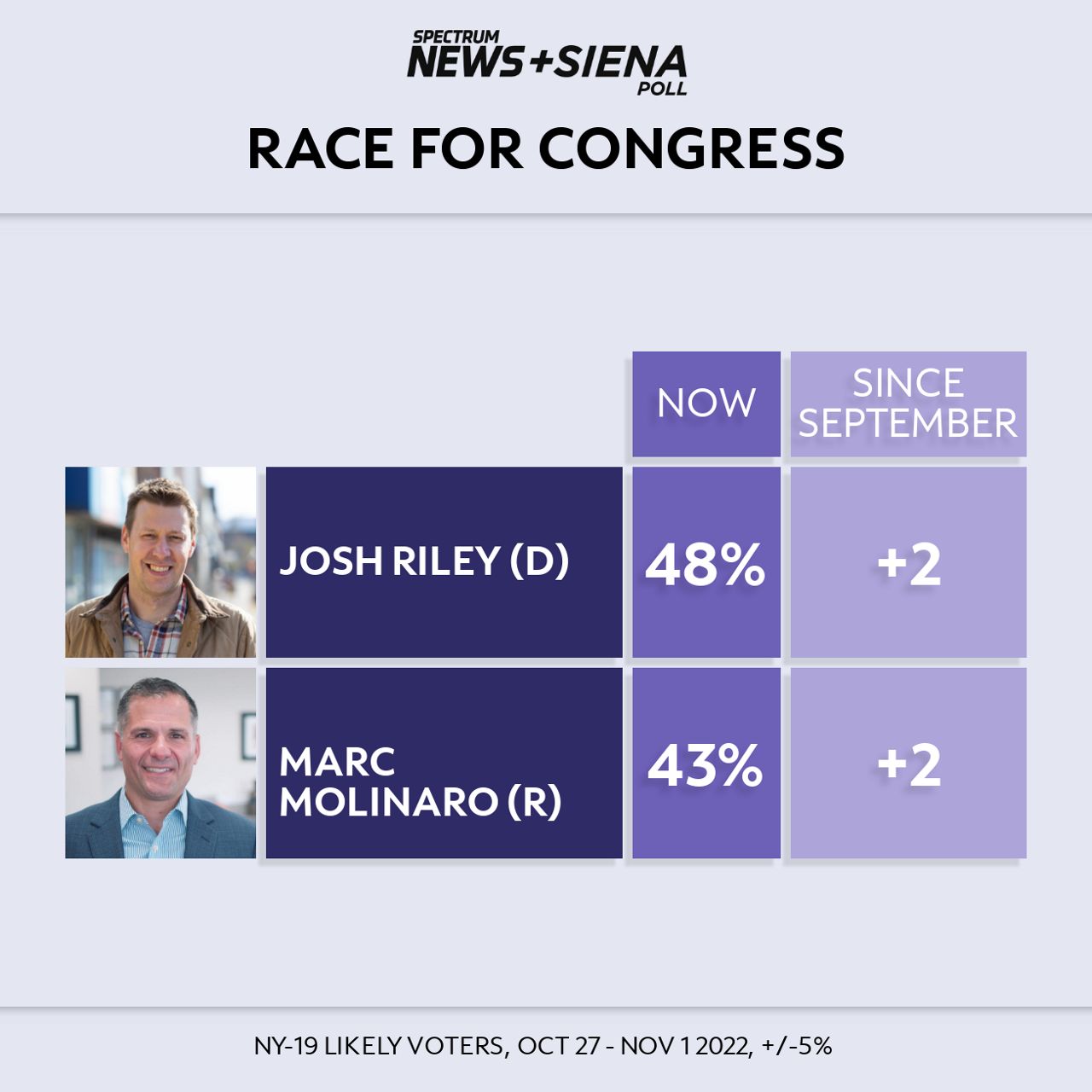 The poll shows no change in the gap between the two candidates when an earlier poll was released on Oct. 6. And the difference in support for Molinaro and Riley is within the poll's 5-percentage point margin of error.
Riley, first-time congressional candidate and attorney, receives 48% of support in the poll compared to 43% for Molinaro, the Dutchess County executive. A month ago, Riley led Molinaro 46% to 41%.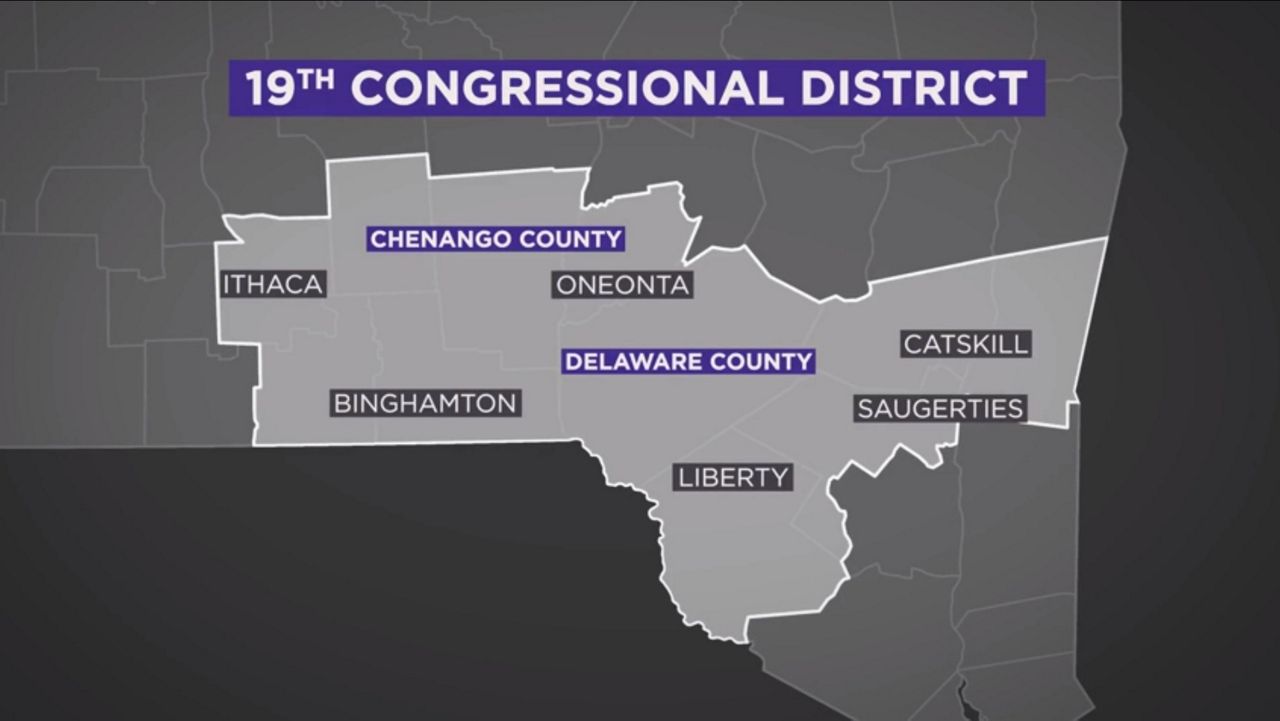 In the poll released Friday, Riley draws more support from independent voters than Molinaro, 48% to 36%.
The newly drawn Hudson Valley congressional district is considered among a handful of hotly contested seats across New York this year as Democrats and Republicans vie for control of the narrowly divided House of Representatives.
Despite Riley's lead, 49% of voters in the district want Republicans to win control of the House compared to 45% who want Democrats to retain the majority.
The poll also shows Republican candidate for governor Lee Zeldin leading Democratic incumbent Kathy Hochul in the district, 50% to 45%. If it had been configured in 2020, Democrat Joe Biden would have won the district that year by 4 percentage points over Republican Donald Trump.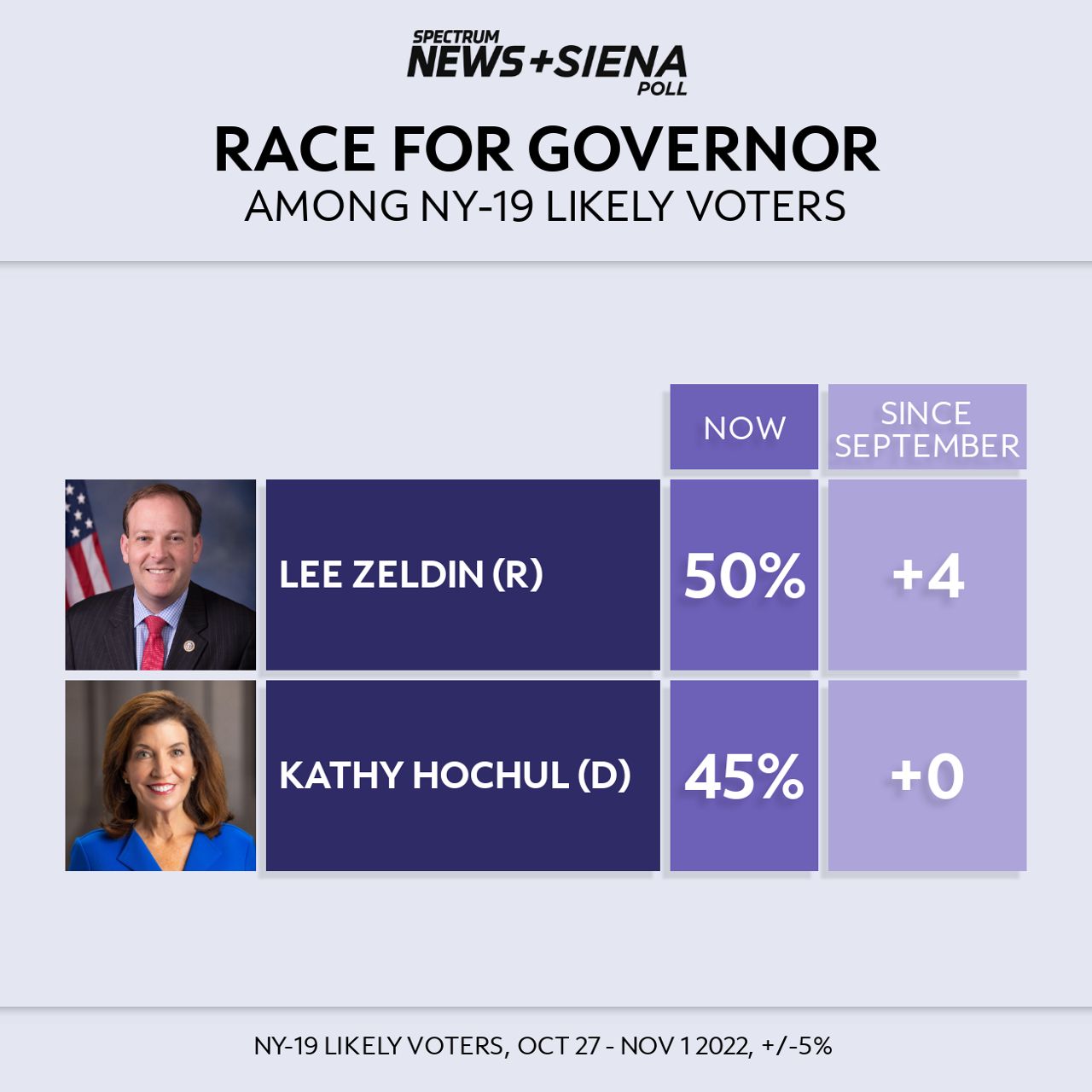 "It's a district that tends to tilt a little bit Democratic, but that remains to be seen if that's what happens come Election Day," said Siena College pollster Steve Greenberg.
The mixed results for both parties' candidates suggest voters in the fast-growing Hudson Valley region could split their tickets.
"I think the candidates and the campaigns are trying to figure out how big that is and whether it works to their advantage or their disadvantage," Greenberg said.
The vast majority of voters polled in the district also view the country as heading in the wrong direction, 66% to 22%. Nearly all Republicans polled, 92%, agreed the country is going in the wrong direction as well as 67% of independent voters.
Molinaro's campaign in a statement said momentum is on its side.
"Marc Molinaro can feel the momentum on the campaign trail, because he's the only candidate who will reduce inflation, lower crime and balance out Joe Biden and Josh Riley's far-left agenda," said campaign manager Will Dawson.
For Riley, his campaign in a statement said it was taking nothing for granted.
"It's encouraging to see voters across our 11 counties are joining our campaign for change," said campaign official Coby Eiss. "However, as we all know, the only poll that truly matters is Election Day, and that's why our campaign is working relentlessly to get every voter to the polling booths between now and Tuesday."
The poll of 455 likely voters was conducted from Oct. 27 to Nov. 1.