Republican Brandon Williams draws 45% of support from voters in New York's 22nd Congressional District compared to the 40% of voters backing his Democratic opponent, Francis Conole, an exclusive Spectrum News/Siena College poll released Tuesday found.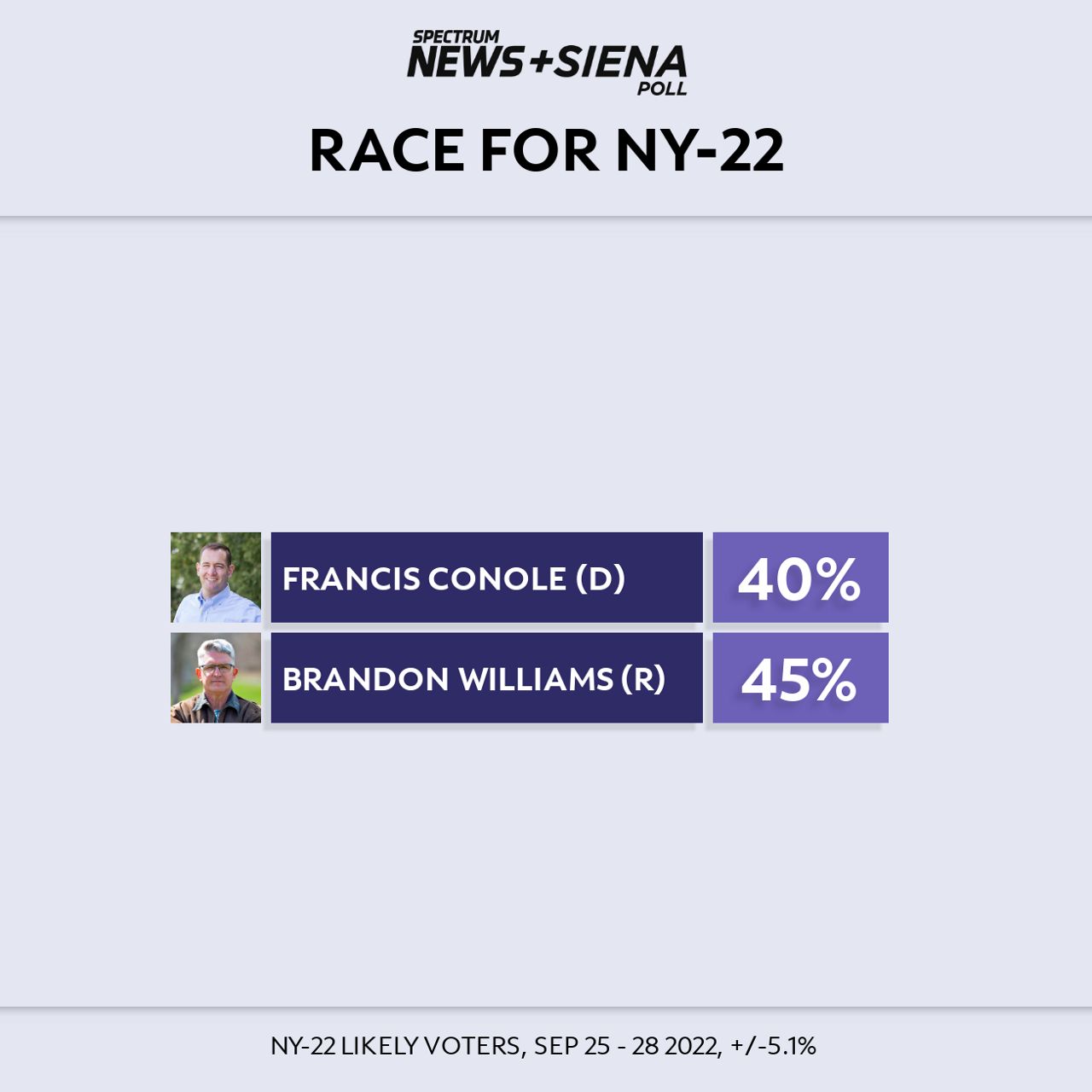 The district in Central New York, comprising Madison, Oneida, Onondaga and part of Oswego counties, is part of a region that has long been a battleground area for both parties in Congress and could be a key seat as they vie for control of the House of Representatives this election season.
Though Williams has a 5-percentage point advantage, the poll shows Conole within the 5.1 percentage point margin of error.
The survey of 453 likely voters was conducted from Sept. 25 to Sept. 28.
Both candidates remain broadly unknown with voters with just over a month until Election Day, the poll found. More than half of voters, 55%, have no opinion of Conole, while 62% have no opinion of Williams.
"It's really hard to break through, but that's what campaigns are trying to do is reach voters: On TV, on their phones, at their front door," Siena College pollster Steve Greenberg said.
The race could come down to independent voters, who hold concerns over the economy as well as the direction of the country. For now, they are siding with the Republican.
Williams handily leads Conole with independent voters, 51% to 28%, the poll found. At the same time, a majority of voters in the district by a wide 63% to 25% margin, believe in the United States is on the wrong track.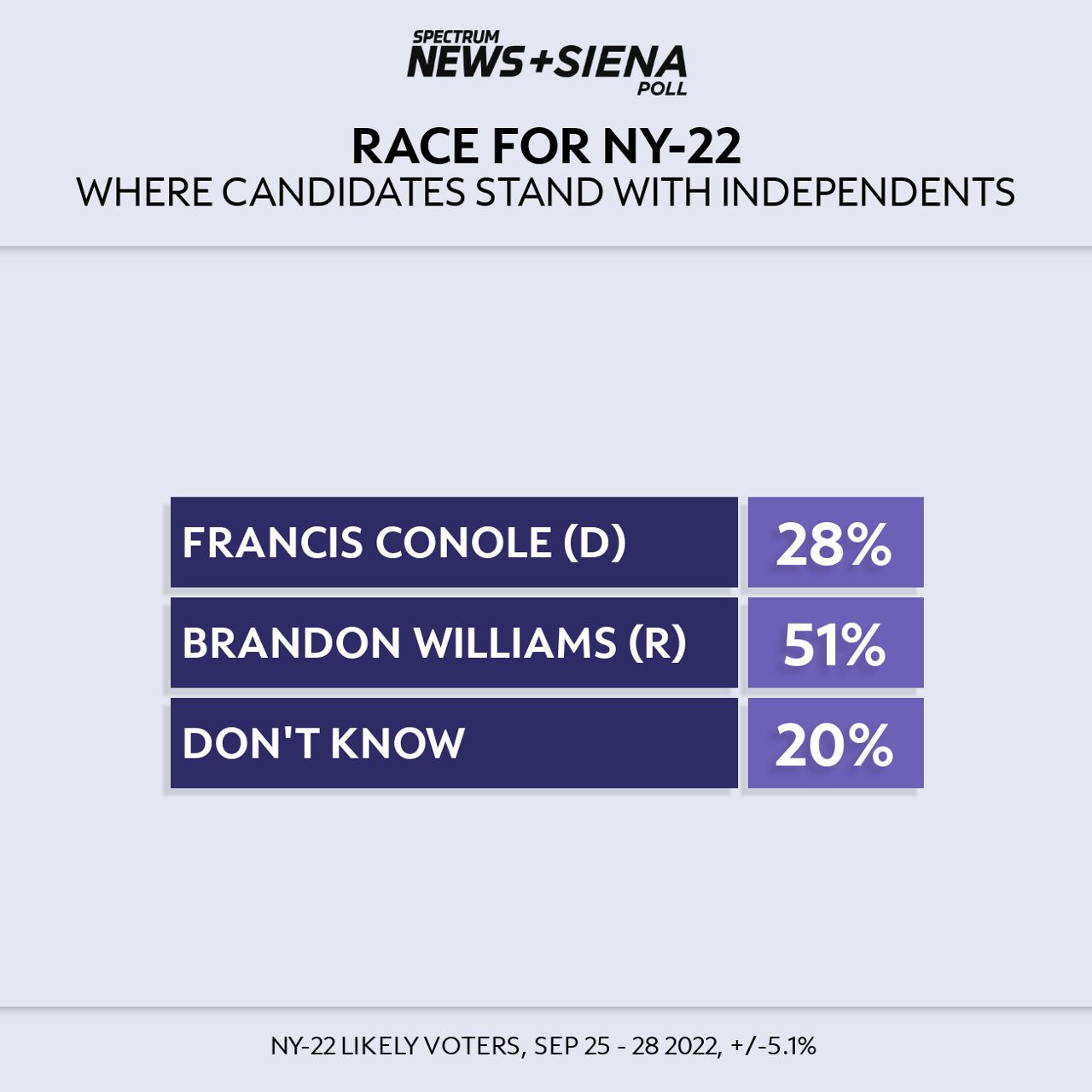 The economy and inflation were picked by 63% of voters as either the top or second-most pressing issue for them, followed by threats to democracy, abortion and crime.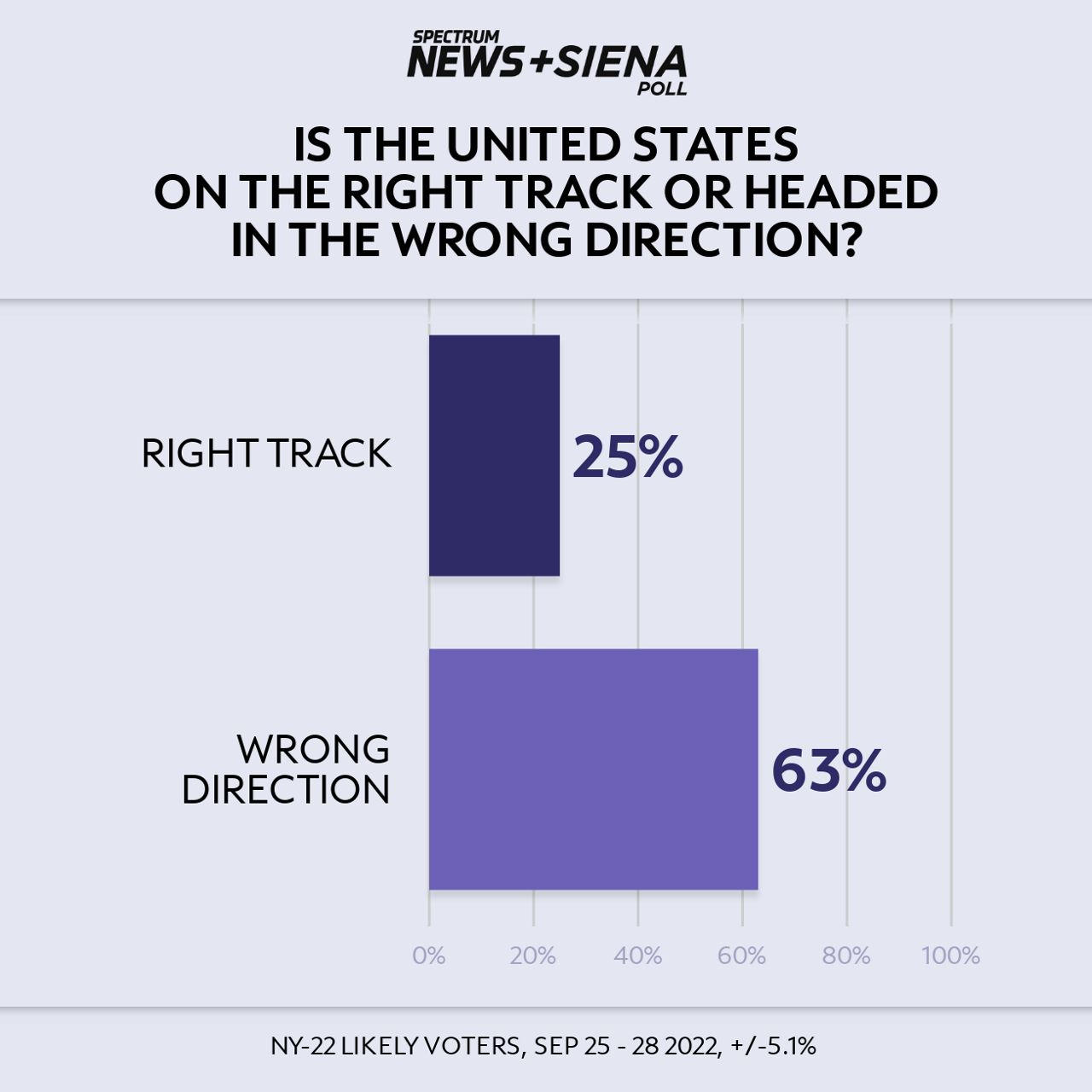 "Pocketbook issues tend to jump to the top when voters are concerned how they're going to make a rent payment, the gas price, the grocery price, the energy price," Greenberg said.
The 22nd Congressional District, newly redrawn by an independent special master appointed by a state court, has encompassed previous districts seen as key political battlegrounds. Republican Rep. John Katko, who represents the current 24th Congressional District, is retiring at the end of the year.
Katko was among the Republican lawmakers to back the impeachment of former President Donald Trump in the wake of the Jan. 6 attack on the U.S. Capitol.
Trump is broadly unpopular in the district: 58% of voters hold an unfavorable view of him compared to 35% of voters who hold a favorable view. President Joe Biden, however, is also unpopular: 53% of voters view him unfavorably while 42% do not.
"I don't think it's Biden, I don't think it's Trump," Greenberg said. "I think the issue that may be on voters' minds that may be hurting Conole, as well as other Democrats, is how voters think the country is doing right now."
Gov. Kathy Hochul, a Democrat seeking a full term this year, draws divided support with Republican Lee Zeldin among voters in the district. The poll found 47% of voters support Zeldin; 44% plan to support Hochul.
"Voters in CNY are ready for a fresh perspective and are tired of politics as usual. Our citizens are hurting from the failed, radical policies of the Biden-Conole ideology," Williams' campaign said in a statement. "My message of creating jobs, lowering energy and food costs, and reducing crime in CNY resonates with voters, and I am proud to earn their support. I'll continue working hard in this election to be a strong, independent voice in Congress for Central New York's hard-working families."
The Conole campaign declined to comment on the poll.