Tornadoes hit a few communities in North Carolina Friday afternoon and evening. The National Weather Service confirmed that damage from both twisters were EF-1 tornadoes.
Severe storms struck North Carolina during the early afternoon on Friday and didn't produce their last blast of damaging winds until the evening.
Over 60 severe thunderstorm warnings and about a dozen tornado warnings came up throughout the day
It was in Orange County at 5:18 p.m. that a tornado warning came up for that area and Spectrum News meteorologists noted a signature of rotation on radar that indicated a likely tornado.
We're in wall-to-wall coverage on @SpecNews1RDU for a Person County tornado warning. #ncwx #WeatherOnThe1s pic.twitter.com/DbrZGWLkDP

— Tom Meiners (@tommeinerstv) May 6, 2022
According to the damage survey from the National Weather Service, the tornado damage to northwestern Orange County was over a path of 3.6 miles that was 400 yards wide.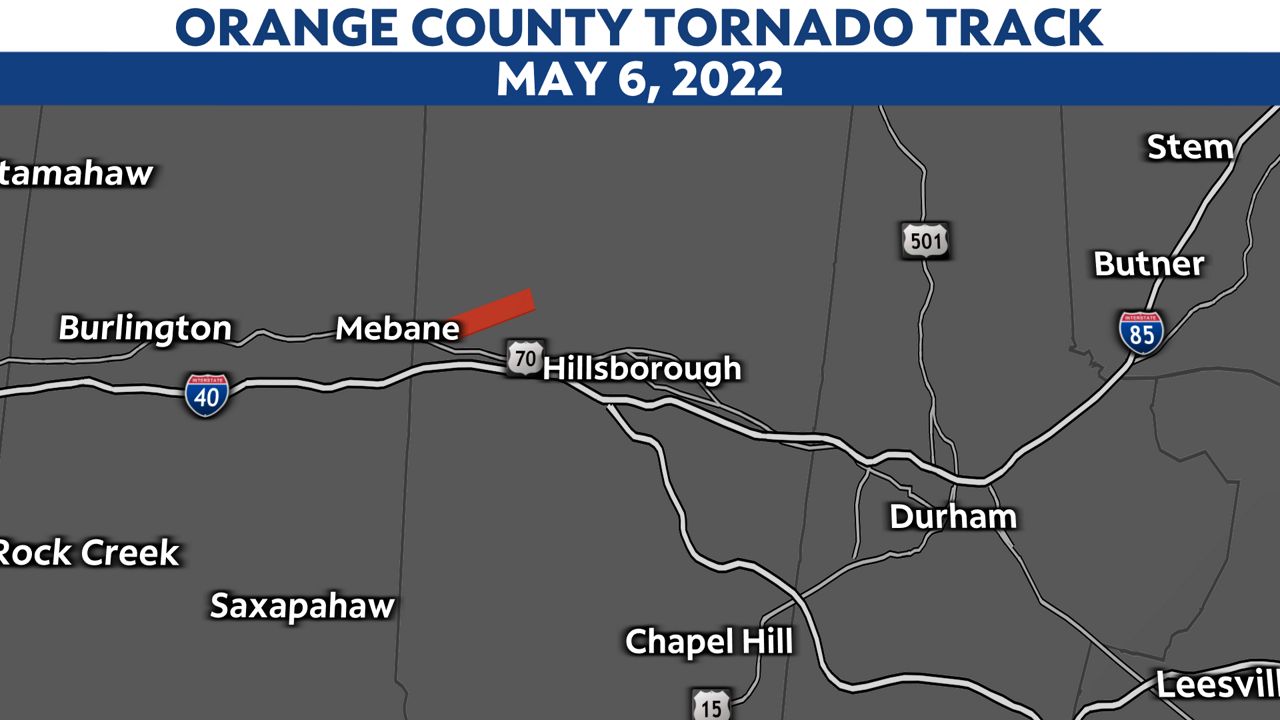 There were no deaths or injuries from the storm despite a distribution center taking a direct hit from the twister.
Confirmed tornado touch down in Orange County, NC on Friday, May 6, 2022. #ncwx pic.twitter.com/NYvgdfNA7A

— NWS Raleigh (@NWSRaleigh) May 7, 2022
Just after 7 o'clock on Friday evening, another tornado warning came up for Stokes and Rockingham counties. This tornado warning was for radar indicated rotation that our Weather On The 1s forecast team was already carefully following for the previous half hour.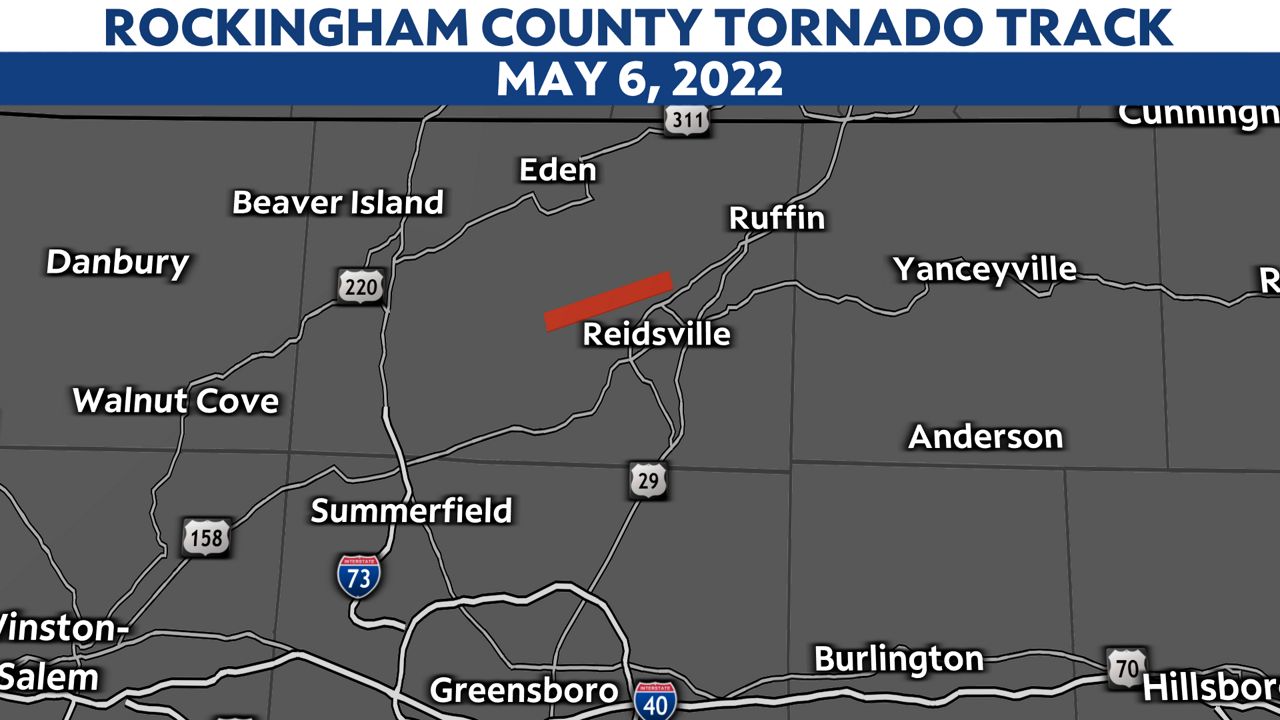 The tornado in Rockingham County touched down at 7:44 p.m. Friday a couple of miles southwest of the community of Wentworth and traveled for 7.9 miles after lifting at 7:57 p.m. near Reidsville. Despite estimated peak winds of 110 miles per hour, no injuries or deaths occurred.
Wow. Large mesocyclone just northwest of Reidsville. Intersection of Freeway and Lawndale. Don't see a tornado yet. @TimBuckleyWX @NWSBlacksburg pic.twitter.com/NAt01PFhcT

— Dennis Mersereau (@wxdam) May 6, 2022
Tornadic activity first occurred in a wooded area just southwest of Sunset View Road and proceeded northeast. Most damage to homes was from falling trees.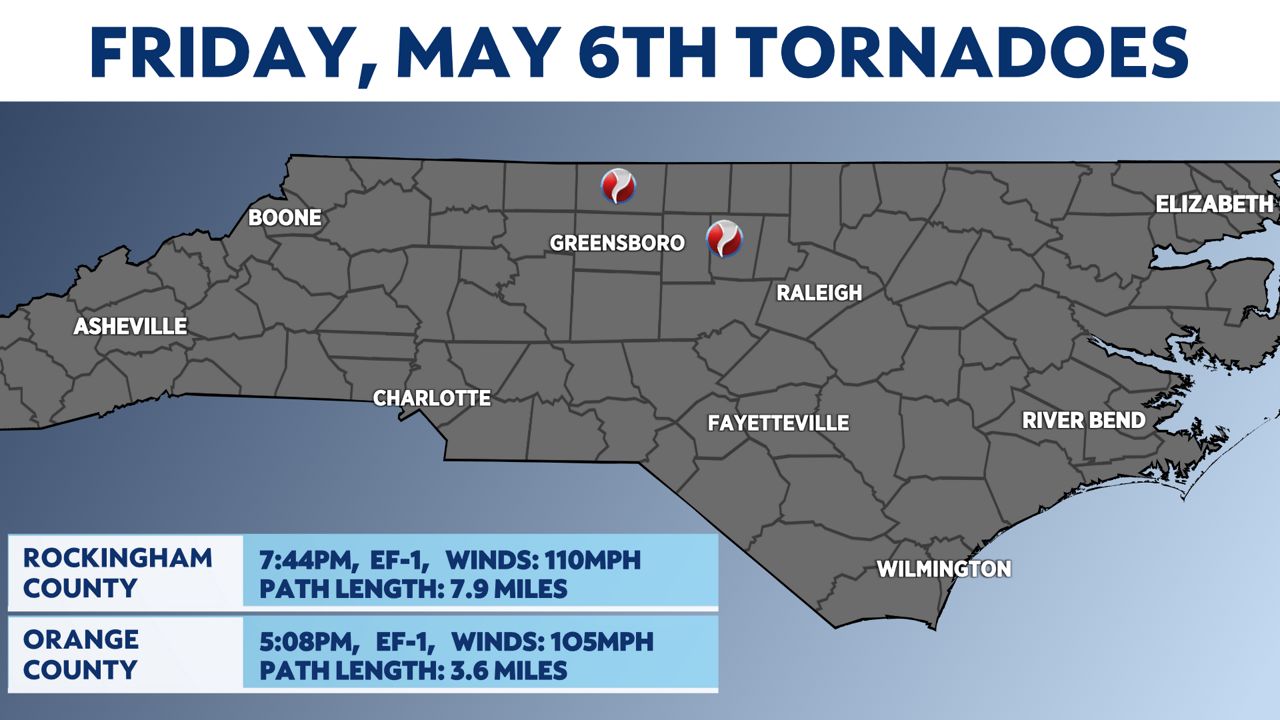 There were no deaths or injuries reported from large hail or damaging winds elsewhere in North Carolina on Friday.