The last hurricane to make landfall along North Carolina's coast was three years ago.
Hurricane Isaias came inland as a Category 1 near Ocean Isle Beach in Brunswick County at 11:10 p.m. on Monday, Aug. 3, 2020, with sustained winds of 85 mph.
It was the third hurricane to make landfall in the state in just under two years.
Hurricane Florence hit the state in September 2018, producing devastating flooding, and Hurricane Dorian hit in September 2019, producing damaging storm surge at Ocracoke.
The storm surge from Hurricane Isaias was quite destructive along the coast of Brunswick County in North Carolina.
It caused extensive damage in Southport to boats at the town's marina.
The storm surge also caused extensive beach erosion, especially at Oak Island and Ocean Isle.
The highest wind gust in the state was measured at Federal Point in New Hanover County at almost 100 mph.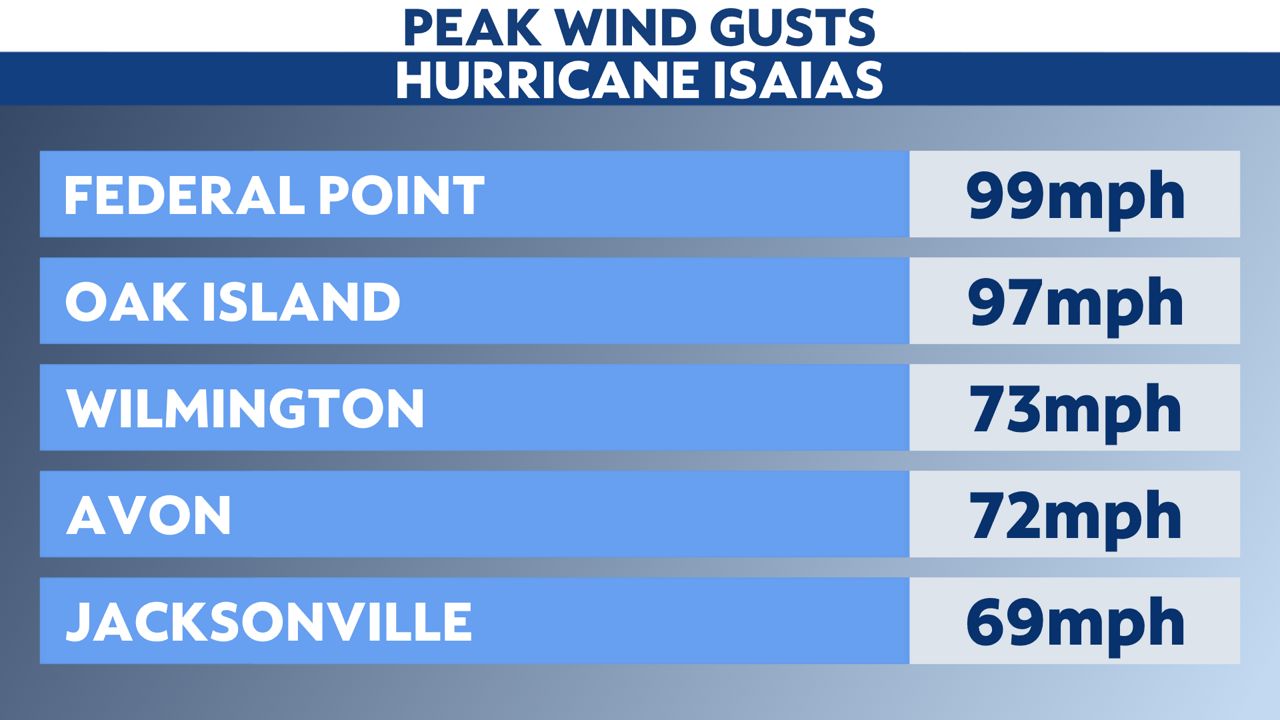 Isaias produced six confirmed tornadoes in the state.
The strongest was in Bertie County where an EF3 tornado touched down at 1:15 a.m. on Aug. 4, 2020. The tornado killed two and injured 14 near the town of Windsor. The tornado carved a 10-mile path of destruction and grew as wide as six football fields.
In Brunswick County, an EF1 tornado with maximum winds of 105 mph hit Bald Head Island, causing an 8.3 mile damage path. Another EF1 tornado struck Belville with estimated winds of 104 mph. The weakest of the three in Brunswick County occurred in Bolivia with winds of 70 mph. No injuries were reported.
In Beaufort County, an EF1 touched down near Bayview for less than one mile with winds up to 105 mph.
In Hertford County, an EF0 struck at 1:11 a.m. on Aug. 4, 2020 with maximum winds of 75 mph.
Isaias quickly moved through the state, limiting the amount of flooding that we experienced. The highest official rainfall recorded was 5.06" in Oxford, about 30 minutes north of Durham.
The Outer Banks received as little as 0.35" from the system.
Our team of meteorologists dives deep into the science of weather and breaks down timely weather data and information. To view more weather and climate stories, check out our weather blogs section.