Democrat Don Davis is the projected winner to replace retiring U.S. Rep. G.K. Butterfield in the 1st Congressional District.
Davis led Republican Sandy Smith 52.3% to 47.7% with 99% of the votes counted Tuesday night.
Democratic Congressional Campaign Committee Chair Sean Patrick Maloney released the following statement on Don Davis's win in NC-01:
"As a veteran, minister, small-town mayor, and state senator, Don Davis has always rolled up his sleeves to get to work for North Carolina families, and he'll be a champion for all of eastern North Carolina in Congress. The DCCC is proud of the role we played in bringing Don to Congress to carry on Rep. G.K. Butterfield's legacy. A warm congratulations to Don Davis on his victory!"
In other eastern North Carolina races, Republican incumbents Greg Murphy and David Rouzer were the projected winners in Districts 3 and 7.
In District 1, Smith, who modeled herself as a Trump-style "America First" candidate, had been dogged by allegations of domestic abuse throughout the campaign.
Butterfield represented the 1st District, beginning in 2004. He announced his retirement last year. The 1st Congressional District covers a large swath of northeast North Carolina, including Rocky Mount, Greenville and Elizabeth City.
The district had been central in the political and legal fights over redistricting. Maps produced by the Republican-led General Assembly initially left heavily Democratic Greenville out of the district, but a new court-drawn map added the city back in.
In District 3, Murphy led Democrat Barbara Gaskins 67% to 33% with 99% of the precincts reporting. The 3rd District includes the Outer Banks, New Bern, Jacksonville and west almost to Fayetteville.
In the 7th District, Rouzer led Democrat Charles Grantham 57.8% to 42.2% with 97% of the votes counted. The 7th District includes Wilmington, Fayetteville and Lumberton.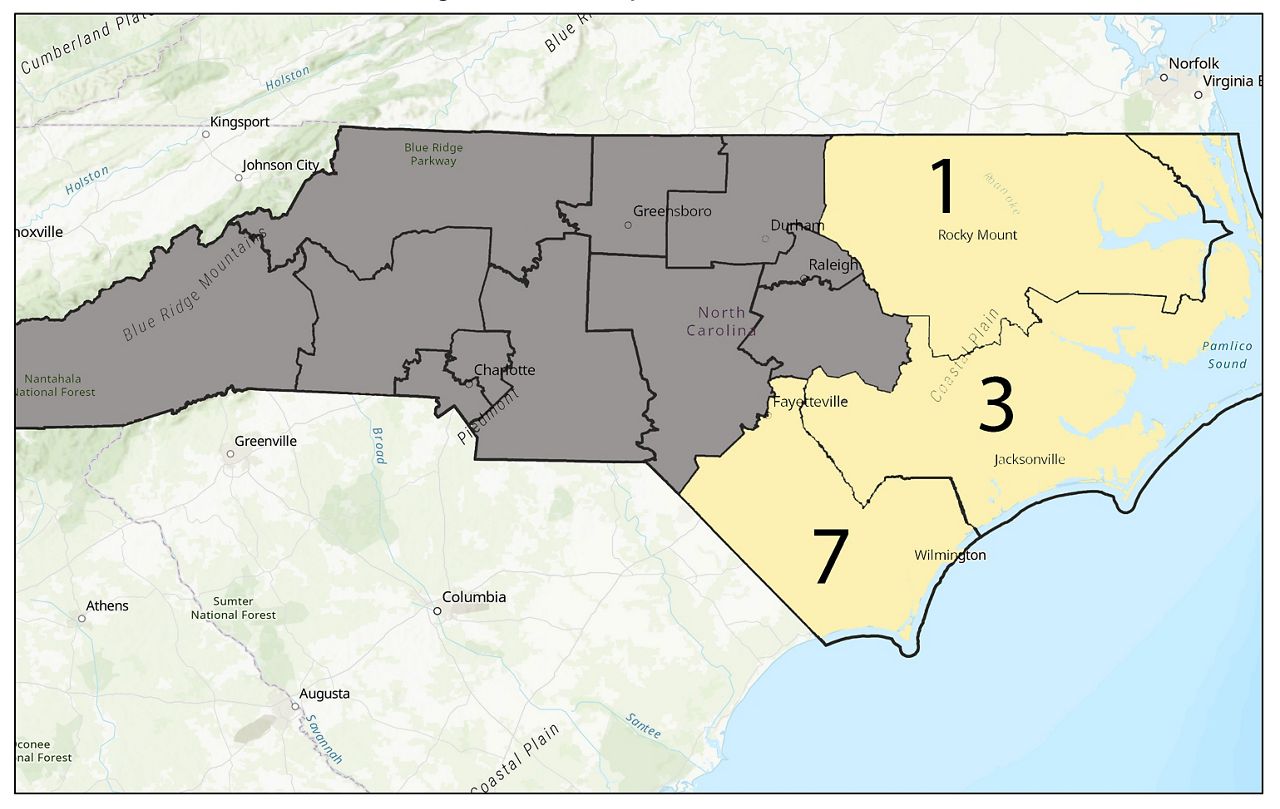 Every member of the United States House of Representatives was up for election in the midterms. The balance of power in Congress was on the ballot, with Republicans hoping to get a majority in both the House and Senate.
Many expected a "red wave" in the midterm elections. By Wednesday morning, the country should know which party will control the House and Senate for the final two years of President Joe Biden's term.
Get full election results for North Carolina and across the country here.