SAN ANTONIO – Nearly 20 years ago, Rose Monday landed in San Antonio—for what she expected to be a temporary stay—that turned into a blazing path of opportunity.
Became UTSA Track and Field coach in 2001
Earned women's USATF head coach position in 2020
Training athletes from across the country
"We thought it would be two years," said the three-time Olympic coach, referring to her husband's work move that brought them to the Alamo City.
READ MORE | Former UTSA Track Coach Chosen to Lead 2020 US Olympic Team
When they arrived, Monday was training for the 2001 World Masters Championship and had asked the University of Texas-San Antonio if she could utilize their track.
She ended up becoming an 800-meter champion that year.
Not only did she win on the track, but she was offered a coaching position at UTSA for women's cross country and the women's distance runners. After the first year, she was asked to coach the men's side as well.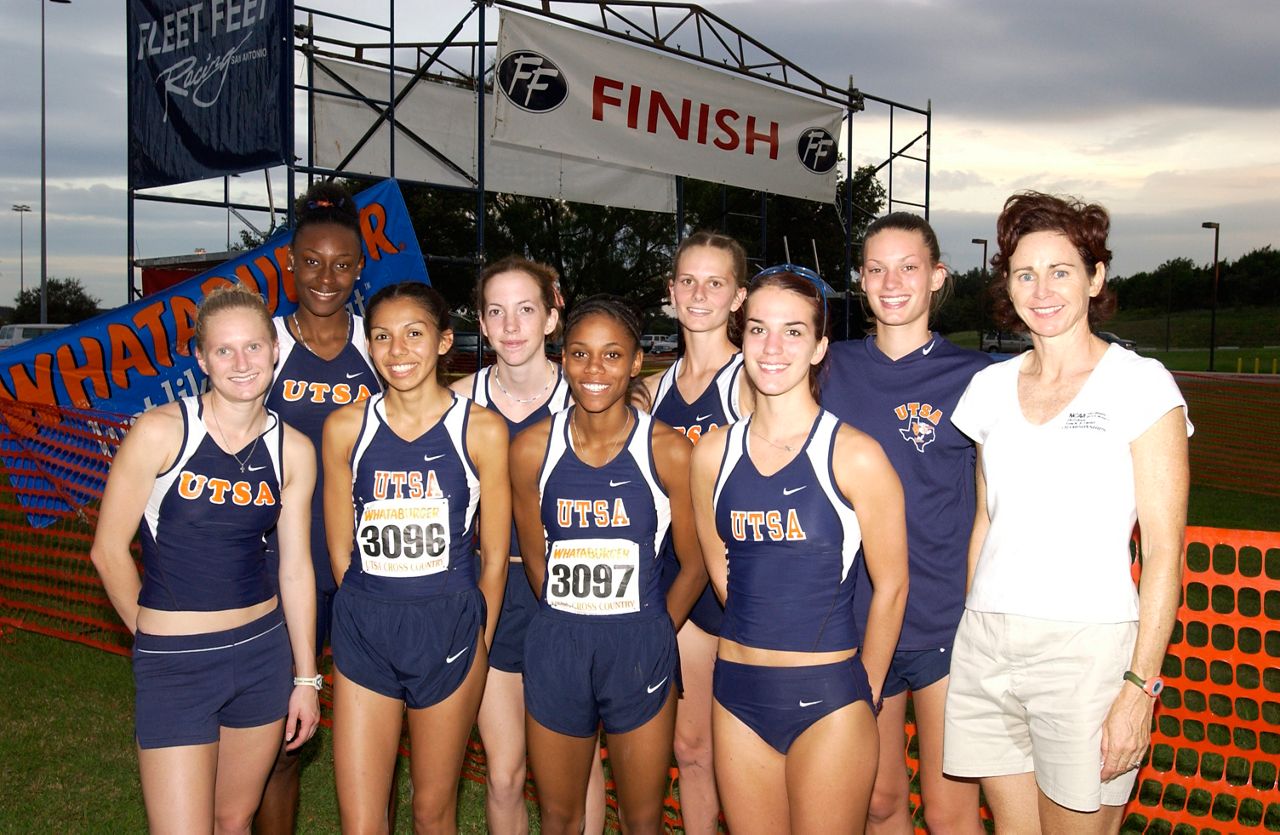 Rose Monday takes a photo with The University of Texas-San Antonio's women's track team (Courtesy: UTSA Athletics)
"I took the job and honestly, I'm very very thankful for that because I wouldn't be where I am today without that," Monday said.
She stayed with the team for seven years, becoming the head coach for cross country and an assistant coach for track and field.
"I thought it was really fun taking them all over the world," Monday said. "Some had never been on airplanes."
As she worked hard to expand UTSA's program, her achievements were being recognized in places she didn't even realize.
In 2004, during an annual meeting, colleagues came up to congratulate her—for what she thought was in reference to UTSA's recent conference win—but it was something much bigger than that.
"I said 'Are you talking about my UTSA team?' after maybe the fifth one," Monday said. "They said 'No, you were selected assistant coach to the World Indoor Championship team in Budapest.'"
Following her first world team leadership role, Monday went on to be selected for the World University games, head coach for the World Juniors in Beijing, China, a few more roles in between, and then, in 2012, she was selected as an assistant women's coach for USA Track and Field Olympic games.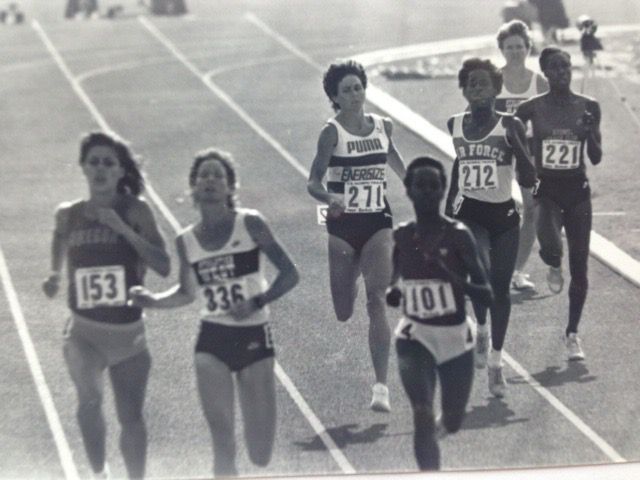 Rose Monday pictured in the center right wearing the Puma singlet running during the 1984 Olympic Trials semi-final. She missed the finals by one spot, placing ninth (Courtesy: Rose Monday)
In 2016, she returned for the Olympic games as an assistant coach and this year, she was selected Team USA's women's head track and field coach for the 2020 Olympic Games in Tokyo.
When asked if she could have pictured herself as a three-time Olympic coach she said:
"No. And my go-to is, I would have said you're on crack cocaine," Monday laughed. "Ten years ago, I wouldn't have believed them, let alone once, let alone three times."
As Olympic trials approach, most of her time revolves around training a handful of Olympic hopefuls from different parts of the country and fulfilling her duties as chair for women's USATF.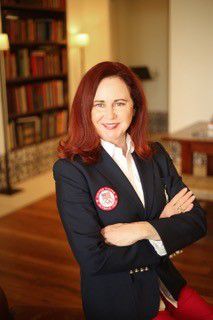 A heads shot of Rose Monday in her USATF blazer, as she holds the chair position for women's USATF (Courtesy: Rose Monday)
Monday's days usually start at 6 a.m. and she's often on a plane every weekend. No matter how busy she may be, her athletes are constantly inspired.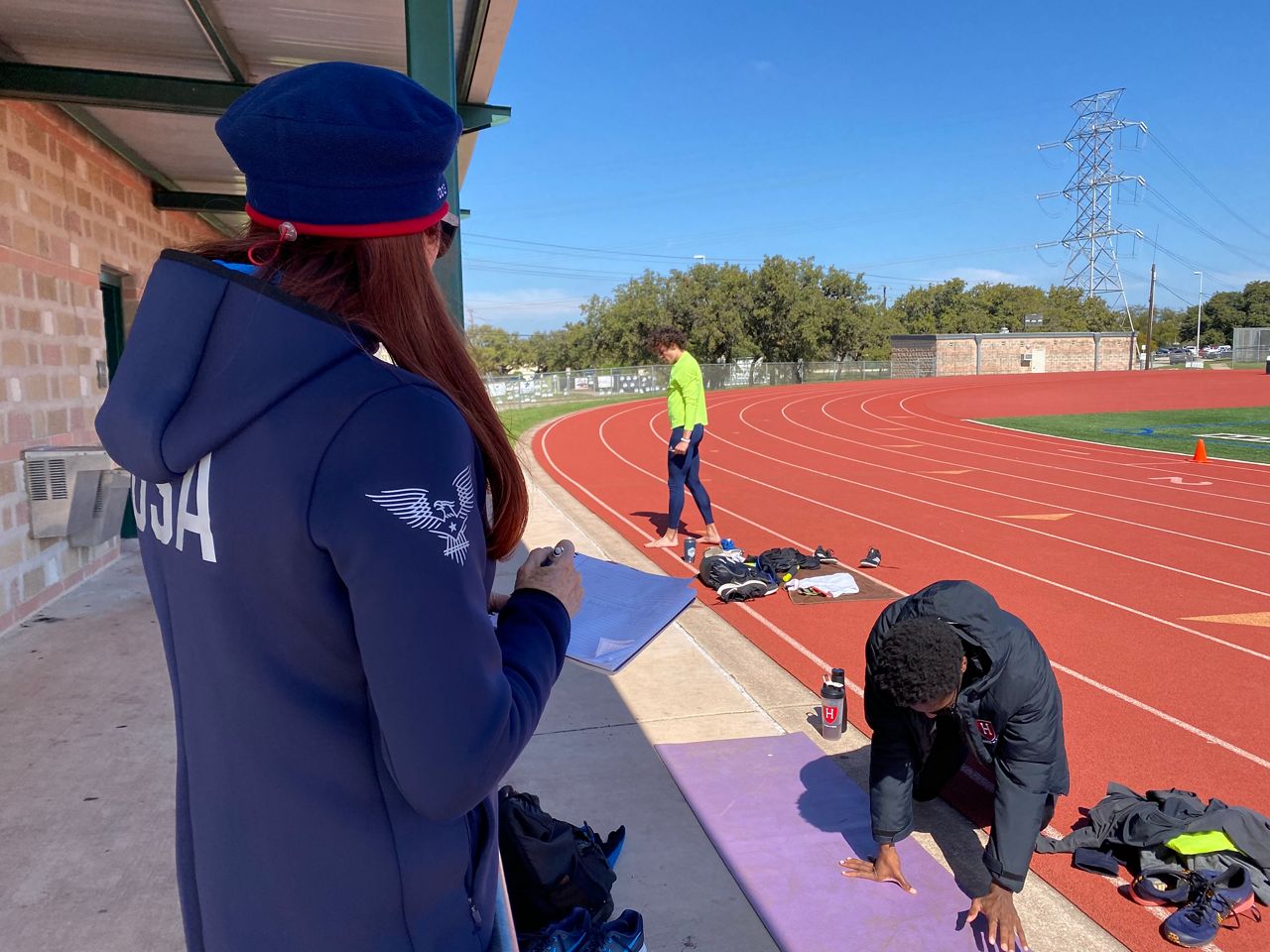 Rose Monday stands with athletes Luka Chathman (in yellow) and Myles Marshall (in black) as she takes notes on the Ronald Reagan High School track (Spectrum News)
"Her being a female coach and being the Olympic head coach is just really important and it sends a good, positive message to like all the women in sports that hey, you can do it, you can keep striving for your goals, you can make an Olympic team, even as a head coach," Kendra Chambers, professional USA Track & Field runner, said.
"Going to the Olympics has been my goal for a long time," Luka Chatham, former UTSA runner, said. "During the lighter part of my college career, I looked down on it but now, since I met Rose, it's definitely re-fired the passion."
As the road to Tokyo shortens, Monday knows there's one other San Antonian she can relate to.
"To be mentioned in the same sentence as Gregg Popovich, that's huge," Monday said. "Not only is he a terrific coach, but he's a good person and he's well-rounded and he's good with his athletes and he exposes his athletes to all kinds of different things and I feel like, we have that in common."
READ MORE | Popovich Names Steve Kerr as Assistant for U.S.A Basketball Team