AUSTIN, Texas -- A federal district court in Austin has cleared the way for Kinder Morgan to continue construction of its 430-mile natural gas pipeline through the Texas Hill Country.
Kinder Morgan cleared to construct Permian Highway Pipeline in Texas Hill Country
Residents, local governments concerned about effects on endangered species
Landowners vow to continue fight
Kinder Morgan has already began construction in other parts of Texas on the Permian Highway Pipeline, which will stretch from west Texas to the Houston area, but has been held up in the Hill Country for legal reasons. Construction there started Saturday after the judge denied a temporary restraining order from opponents.
The concern from plaintiffs made up of several local governments - including the City of Austin, San Marcos, and Travis and Hays counties - was the pipeline would harm endangered species native to the area like the golden-cheeked warbler and the blind salamander.
RELATED: Coalition Threatens New Lawsuit to Slow Pipeline Progress
The judge ruled plaintiffs didn't provide proof the pipeline would show "irreparable harm" to the warbler population, stating in a motion "there would be impacts to only 0.04 percent of the breeding habitat available for the species…"
The company has to work quickly to be out of the warblers' habitat before mating season begins March 1. The motion states this will "minimize the incidental take of the warbler."
Kinder Morgan says 100 percent of right-of-way agreements have been reached, but landowners like Kay Pence are still fighting despite construction beginning.
"Personally, I have fought Kinder Morgan from the very beginning, and will continue to fight. Just because we failed with his first TRO doesn't mean that we've stopped this fight. We're going to continue to fight this," Pence said.
Pence moved to a ranch in Fredericksburg for a peaceful place to settle, yet for the last year and a half she's been battling the pipeline.
"A landowner, when you buy property, you should own those four corners. And because of the current eminent domain laws, you don't own those four corners. And so the folks that think this isn't going to impact them, it may not have impacted them with this particular pipeline, but it can have future dates. And so we need to say that landowners rights in Texas are protected," Pence said.
Through eminent domain, Kinder Morgan is able to compensate landowners for their land for public use, which is something Pence wants to change.
"It's not for the greater good. Kinder Morgan is not some benevolent philanthropist coming through here trying to put this pipeline in. Kinder Morgan is a multi billion-dollar company that is doing this for their shareholders and for the benefit of Kinder Morgan and no one else," Pence said. "We're going to fight with the Texas Legislature. We're talking to every elected official we can to tell them that eminent domain laws have to change."
Pence said Kinder Morgan's offer to buy her ranch was too low. Her condemnation hearing resulted in a court awarding her $1.2 million. She said the company will take her to trial to lower that payout.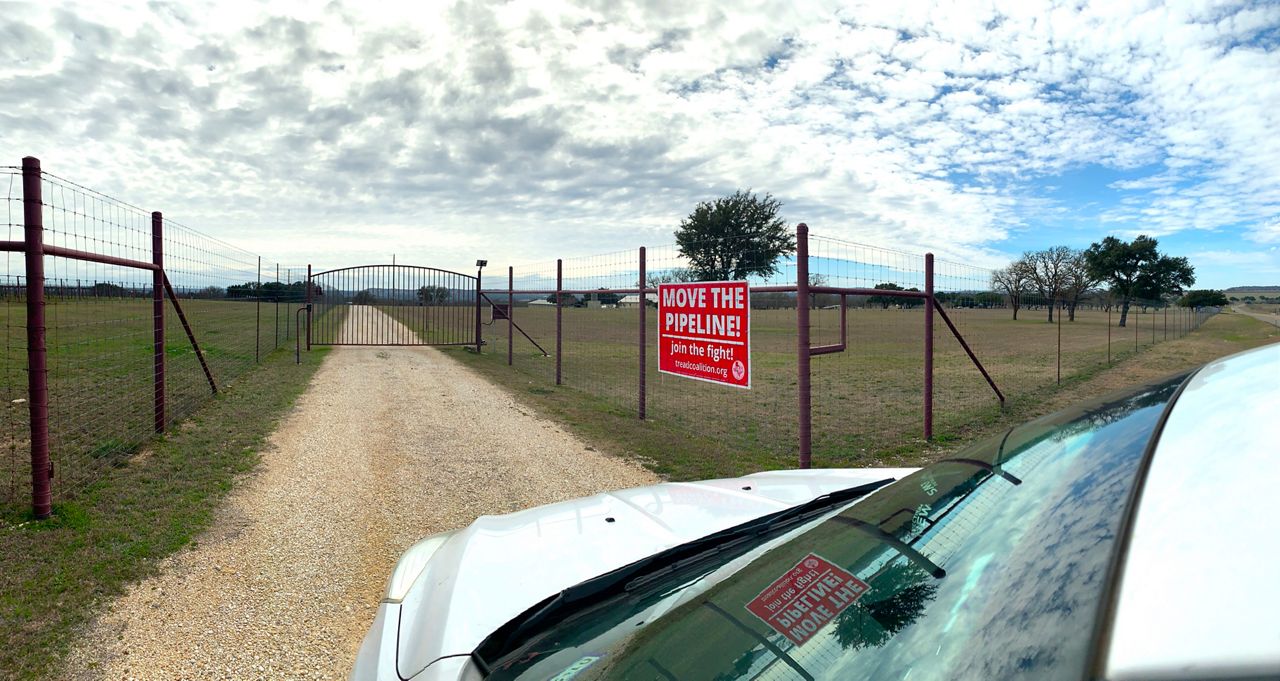 Kay Pence's property in Fredericksburg, Texas, appears in this image from February 17, 2020. (Stacy Rickard/Spectrum News)
"They didn't understand that they were going to encounter the fight that they did once they got into the Hill Country," Pence said.
On top of the environmental impacts, Pence said, the counties that rely heavily on tourism will take a hit.
"The counties are going to suffer immeasurably from the construction, what it's going to do to their tourism in Fredericksburg. Because we're going to have additional traffic on roads, we're going to have people in town, and the tourists are not going to want to go sit out at a winery if there's construction dust and everything going on," Pence said. "We have no other means of support except tourism in these counties and Kinder Morgan's going to impact that tourism. They're going to impact shop owners. There's going to be some little shop owner that may not be able to make it through this dry spell once all this construction starts. People saying, 'You know what? I don't think I want to go to Fredericksburg this year. I think I'll think I'll bypass that.' Kinder Morgan's barely wanting to compensate the landowner, let alone the ancillary businesses that are impacted."
The Texas Real Estate Advocacy and Defense Coalition (TREAD)​ has been advocating for affected landowners and disagrees with the judge's ruling, saying "The Court did not rule on the merits of the lawsuit but, instead, only on the narrow point of whether sufficient 'irreparable harm' had been shown to endangered species to warrant emergency relief."
Read TREAD's full statement below:
Kinder Morgan released a statement following the judge's ruling, stating that the company is in full compliance with the Endangered Species Act.
"We are pleased with the decision and look forward to continuing construction on this vital infrastructure project. Throughout its development, we have actively worked with all of our stakeholders to ensure we have the best possible route. These outreach efforts have resulted in nearly 200 route changes to accommodate landowners and address what we have learned in land surveys. As a result of these diligent efforts, we have reached agreements on 100 percent of the right-of-way for this project.
Kinder Morgan and Permian Highway Pipeline are in full compliance with the Endangered Species Act. We have actively worked with the appropriate state and federal agencies, including those agencies tasked with protecting endangered species. PHP's environmental assessments, among other things, comprehensively considered those endangered species that could potentially be affected by the project, and our construction plans have been designed to minimize impacts to those species. We remain committed to preserving the environment including endangered species, and we have gone above and beyond established requirements to do so."