CALDWELL COUNTY, Texas -- Monday morning, Caldwell County Commissioners fielded questions to Kinder Morgan about the proposed Permian Highway Pipeline Project.
Only natural gas will be transported on pipeline
Path could cross through Hays County
Also could cross through Caldwell County
Commissioners heard Kinder Morgan's Vice President of Public Affairs, Allen Fore, as he discussed the latest in the company's progress regarding the project.
The company said it is now committing to transporting only natural gas on the pipeline.​ Several people spoke during the public comment portion of the Commissioners Court meeting, opposing the pipeline's route. Though an exact route hasn't been provided, a preliminary map shows a path crossing through Hays County into Caldwell County.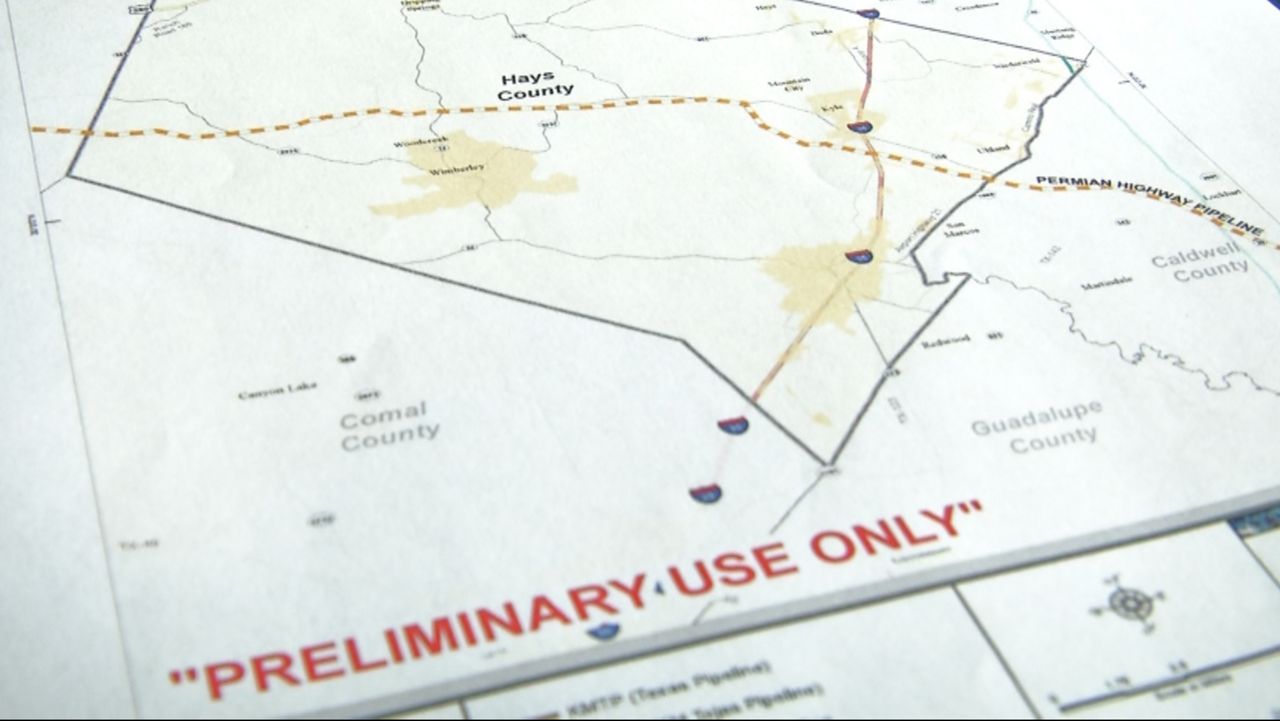 View full map (.pdf)
Fore said there has been around 130 micro-adjustments to the route since speaking with landowners. He said the permitting process is underway, as well as the landowner acquisitions. Fore said he has heard from landowners that they're concerned about the pipeline transporting something besides natural gas. He said the company is committed to only transporting natural gas, and now they've put it in writing.
"I had an elected official say, 'Well, if you're committed to natural gas, then put it in writing.' So we've decided to do that. We already have started incorporating that as part of our land agreements. Our land agents will be communicating that throughout the area over the next several weeks. In the land agreement, there's a written commitment from the company to transport only natural gas on this pipeline," said Fore.
Kinder Morgan previously hosted public meetings in Wimberley, Kyle, Blanco, and Fredericksburg. The company plans to host one in Caldwell County in April. The date has not yet been announced.
CONTINUING COVERAGE:

Wimberley Formally Opposes 430-Mile Texas Pipeline
Landowners Fighting Back Against 430-Mile Pipeline
Hundreds Gather in Wimberley for Kinder Morgan Pipeline Meeting
Natural Gas Pipeline Project Concerning Central Texas Landowners