For North Carolina, at Christmas time, we've got as good a chance at seeing warm weather as we do cold weather, but rarely do we see bitter cold weather for Christmas. That's what we're looking at for Christmas 2022.
As we look at the forecast for Christmas Eve and Christmas Day this weekend, Arctic air is expected to drive out of the north and set the stage for well below average temperatures for both Saturday and Sunday.
The cold air for this weekend will arrive during the day on Friday, as we should see temperatures fall during the afternoon. Across the mountains, we could see some snow as the colder air meets up with the last of the moisture from the rain we'll see early on Friday.
With more Arctic air moving in Friday night and Saturday, this will set the stage for a very cold Christmas weekend across North Carolina.
As cold as the forecast sounds for Christmas 2022, it has been colder at Christmas in North Carolina… Much colder!
This year, Christmas falls on a Sunday. As fate would have it, the coldest Christmas all of North Carolina has seen was also on a Sunday.
It was Dec. 25, 1983. An even colder Arctic air mass rushed into North Carolina. This one would set record lows across the state.
Most locations reported morning lows on Christmas morning 1983 in the single digits. In the mountains, Asheville reported a temperature of minus eight. Even Cape Hatteras dropped to 12 degrees.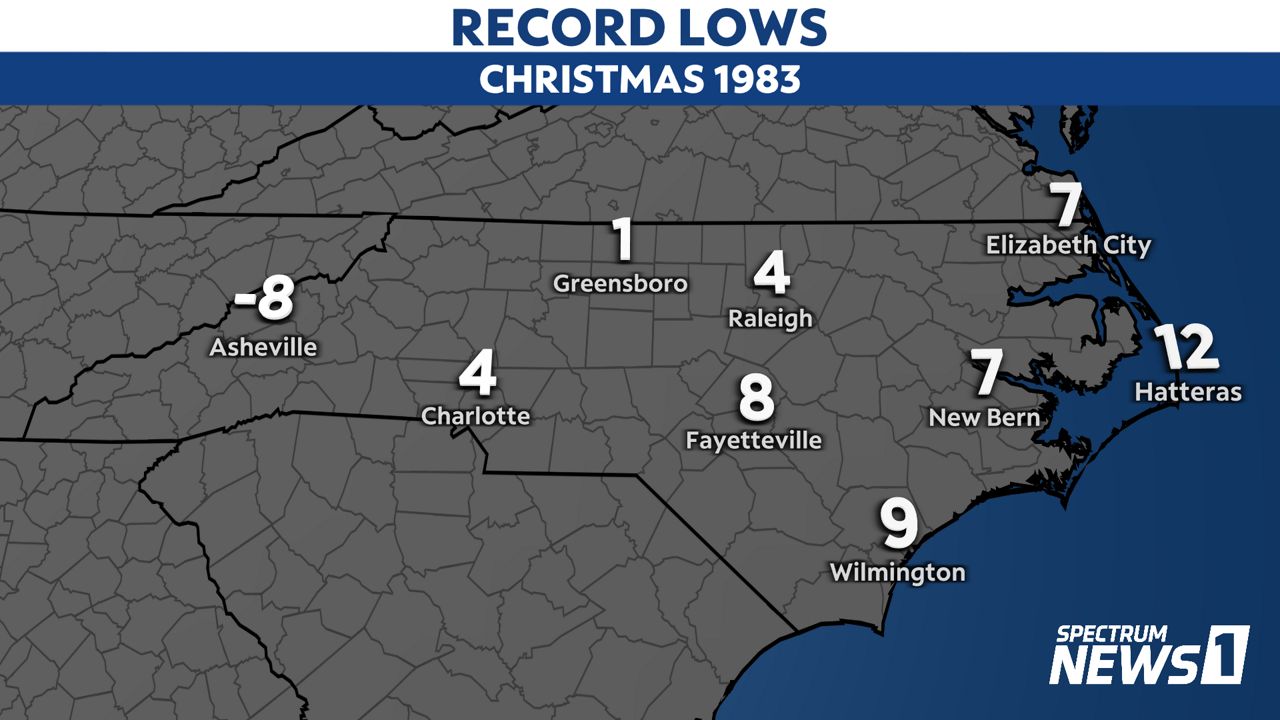 Along with that, many reporting stations across North Carolina saw record low daytime highs for the date.
That afternoon, no reporting station made it above freezing. As a matter of fact, no station made it to the 30s. The "warmest" location on Christmas afternoon 1983 was Wilmington, with a "balmy" high of 26 degrees.
Asheville, Greensboro, Raleigh-Durham, New Bern and even Cape Hatteras only saw highs in the teens that afternoon.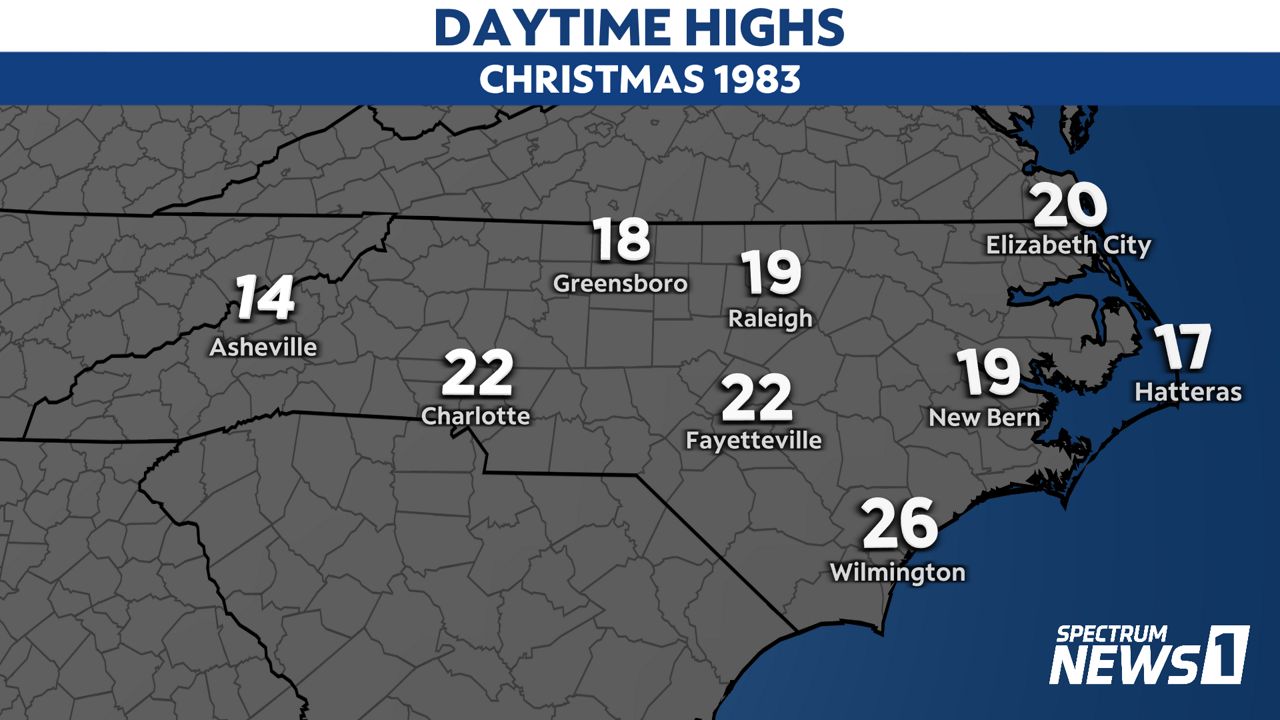 As cold as Christmas 1983 was for all of North Carolina, Christmas 1989 was going to be colder for parts of eastern North Carolina.
Just before Christmas, a winter storm dropped anywhere from an inch to over a foot of snow from the North Carolina coast to just west of I-95.
With snow on the ground and cold air moving in, it set the stage for even colder Christmas temperatures in those areas.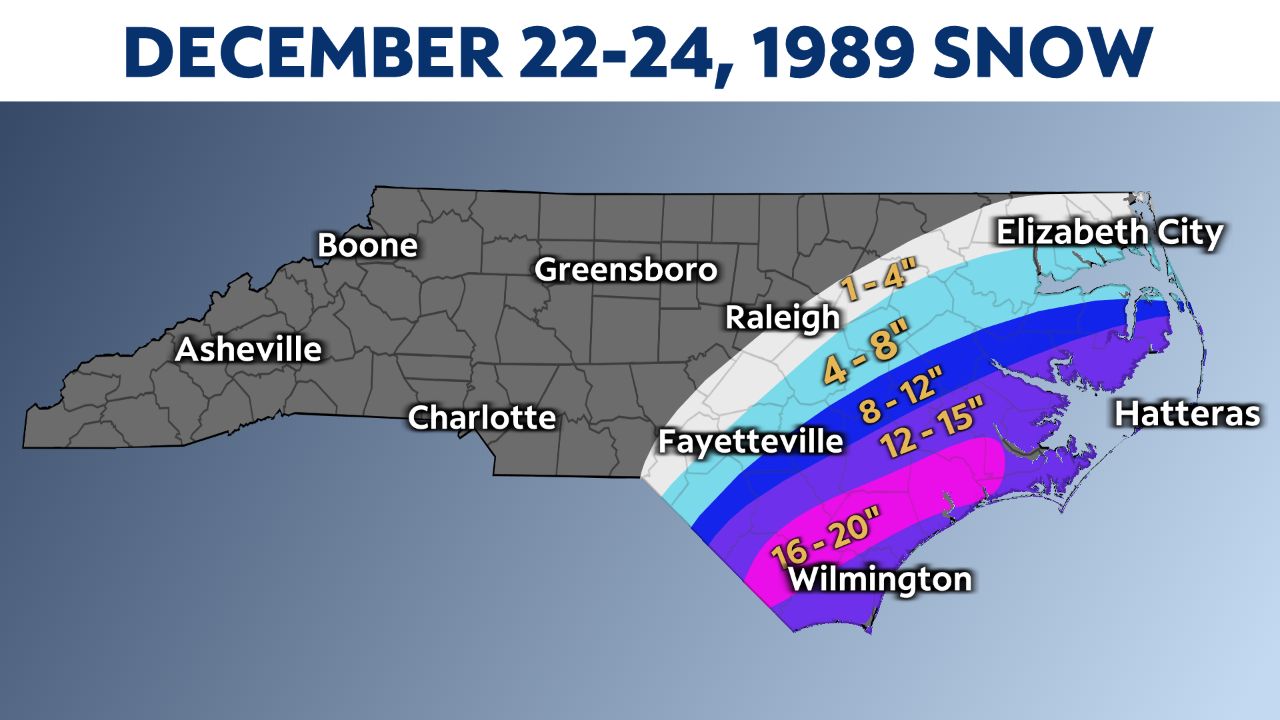 At the Fayetteville Airport, the low on Christmas morning 1989 reached 4 degrees. Wilmington saw a morning low of zero. In New Bern, the temperatures went to minus four. The lows recorded at Wilmington and New Bern were all time record lows for the location, and those records still stand today.
As for Christmas weekend 2022, get ready for the cold! But not the cold we saw in 1983 or 1989. Be prepared and bundle up.
Our team of meteorologists dives deep into the science of weather and breaks down timely weather data and information. To view more weather and climate stories, check out our weather blogs section.