The number of passengers on the train route between Charlotte and Raleigh keeps growing, so the state plans to add more trains starting this summer.
Beginning July 10, there will be ten daily trips between Raleigh and Charlotte, according to N.C. by Train and the state Department of Transportation.

"The trend of increased ridership over the last year has shown the need for new service options," ​​said Jason Orthner, the Rail Division director at N.C. DOT.
Last year, North Carolina's passenger rail service recorded its highest ridership since it was created 32 years ago, according to the DOT.
"Then in April, after having its best first quarter ever, NC By Train boasted its second highest ridership month with over 53,300 passengers," the DOT said in a news release.
Coach seats on the train from Raleigh to Charlotte are $27 through Amtrak. Fares are less for shorter trips.
The new schedule includes a 6:45 a.m. train out of Charlotte and a 1 p.m. out of Raleigh.
Last year, more than 522,000 passengers rode the DOT's NC by Train routes in North Carolina, according to the state.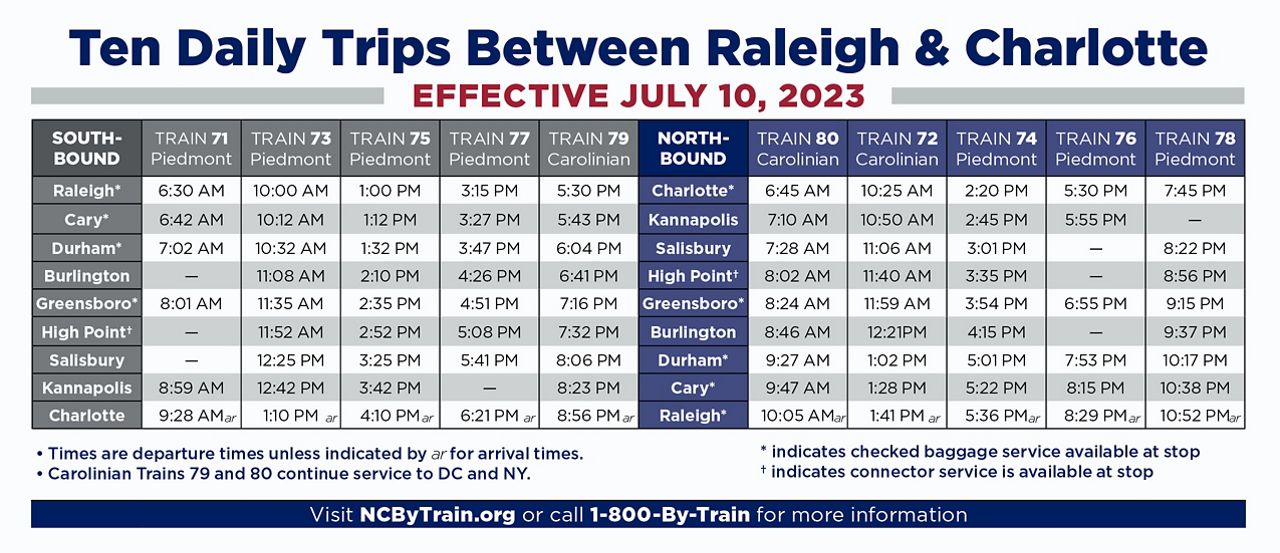 "North Carolina's passenger rail is critical to connecting our communities, and it's great to see a record number of people taking advantage of it," Gov. Roy Cooper said in January when the ridership numbers were released. "We're going to continue to invest in public transportation across our state."
"We're pleased to see that so many North Carolinians are taking advantage of everything train travel has to offer," said state Transportation Secretary Eric Boyette. "It's an easy way to get to your destination without all the stress of driving."