Gov. Greg Abbott's "tough on immigrants" message this campaign season is not only appealing to Republicans; it also resonates with the state's growing bloc of independent voters.
An exclusive Spectrum News/Siena College poll of likely voters in the November election in Texas – in both parties and among independents – identified the economy as their No. 1 issue in the coming election. Asked to rank other issues such as crime, gun control, climate change and racial justice, the issue of immigration found a surprising resonance among independent voters.
Those self-identified independent voters are now a substantial bloc among Texas voters, according to the poll. A diversifying Texas is definitely now a plurality state. Among those polled, 34% called themselves Republicans, another 32% identified as independents and 27% aligned themselves with the Democrats.
"When you're looking at campaign strategy, that's why you see one candidate stressing abortion in their ads, while the other candidate is stressing immigration," said Professor Don Levy, director of the Siena Research Institute. "They're not necessarily trying to motivate the people in their part but trying to win over independents who might side with them on one – but not the other – issue."
Democrats and Republicans could hardly be more polarized on the issue of immigration.
Asked about the idea of busing migrants to cities like New York and Chicago – a high-profile and highly touted decision by Gov. Greg Abbott – only 16% of Democrats were in favor, and 70% were opposed. Republicans were 87% in favor, and 10% opposed.Self-identified independents were 47% in favor and 44% opposed of the busing strategy, according to the poll. And while whites were the group most inclined to support the strategy, Latinos surveyed were almost evenly split, with 41% in favor and 44% opposed.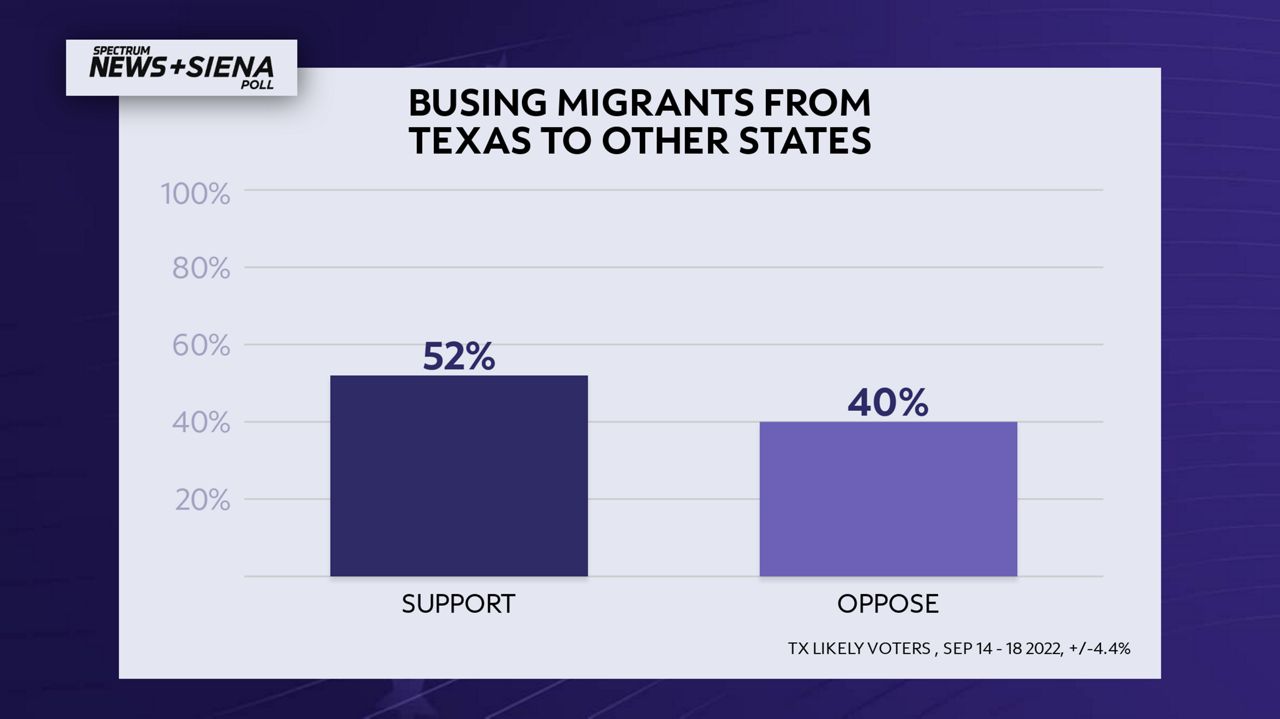 So, it's no surprise Abbott is hitting two issues – economic recovery and border immigration – hard in his talking points and televised advertisements.
"Gov. Abbott is talking about two issues that he does very well," Levy said. "Immigration is the issue that was seen as second most important to Texans overall, and dramatically important as an issue if you're talking to Republicans."
Operation Lone Star, a multi-billion dollar operation that has put Texas law enforcement on the Texas-Mexico border, has earned almost universal support among Republicans. The Spectrum News/Siena College poll shows 93% of Republicans surveyed either strongly support or somewhat support the state's "catch and jail" policy for those crossing the border.
In those same categories, only 24% of Democrats polled favored the policy. Independents were much closer to Republicans on the issue, with 53% either strongly or somewhat supporting the policy.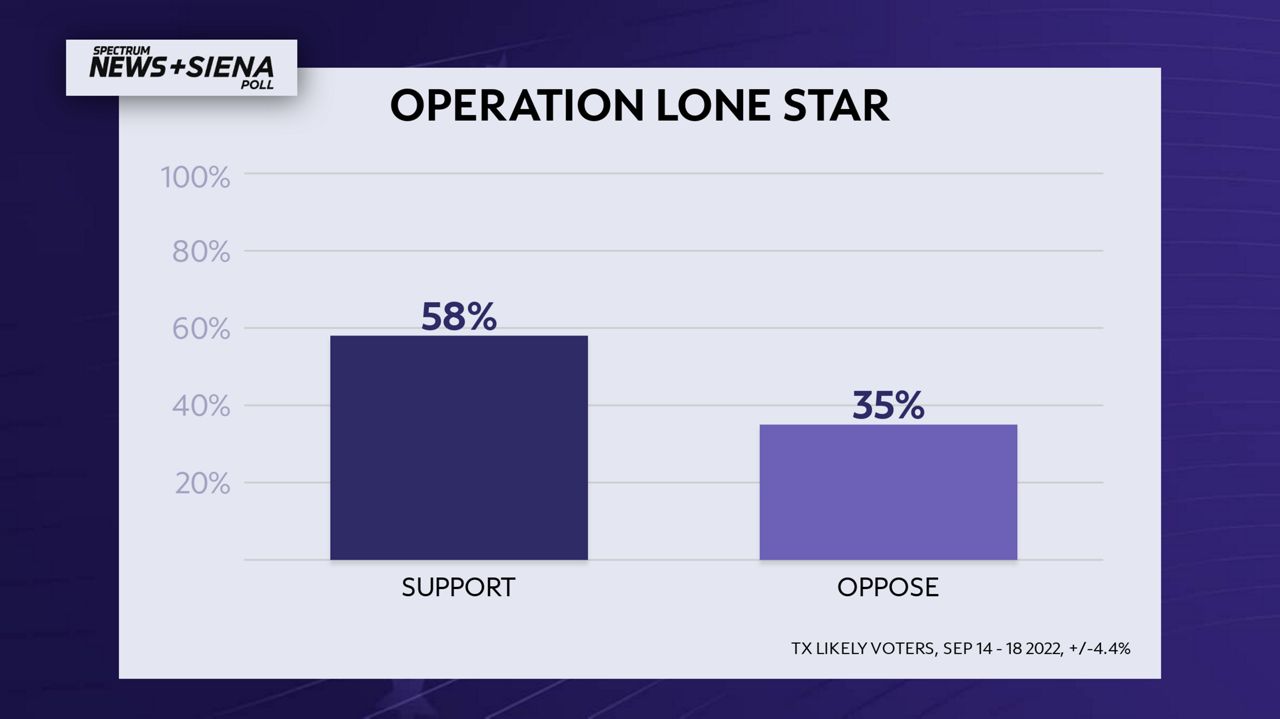 O'Rourke, in his discussion of the issue, has taken the more complicated route of suggesting the state could establish some type of guest worker program for migrants. The Abbott campaign has accused O'Rourke of failing to recognize the problem and supporting legal pathways for 95% of all illegal immigrants, which the Abbott campaign has labeled "open borders."
What wins out in the end at the ballot box in November will be the issues that actually motivate independent voters to head to the polling site.
"What's more important to them? Their agreement with Gov. Abbott on economic issues or immigration? Or whether they tend to agree with Beto O'Rourke on abortion, or education?" Levy said. "Right now, we see a seven-point lead that suggests Abbott's issues are winning out."