TEXAS — Fewer than 40% of Texans believe state policymakers are constructing laws related to COVID-19 based on science, according to an exclusive Spectrum News/Ipsos Poll released this week.
The poll gathered data on this and other current news topics from more than 1,300 Texans, including more than 400 parents of school-aged children.
One of the major themes of the data was how wide the gap was between the way Texans feel about issues related to COVID-19 and the actions lawmakers have taken. For example, when asked about COVID-19 vaccine mandates, 68% of adult Texans support a requirement for teachers and school administrators.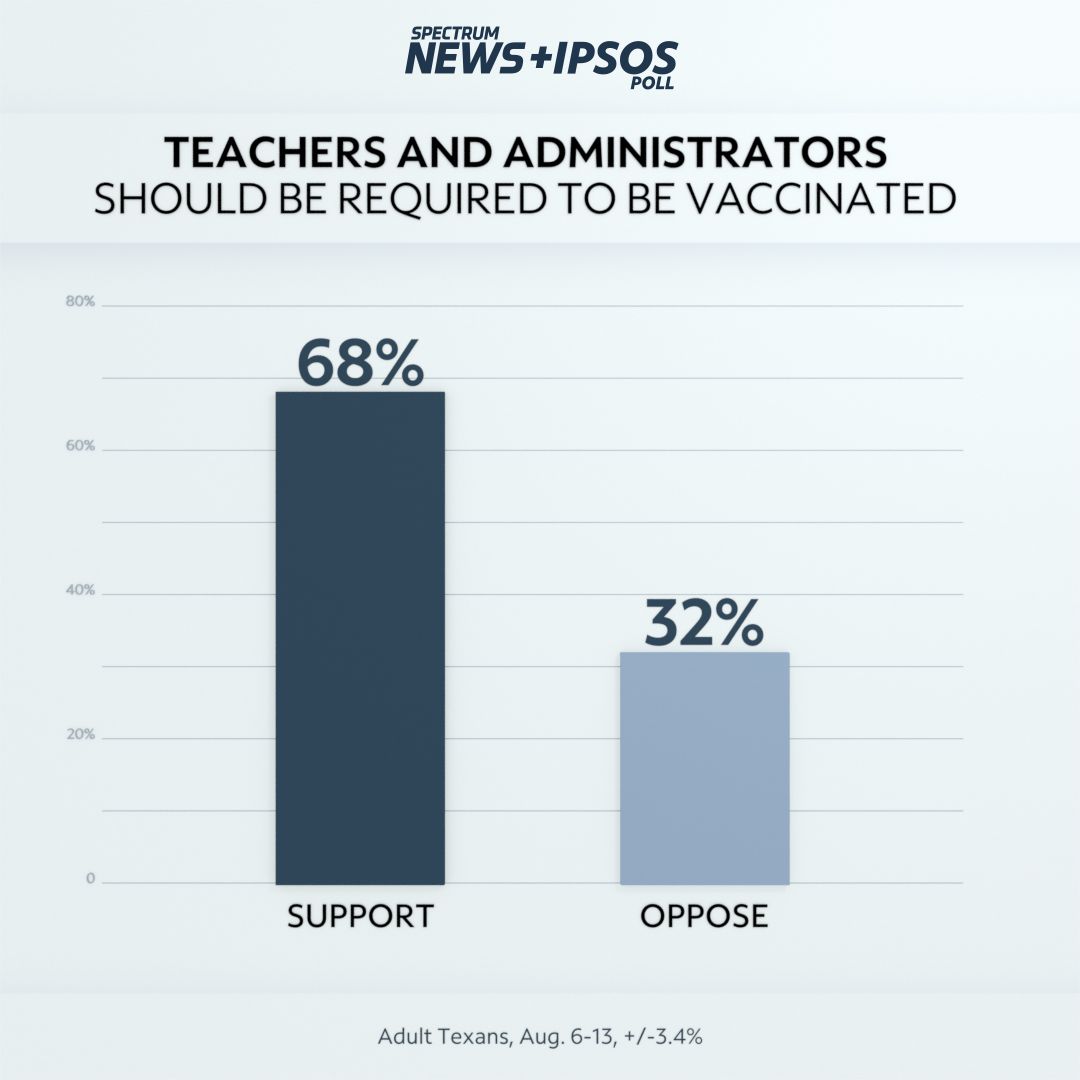 "I think the biggest point of intersection is how we are able to get students back in the classrooms safely and how the state can continue to reopen with common-sense measures in place," said Mallory Newall, vice president of U.S. public affairs for Ipsos. "What this data tells me is that, right now, Texans are not aligned with the governor. When it comes to the usage of masks in public, Texans are much more pro-mask requirements than the governor is. Talking about schools specifically, there is broad support for requiring vaccines for teachers and eligible students alike."
Last month, Abbott issued an executive order banning government agencies from requiring individuals to get vaccinated or provide proof of vaccination. Public and private entities receiving state funding are prohibited from denying entry to individuals based on their vaccination status, but all nursing homes and living facilities can still require inoculations for their residents.
"The new executive order emphasizes that the path forward relies on personal responsibility rather than government mandates," Abbott said in a statement. Abbott's order reiterates and extends previous orders he's issued penalizing local officials and others for enforcing various COVID-19 safety protocols.
Abbott incorporated an executive order he first implemented on May 18, which forbade local governments and school districts from issuing mask mandates. Abbott's updated order adds that state hospitals, living centers and jails can "continue to use appropriate policies regarding the wearing of face coverings."
The order emphasizes the removal of all public health limits on Texas businesses as well, encouraging the use of masks in areas with elevated coronavirus transmission rates.
"Texans have mastered the safe practices that help to prevent and avoid the spread of COVID-19," Abbott's statement said. "They have the individual right and responsibility to decide for themselves and their children whether they will wear masks, open their businesses and engage in leisure activities."
The most recent COVID-19 numbers don't support that statement, as cases continue to surge in Texas and around the country. In many Texas cities, hospitalization numbers are back to pre-vaccine levels.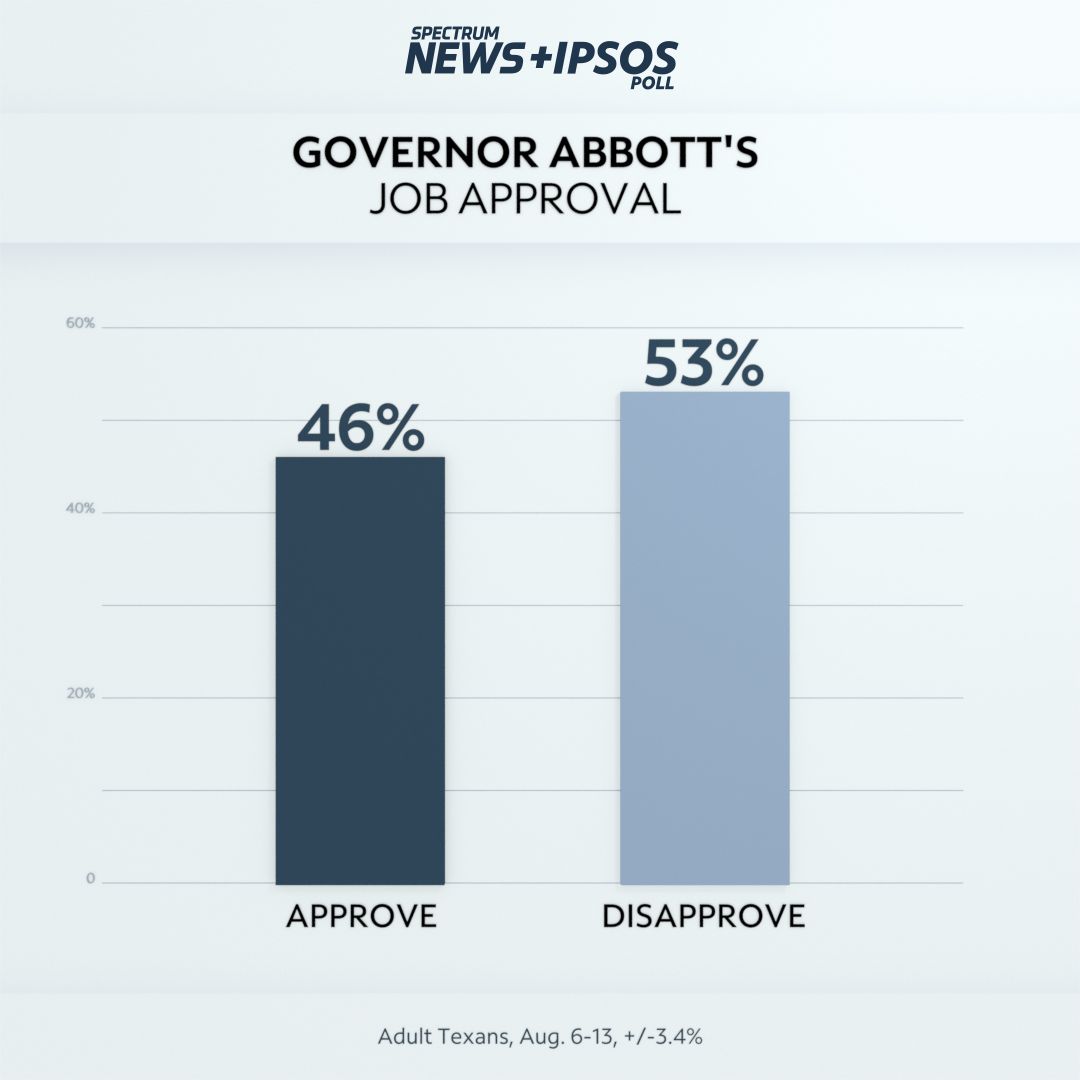 As Texans are left to fend for themselves against COVID, Abbott's popularity has taken a hit. The Spectrum News/Ipsos Poll found that only 46% of Texans approve of the job he's doing overall, compared to just over half last year. Most (53%) disapprove.
Overwhelmingly, the pandemic is the issue most Texans are focused on, the poll found, and it's also the issue Abbott is doing worst on. Now, just 43% approve of the job he's doing on COVID-19, compared to 49-58% for other issues in the survey. Last year, his approval rating on the coronavirus was more evenly split (48% approved, 43% disapproved in 2020).
The only person Texans trust less than Abbott on COVID is former president Donald Trump. Exactly half, on the other hand, trust President Joe Biden to provide them accurate information on COVID-19.
One demographic that appears to struggle with Abbott's decisions related to COVID is parents, who are left to grapple with the prospect of sending their children back to schools that offer little state-mandated protection against the deadly virus.
The Spectrum News/Ipsos Poll found 72% of parents support mask requirements in K-12 schools. The data showed significant differences of opinion by race, ethnicity and political party. However, even half or more Republicans support mask requirements in offices, grocery and retail stores, transit hubs and sports stadiums.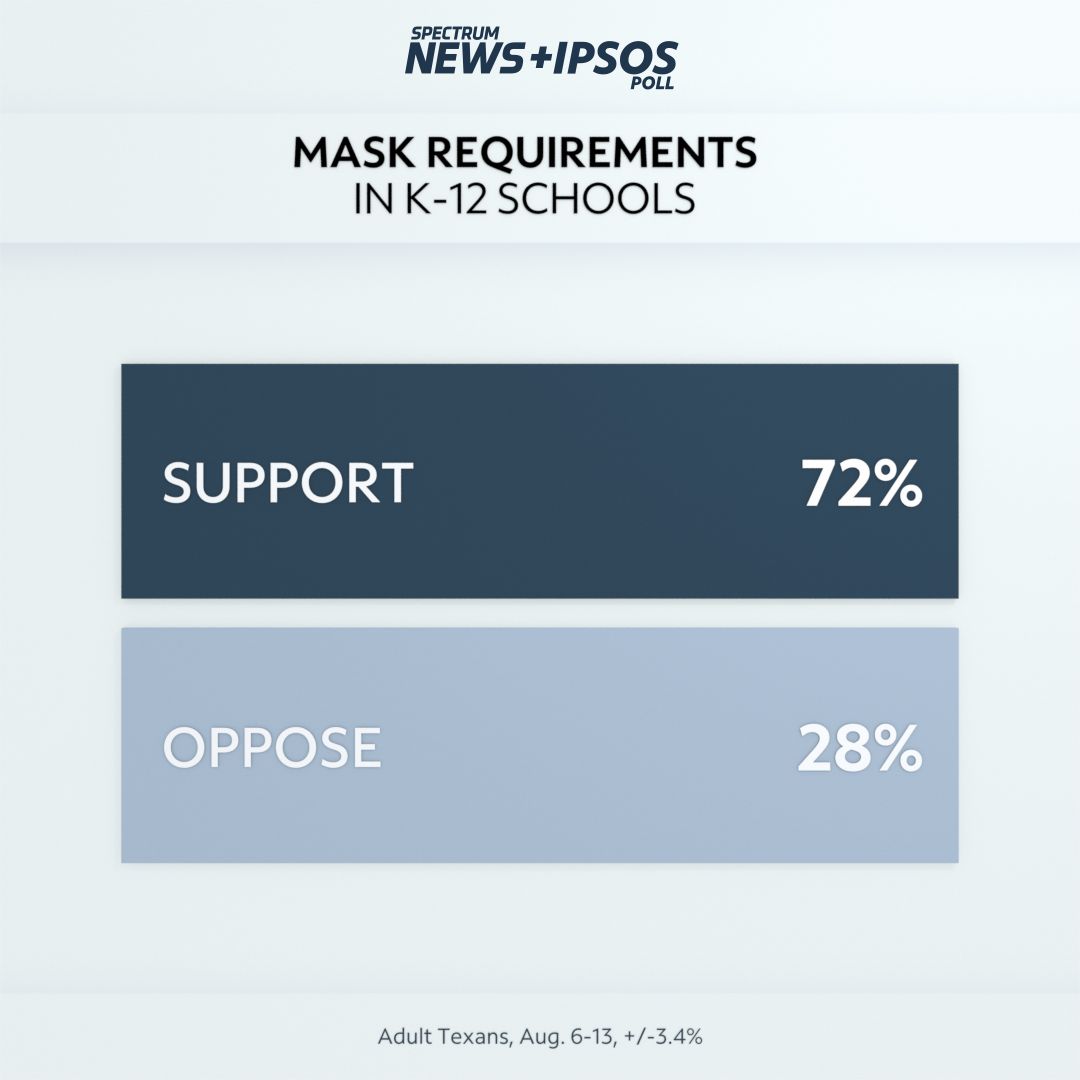 When it comes to certain proposals around COVID-19 and back to school, the public is once again misaligned with the governor. For example, just 17% of all Texans, and 22% of parents with a school-aged child, support the following proposal: "Students who test positive for COVID-19 should not have to quarantine." On the other hand, nine in 10 believe schools should be required to notify parents if a child or teacher tests positive — regardless of whether it's in their classroom (92% support) or in the school as a whole (89% support).
There is broad support for requiring vaccines for teachers and students alike. Support for these proposals is significantly different by political party. Though there is low support among Republicans, significant majorities of Democrats and independents favor these policies, leading to overall high levels of support.
"When you compare COVID-19 to other issues, we are certainly seeing a little bit of a perception gap," Newall said. "We asked all respondents in our poll if they approve or disapprove of the way that the governor is handling a certain amount of issues. And COVID-19 is actually at the bottom of the list. Just slightly more than two out of five Texans approve of the way that the governor is handling COVID, and that falls behind all other issues."