AUSTIN, Texas -- Me & the Bees CEO Mikaila Ulmer spreads her Earth Day 2020 message online. Even though the 15-year-old spent her Earth Day at home, it didn't stop her from celebrating.
April 22 marks Earth Day
Mikaila Ulmer, 15, the CEO of her own company, has tips for Earth Day activities
Portion of company profit goes to nonprofits
"The bees rely on me," Mikaila said. "When you have a social cause that keeps you going, it's kinda like, 'Wow, I'm doing this for the bees or I'm doing this for the environment.'"
That's what motivated her to write a blog entry on her top 10 fun things to do to help on Earth Day. It's a list of tips and activities that can help folks stay eco-friendly on Earth Day and beyond. Upcycling bottles, replacing plastic straws with paper or steel and recycling old T-shirts into grocery bags are just a few of Mikaila's tips.
One of her favorite tips is "Veggie and Flower Power." It's the reason she'll host a virtual interview with legendary natural gardener John Dromgoole on gardening and how it makes the earth a better place. It's also why she shares a home garden with her father that they use to grow their own produce and attract pollinators.
"By planting bee-friendly and pollinator-friendly plants, you're helping pollinators," Mikaila said. "By planting trees, you're helping the environment and oxygen, and that creates a sustainable garden."
Helping the bees motivated Mikaila to start her business 10 years ago, after a couple of bee stings led to her research on the endangered species. What she learned led to an idea that made her into the entrepreneur she is today.
"I learned how incredibly important pollinators are and that they're dying at an alarming rate," Mikaila said. "I decideed to start a lemonade stand and use my great grandma Helen's recipe for flax seed lemonade and sweeten it with honey!"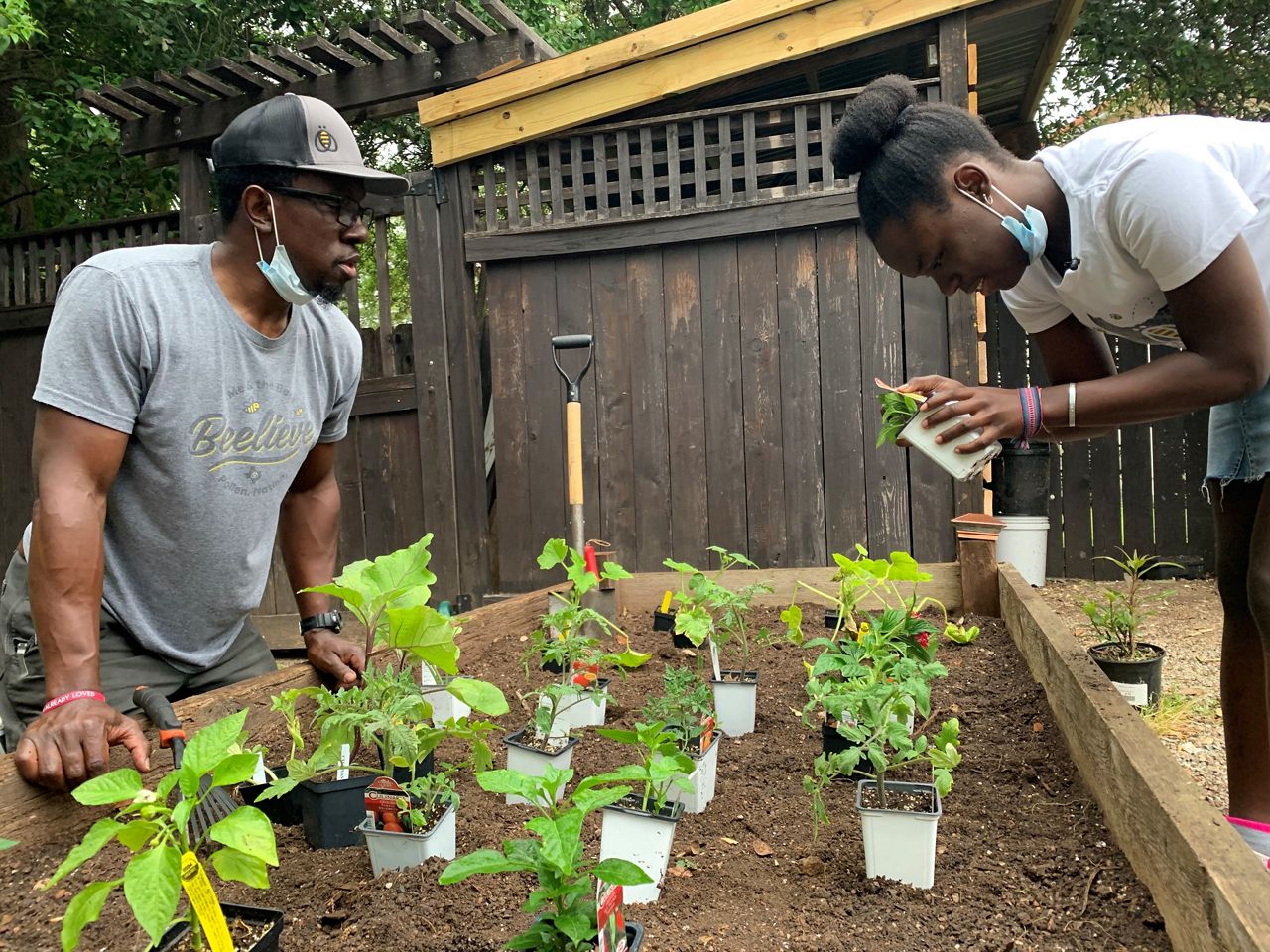 Me & the Bees CEO Mikaila Ulmer and her father tend to a garden in this image from April 2020. (Jordan Hicks/Spectrum News)
Now, 10 years later, Me & the Bees Lemonade is in 1,800 stores nationwide. Ten percent of the profits goes to organizations dedicated to saving the bees: Heifer International, the Texas Beekeepers Association and the Sustainable Food Center.
Her company is how Mikaila protects the earth year-round. She hopes her tips and the virtual event inspires others to do their part, whatever that looks like for them.
"Maintain your sustainable habits," Mikaila said. "It's super great if you plant a garden, but you also have to take care of that garden and then you get to harvest from it and then you get to plant a new garden!"
You can check out Mikaila's virtual interview with John Dromgoole at facebook.com/MikailasBees or on her website, MeAndTheBees.com. You can also learn more about Mikaila's upcoming new book, "Bee Fearless," set to release this August.