AUSTIN, Texas — April 1 marked Census Day, a key reference date in participating in the 2020 census. Typically, communities use the day to hold in-person events to promote the census, which is issued every 10 years, and avoid an undercount. But, COVID-19 is forcing big changes to efforts to reach hard-to-count communities.
Social distancing measures have made census outreach difficult
Organizers turning to the internet to continue outreach
"We are in the middle of a pandemic, so that means everything has changed for us. The organizations who previously had events planned for (Census Day), they're delivering food, they're connecting with people over the phone, asking them, 'What do you need?How can we help you?' Many of the folks are expressing a need for just helping to pay the bill," Mariana Salazar, the census 2020 project director for United Way for Greater Austin, said.
In the months leading up to when households received Census Bureau mail in March, city and county officials were ramping efforts to get a complete count, considering how state leaders in Texas have allocated no funding towards the effort, which puts congressional representation and federal dollars at risk. One study found that if Texas is undercounted by just one percent, it could lose at least $300 million in federal funds every year. That funding would go towards education, health care, and infrastructure.
During the stay-at-home orders, census advocates are now trying out creative and collaborative ways to get a complete count, but at a distance.
LIVE BLOG: COVID-19/Coronavirus News & Announcements
"All of these organizations had been planning a lot of person-to-person events, a lot of door knocking and hand shaking, or going to events. All of us had to shift, right? From handshakes, we're going to digital shakes. We're calling people, we're texting people, we're reaching people in very different ways. Ultimately, what we want to do is reach people on a personal level," Salazar said.
Staff at AVANCE Austin said working on a personal level with parents of young children can be transformational. The nonprofit provides early childhood education to low-income families with young children.
"In-person programming really is the key factor in establishing trust between our educators and our families. You trust someone more when you've met them in person, when you've interacted with them," Maggie Aguas, program manager at AVANCE Austin, said.
Local groups have been trying to leverage those established relationships to get an accurate 2020 census, especially within communities the members of which might not know what the census is or are fearful of participating.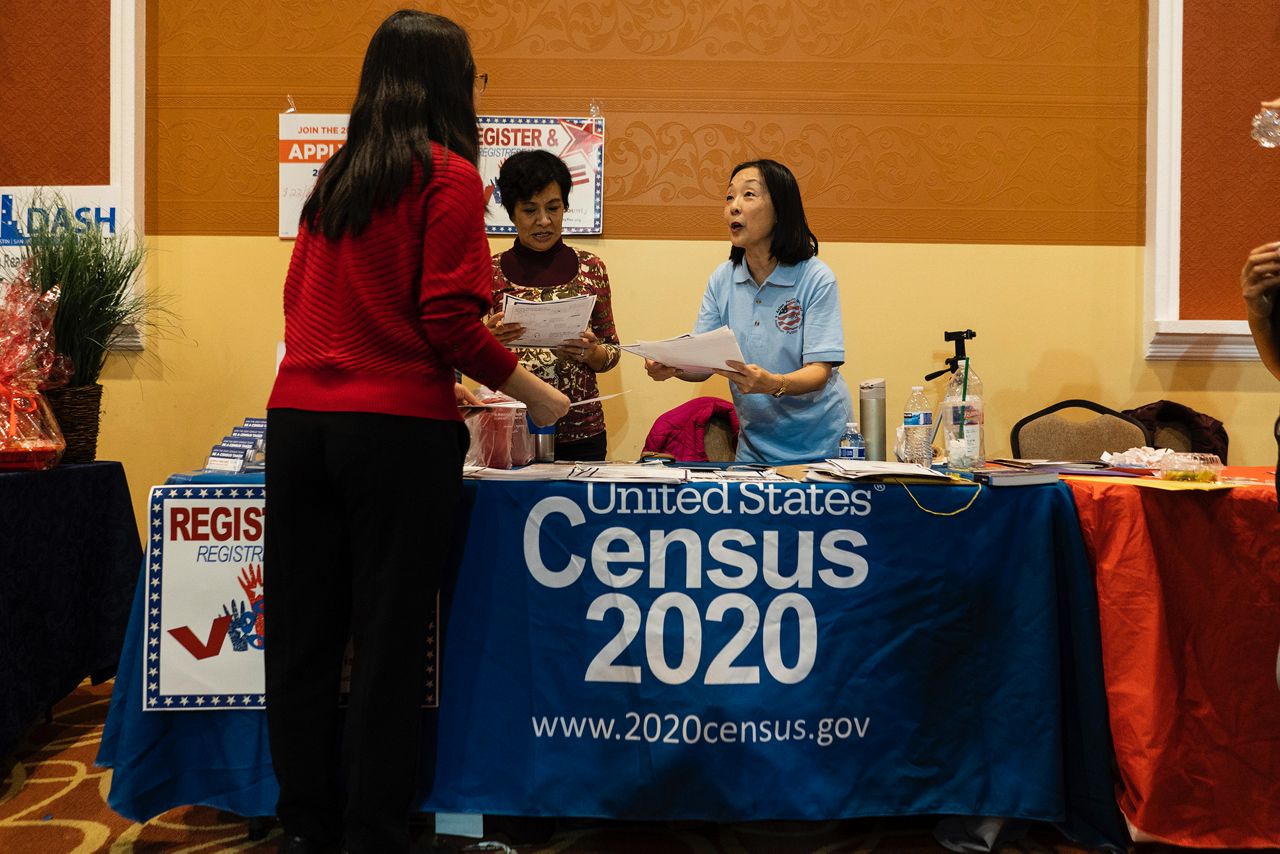 Alice Yi, 63, right, a consultant of Asian and Pacific Islander American Vote, explains with brochures about US Census 2020 to a participant at Vietnamese New Year Festival at Greater Austin Merchants Cooperative Association on Sunday January 19, 2020 in Austin, TX. More events like these would have been held on April 1 if not for coronavirus social distancing measures. (Courtesy: Alice Yi/GO Nakamura)
"We actually got two of our moms trained to be census ambassadors, they were going to be the ones hosting census events. There were going to be info session and completion events. We've had to shift, which everyone has had to do. The most logical shift was to do digital programming," Aguas said.
Aguas told Spectrum News their parenting programs and support services are now being done virtually. Staff is also reaching out to the 140 families they work with regularly one-by-one to make sure they have completed the census. On Census Day, what would have been an in-person information session, an educator at AVANCE hosted one on Facebook Live.
"A lot of the hard-to-count communities don't see themselves as part of the community for various reasons. The message that we've been sending is how important every single person that lives in the community is," Aguas said.
Another idea to amplify social media presence, members of the Asian American community have shared personal videos about why they are completing the census and posting them on different platforms. Asian-Americans are among the fastest growing groups in the country, but according to research from the U.S. Census Bureau, they are the group least familiar with the census and least likely to fill out the form compared to other demographics.
RELATED | Coalition Aims to Ensure Accurate Count of Asian Americans in Central Texas
Hannah Roh, the 2020 census manager for the Austin Asian Complete Count Committee, said they also plan to hold several webinars to conduct census training and answer questions.
"Part of it now is trying to have a more coordinated effort, so we track this outreach material that we're creating in the space is actually going to the community members that are hard to count. We are really concerned, though, still about how to reach members of our community who don't really use social media, or may not have easy access to WiFi, or may not have a personal computer," Roh said.
As COVID-19 forces local groups to think about different strategies, some census leaders believe the message remains the same, and that the pandemic might even emphasize it.
"This public health crisis that we're in right now, it really is a sobering reminder to all of us of how important these federal resources are, these public resources are. It's about basically becoming visible, so that we can have the appropriate amount of federal resources and funding back into our communities. I think it really does reinforce the idea of important this is. There's a lot at stake here," she said.
For the first time, the census will be available to complete online. By April 1, households should have received an invitation in the mail to complete the 2020 census by phone, mail, or online at 2020census.gov.