Ninety years ago, through the Great Depression, the Hoover Dam was approved and constructed to harness the mighty Colorado River.
Considered one of the seven wonders of the world, the construction of Hoover Dam led to the United States' largest reservoir, Lake Mead.
Today, Lake Mead looks like a shell of its former self, hitting a new record low water level of 1,068.08 feet above sea level, according to a report from the U.S. Bureau of Reclamation.
This beats the previous record low of 1,071.61 feet set back in 2016. At its peak in 1983, Lake Mead had a recorded water level of 1,225 feet above sea level. The closest it's been to that level in modern times was in 2000, when it reached 1,214 feet.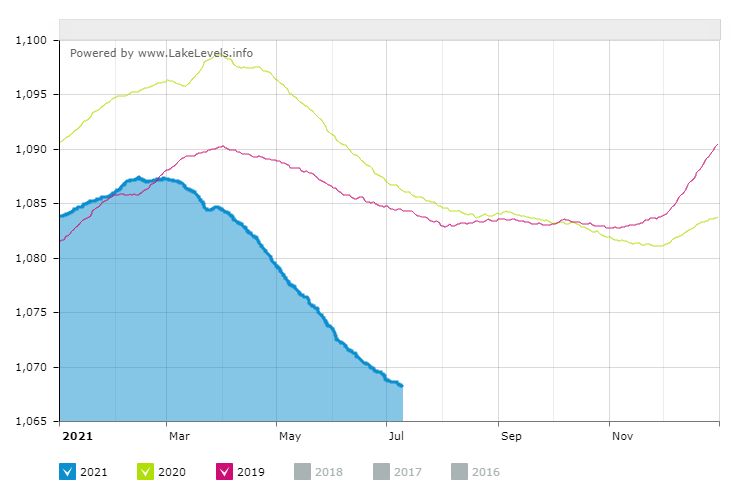 So, why is this important to the nation? Lake Mead may be serving as the "canary in a coal mine" for the country and the world.
One could argue that the water level of Lake Mead is dropping at such a fast rate due to warming temperatures, increased evaporation and increased demand for human consumption.
Lake Mead could be the center of a huge climate crisis: water shortages across the western U.S.
There are several reasons behind the lower water level of Lake Mead. The first being a lack of rainfall. The western U.S. continues to suffer through an extreme drought that could continue through the summer.
With a strain on the region's water supply, water cutbacks have already begun impacting agriculture in the area.
According to the National Oceanic and Atmospheric Administration's (NOAA) National Integrated Drought Information System, an estimated 81 million are experiencing impacts of this year's drought.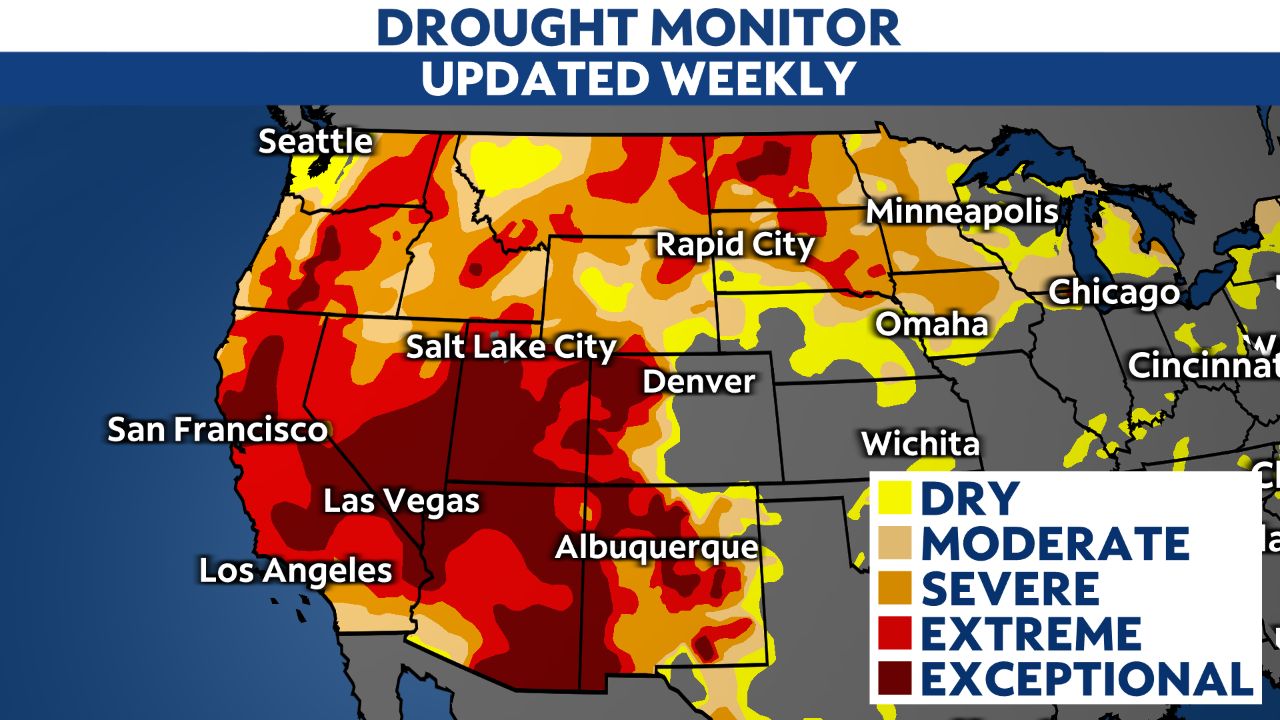 The western U.S. continues to experience drier and hotter summers over the past few decades. Evaporation alone accounts for six feet of water loss for Lake Mead each year. That may not seem like much, but six feet of water loss equals 300 billion gallons of water gone for human use and hydropower.
Droughts are a normal natural hazard. However, one could argue recent droughts are made worse by an accumulation of extremely dry years this century.
The water demand continues to grow, adding even more stress on a fragile supply.
Western cities like Las Vegas and Phoenix continue to grow in population. More people means we need more water for daily consumption, agriculture and other needs.
Lake Mead supplies water to several major cities in Arizona, California and Nevada. Ninety percent of Las Vegas' water comes from Lake Mead alone.
Elected officials in western states have already began enacted policies to limit water use during this dire time. California Governor Gavin Newsome recently issued a drought emergency proclamation for 41 of the state's 58 counties. The proclamation empowers the state to take greater control over water resources.
The water that flows through the Hoover Dam also helps create electricity for the western U.S. Due to the record low water level, less water is flowing through the dam, lowering hydropower by 25%.
With less energy production, rolling blackouts have been more common across California this year as above-average heat strikes cities from the Desert Southwest to the Pacific Northwest.
The combination of high heat, drylands and vegetation can cause wildfires to start faster, become hotter and last longer. More fires mean we need more water to combat the flames. That's a tough decision between drinking water and fire-fighting water that I imagine no one wants to decide.

Currently, Lake Mead is roughly 140 feet below its 2000 level when it was considered full. That's about the height of the Statue of Liberty in New York. If Lake Mead drops another 175 feet, water would then no longer pass through the Hoover Dam and cut off the water supply for everyone downstream.
Lake Mead and the rest of the west need rainfall in a major way. Millions of people are being impacted by the low levels now, and millions more will be affected in the years and decades to come.
If we continue on the current trend we're on, the day may come where some painful water cuts will have to be made to conserve what water is left.