WASHINGTON, D.C. -- The coronavirus has only underlined the health disparities between Black and White Americans.

African Americans have higher rates of diabetes, hypertension, and other ailments. They also are more likely to lack health insurance.

So, what have leaders done to address these inequities - and what more could they be doing?



Maternal Health Disparities

Data from the CDC shows Black women in America are three to four times more likely to die from complications related to childbirth and pregnancy than their White counterparts.

Adam Searing, a research professor at Georgetown University's Center for Children and Families, says there are several reasons for this disparity.

"Black mothers often don't get the same kind of care in hospital as White mothers do, so they're getting a lesser standard of care. They're often treated differently by doctors - and that's just straight out racism," he said, highlighting a few of the causes.

Aiming to tackle the high mortality rate among Black mothers, Rep. Alma Adams, D-12th District, joined with other leaders on Capitol Hill earlier this year in introducing the "Momnibus."

The package of nine bills calls for, among other things, investing in maternal health research, improving access to food and healthcare, and funding anti-bias training in maternity care settings.

"Maybe they don't even realize it, but this implicit bias is there," she said. "You don't consider my pain as a Black woman to be the kind of pain that you might get from another patient who may not look like me."

Adams co-founded the Black Maternal Health Caucus on Capitol Hill in 2019. She argues ending the disparities in maternal health should not be a partisan issue.
"For me, this work began when my daughter - a Black mom herself - survived a complicated pregnancy that almost claimed her life," she said at a press conference introducing the Momnibus.
So far, the Momnibus legislation is in the earlier stages on Capitol Hill.


Health Insurance Access

When it comes to access to health insurance, African Americans and other racial minorities are more likely to be uninsured than their White counterparts.

That disparity can have a compounding impact, suggests Samantha Artiga, the director of the Disparities Policy Project at the Kaiser Family Foundation (KFF).

"If people are worried about health care costs, they typically delay or forego needed care which can lead to worse and more serious health problems over the longer term," she said.

Few issues have gripped Washington more over the past decade and a half than health insurance. Obamacare, which was signed into law in 2010, inspired protests and multiple repeal efforts.

The rollout of the Affordable Care Act did lead to a bump in the number of people with insurance coverage, according to data compiled by KFF.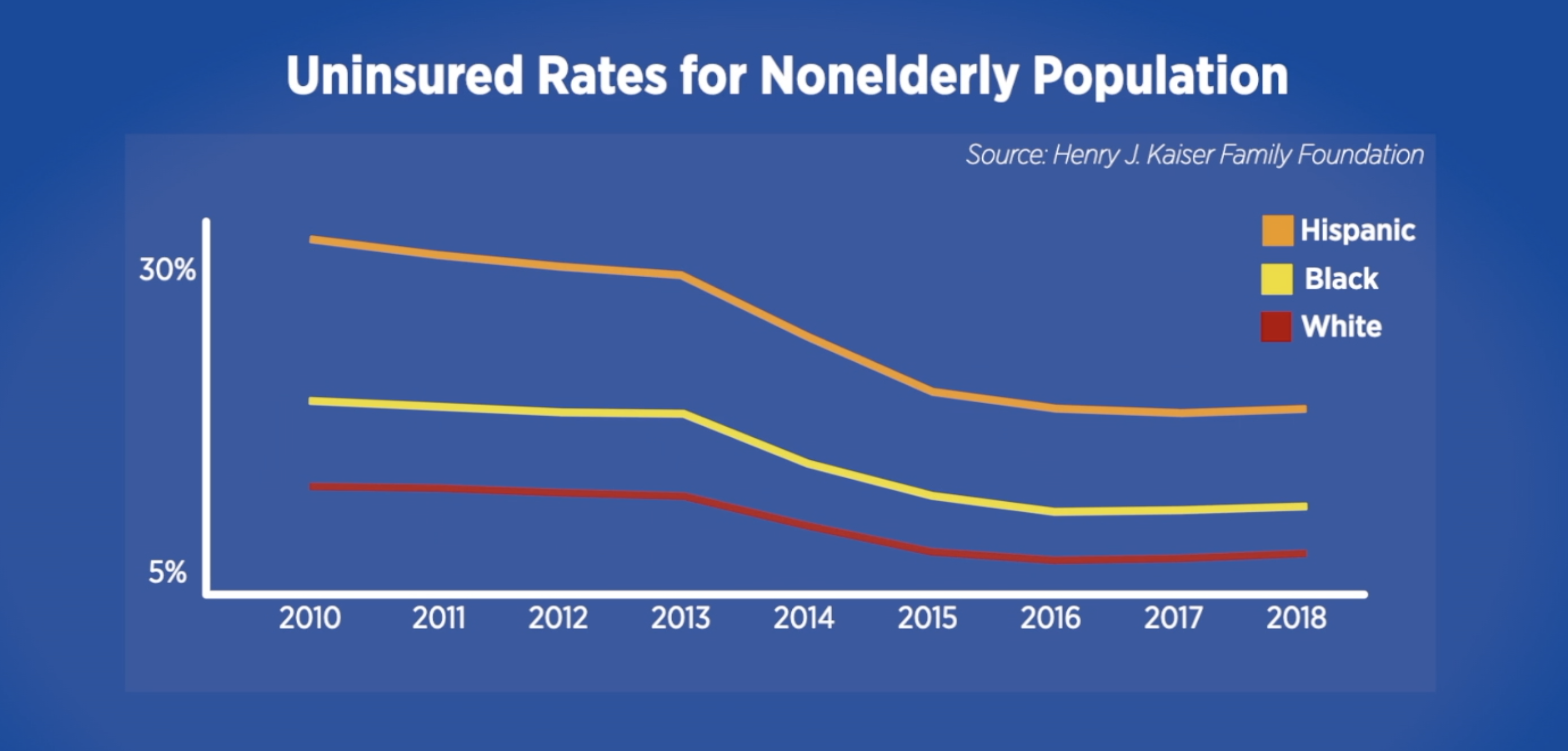 However, racial disparities in coverage still persist, per the KFF data.

In 2010, when the Affordable Care Act was signed into law, 19.9 percent of nonelderly Blacks in America were uninsured compared with 13.1 percent of White Americans. Fast forward to 2018, 11.5 percent of nonelderly Black Americans were uninsured while 7.5 percent of White Americans lacked insurance.



Medicaid Expansion

In North Carolina, one so far not-enacted component of Obamacare could potentially improve access for minorities: Medicaid expansion.

Expansion aims to provide coverage for those who fall in what is labelled the "coverage gap" - they make too much to be eligible for standard Medicaid but not enough to qualify for savings on the insurance marketplace.

"Overall Black Americans are more likely to fall in that coverage gap compared to their White counterparts. And that largely reflects that most states that have not expanded are in the southern region of the country, which is home to a disproportionate share of Black Americans," Artiga said.
Each state gets the option to enact Medicaid expansion.

North Carolina is one of roughly a dozen states that have not done so, and the issue has become a hot potato in Raleigh.

Democratic Gov. Roy Cooper initiated a state budget standoff over the issue. But Republican leaders in the legislature have been clear: they will not expand Medicaid and instead are focused on access to care for people across the state.

The issue remains one of the largest dividing lines between Republicans and Democrats in North Carolina heading into this fall's election.