BUDA-- A group of Hays County veterans may no longer be on active duty, but they didn't sit around when there was a great need - especially when it affected fellow veterans who may be vulnerable to the coronavirus, like Vietnam veteran Javier Gonzalez.
Veterans coming to the aid of other veterans in Central Texas
Many vets are 70-plus years old and vulnerable to COVID-19
Obtain groceries and take care of other essential tasks
"I'm nearing 70 years old and I have an underlying condition, multiple sclerosis and diabetes," Gonzalez said. "So they told me to stay put."
Gonzalez never thought he'd ever find himself in this situation, confined in his home, as concerns over COVID-19 swept across the nation.
"We're Baby Boomers, born in the '50s, so we're in sad shape," he laughed.
"We realized that a significant proportion of our members and even veterans and families that are not members of our post in the local area are over 70 to 75 years old," said Buda Veterans Alliance's Bruce White. "And by definition, they need to be protected."
So veterans in Buda, Kyle and Creedmoor stepped up and found a solution.
"The Vets4Vets really is a culmination of veterans setting all other things aside saying, 'We are still one family,'"said veteran volunteer Cassaundra Melgar-C'd Baca. "We are gonna do the same thing we did in the military. We're gonna pick up our bags, find those in need and take care of the problem."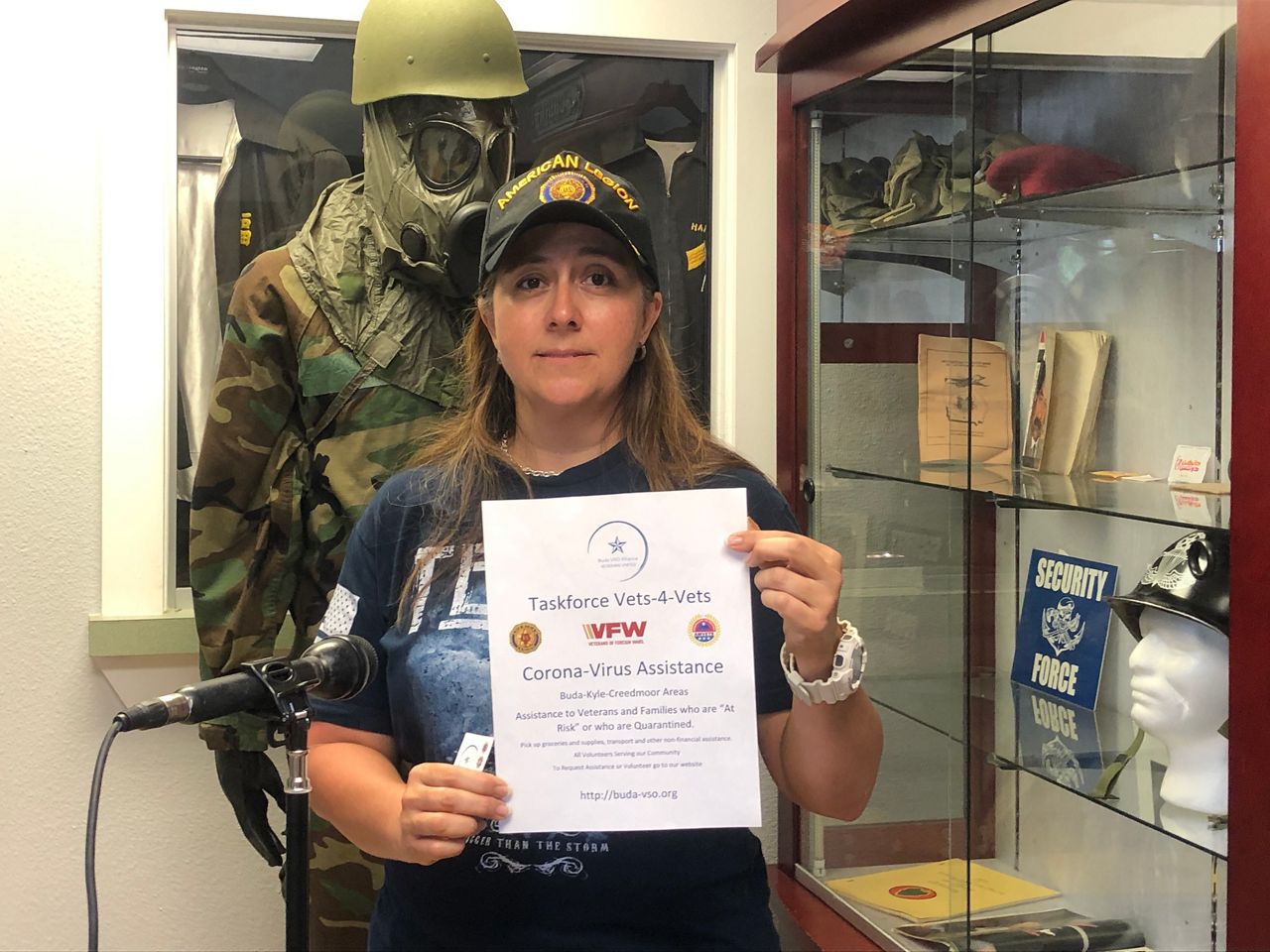 A Vets4Vets volunteer appears in this image from March 2020. (Victoria Maranan/Spectrum News)
These veterans, including American Legion's Jay Gonzales, rushed to a nearby store to buy some of Gonzalez's essentials.
When they arrived at his house, with their gloved hands, they dropped off his groceries and kept their distance.
"I guess it's just what I'm meant for: helping my community, you know?" Gonzales said. "It's real important to me because they've served our country and it's time for some of the young vets to help out where we can."
"There's an old saying in the military: Never leave a man behind or a woman behind - and that's what we're doing here," White added.
Even with a shelter-in-place order, Vets-4-Vets volunteers will still be able to deliver groceries or food to these veterans because the program is considered an essential service.
If you're a veteran or know a veteran in need of assistance, click here​.