SAN MARCOS, Texas – Less than four months after two explosions that destroyed a food truck park in San Marcos, a grand reopening is underway this week.
Explosions happened November 2019
Food truck park was heavily damaged; no one injured
Parts of park have been re-built and re-name
With a new name and unique new seating options, the "Red Bus Food Park" (formerly Allo Eatery) is now open for business at 801 Chestnut St.
The park's new main feature is a renovated Capital Metro Bus that serves as a "dining car," fit with several tables and chairs, Wi-Fi and ChiveTV.
Back in November, a propane tank from the Rondooley's food trailer came into contact with an "unspecified ignition source," causing an initial explosion. The second explosion happened after a spare propane tank overheated. Rondooley's trailer was blown up, with debris scattered throughout the park. Three other trailers also had damage, some more extensive than others. Surrounding businesses, like Double Dave's and Mochas and Javas, had shattered windows.
RELATED | San Marcos Food Truck Owners Out of Work After Explosions
Owners Pascal Boudreau and Liz McGhee estimate the damage to the commercial kitchen onsite, The CoKitchen, was $60,000 - $70,000. Looking back, the pair is thankful no one was hurt in the explosions. In order to ensure this type of incident doesn't happen again, the owners are installing automatic valves on the propane tanks that will shut off on a timer.
"We weren't expecting it to be as bad as it was. And so when we pulled up, it was one of those that definitely took us by surprise," McGhee said. "It took us a long time to get back where we are now. So we're really thankful and really happy and we are hoping that it will move forward in a very positive direction."
For the past almost four months, Boudreau and McGhee have been working hard to ensure a smooth reopening.
"It was a long road, but I'll tell you that I know that a lot of folks have a much harder road. We were lucky enough that we were here every day, we were working every day alongside construction and alongside our other trucks trying to get everything cleared and done," McGhee said. "It was probably one of the most tiresome times in our lives because it is definitely hard to see your business in shambles literally."
The anchor tenant food trucks on the lot now are GroovyQ BBQ, LeStourgeon Seafood, and Abu Omar Halal Mediterranean​. More food options, like Mexican, American, Wings, Hungarian, Indian and Asian Fusion are in talks to join the park, and McGhee says they are also considering rotating them out.
"What's encouraging is that it's a constant kind of increase in flow of people. And so we see that eventually folks in San Marcos and surrounding will know that there's great food," Boudreau said.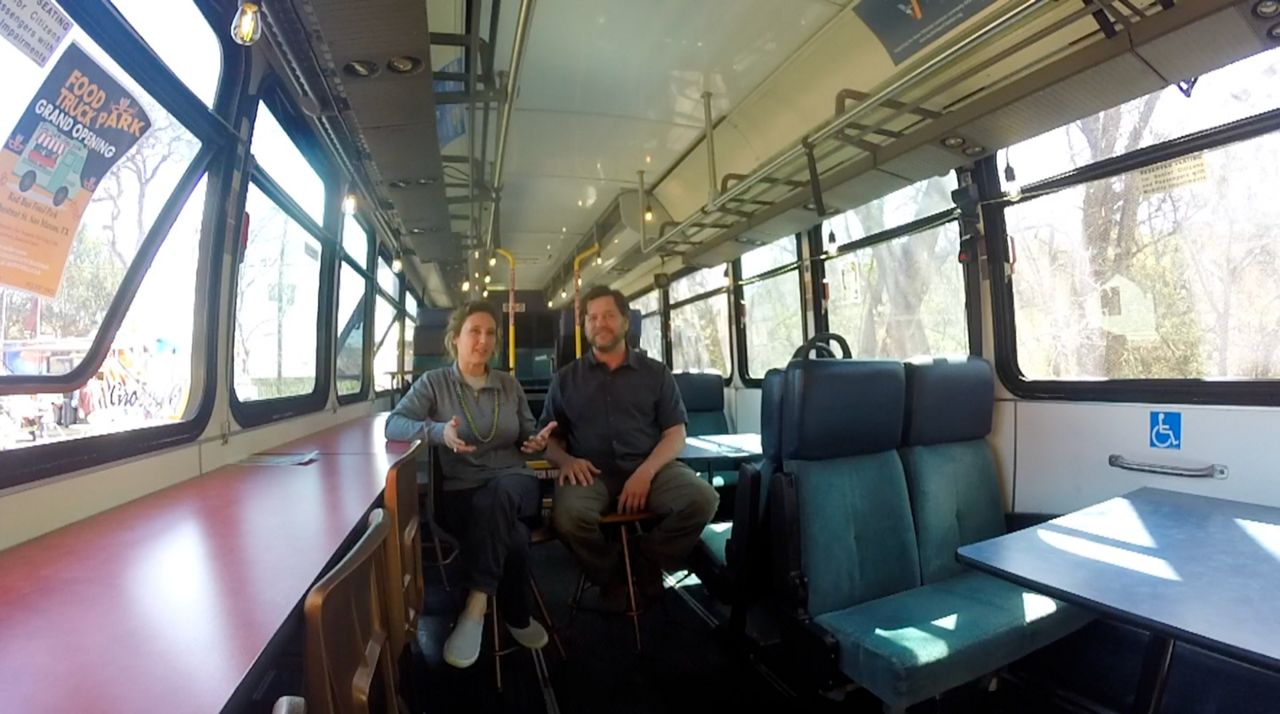 Liz McGhee and Pascal Boudreau sitting inside the newly renovated Capital Metro Bus. (Spectrum News)
Texas State students are already taking notice of the food park so close to campus and they're enjoying the new big red bus seating option.
"I think it's a good idea. Yeah, it's very unique, it's very different. I've never seen anything like it," said student Nicholas Rodriguez.
Rodriguez and his roommates live nearby and heard the first explosion. His roommate started filming, catching the second explosion on camera.
"We thought it was like thunder, and then we saw a bunch of police lights. We went outside of my house and we just saw the whole explosion happen," Rodriguez said. "It was pretty crazy. The other food truck that was there, we used to go there all the time. It was like this taco truck and it was sad to see it explode. Yeah, it's pretty crazy what happened.​"
Rodriguez and his friends sat inside the bus to eat chicken and Italian shawarma​ Mediterranean sandwiches. They say they'll be back soon.
"I always walk down here, and I never really noticed like that this whole place is here. And now they're like repainting that whole building, they're putting lights up and everything, I'm actually excited," Adan Flores said.
In addition to the food park, Boudreau and McGhee will be offering meal plans from the Red Bus Bake Shop.
"A meal plan that for students— for anyone, really— somebody that wants to pick up three to five meals a week and not have to cook at home. And so we're just in the process of launching that, probably we'll start in March delivering meal plans," Boudreau said.
For more information, visit The CoKitchen website​ or email info@redbusbakeshop.com