TEXAS — Most Texans are not aligned with Gov. Greg Abbott when it comes to mask mandates and requiring vaccinations for teachers, students and staff at schools, according to an exclusive Spectrum News/Ipsos poll released this week.
The poll, which comprised more than 1,300 people, including more than 400 parents of school-aged children, was intended to gauge the pulse of how Texans are feeling about state policies, specific politicians and a few hot-button issues.
Generally speaking, the survey suggests, parents' attitudes toward how the state is handling various issues related to education and schools are all over the place, said Mallory Newall, vice president of public affairs for Ipsos, a French-based analytics company. For example, about two-thirds of parents said they feel their child would be safe returning to school, yet two-thirds also fear their child will catch COVID-19.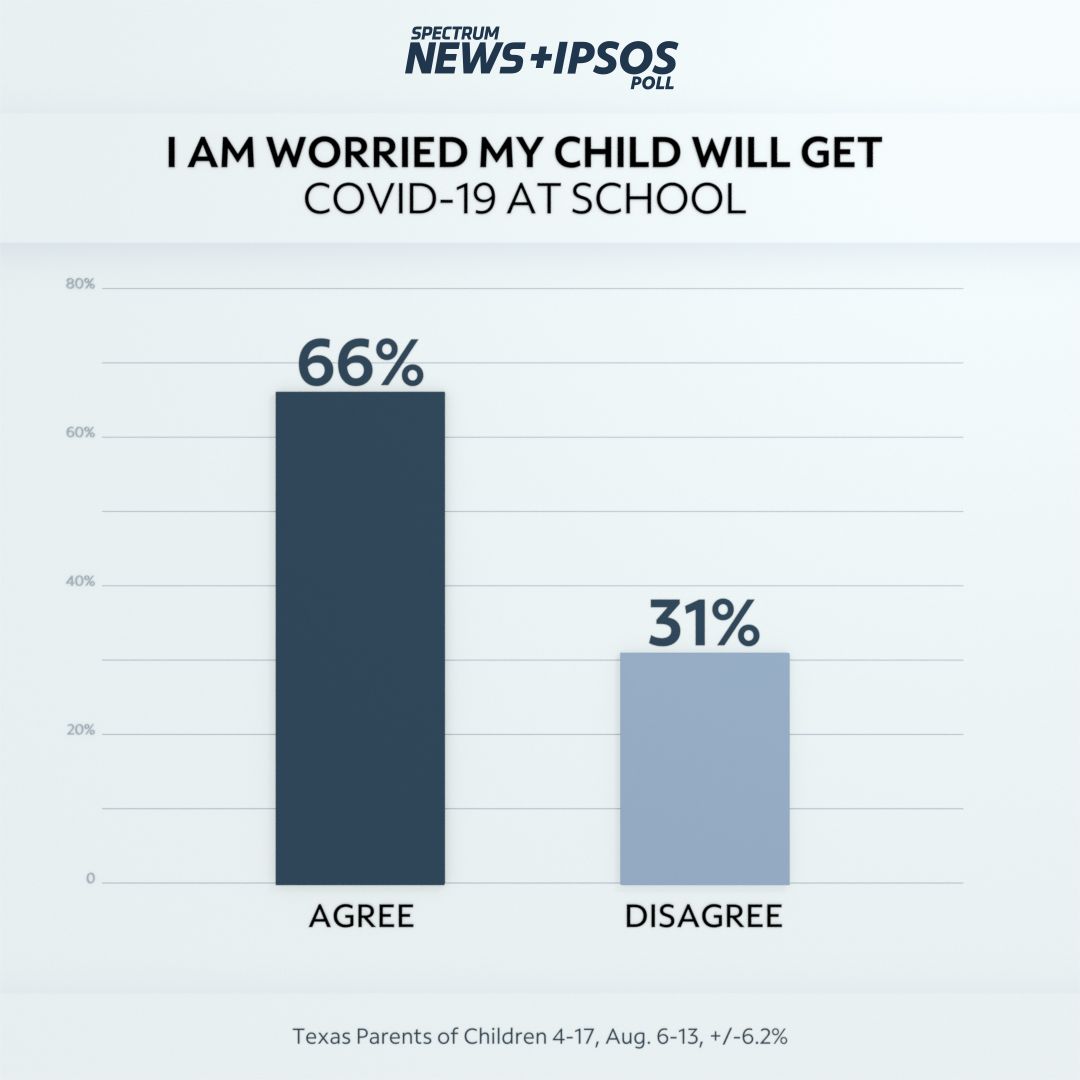 "On one hand, a majority of parents are confident that their child will be able to make up lost ground [from missed time]," she said. "They feel that their child would be safe attending school, but there is this concern in the back of their mind about them catching COVID at school.
"So, I would say that in all of that together, parents' concern isn't necessarily outweighing their desire for their kids to return to in-person schools," she continued. "However, most parents want to see common-sense policies in place to protect their kids and to keep them safe. And for those that want them, they feel that virtual options should still be made available."
The survey comes during a period of intense debate over how to keep children safe at school.
On Friday, a judge granted temporary permission to Harris County and several other Texas school districts to implement masks requirements. A judge in Tarrant County, meanwhile, granted a temporary order preventing Fort Worth ISD from requiring masks after four parents pursued a restraining order against the district, according to the Fort-Worth Star Telegram.
The Texas Supreme Court on Sunday temporarily blocked mask mandates in Dallas and Bexar counties, marking a pivotal moment in the showdown between state and local government as coronavirus cases and hospitalizations surge in Texas.
The ruling comes after several school districts and a handful of counties across the state defied Gov. Greg Abbott's executive order that restricted local entities from instituting mask mandates. On Friday, the 4th Court of Appeals in San Antonio upheld a lower court ruling that permitted Bexar County to require mask-wearing in public schools. Shortly after, the 5th Court of Appeals in Dallas upheld a more far-reaching order from Dallas County Judge Clay Jenkins that required masks in public schools, universities and businesses.
In a petition for a writ of mandamus to the Texas Supreme Court, Texas Attorney General Ken Paxton's office said the Texas Disaster Act of 1975 gives the governor power to act as the "commander in chief" of the state's response to a disaster. Attorneys representing cities and counties that have sued Abbott over his executive order have argued that his orders should not supersede local orders.
The Spectrum News/Ipsos poll showed Texans generally disapprove of Abbott's handling of COVID-19, and when it comes to certain proposals around COVID-19 and back to school, the public is also misaligned with the governor. For example, only 17% of all Texans, and 22% of parents with a school-aged child, believe students who test positive for COVID-19 should not have to quarantine. In another example of Texans disagreeing with Abbott's orders, nine in 10 believe schools should be required to notify parents if a child or teacher tests positive — regardless of whether it's in their classroom (92% support) or in the school as a whole (89% support).
Around half of the people surveyed said they are worried about their children's mental health (49%), and roughly the same number said their children suffered during the pandemic (47%).
Also, breaking with the governor's actions, the poll showed broad support for requiring vaccines for teachers and students and providing virtual learning in schools. Support for these proposals is significantly different by party. Though there is low support among Republicans, significant majorities of Democrats and independents favor these policies, leading to overall high levels of support.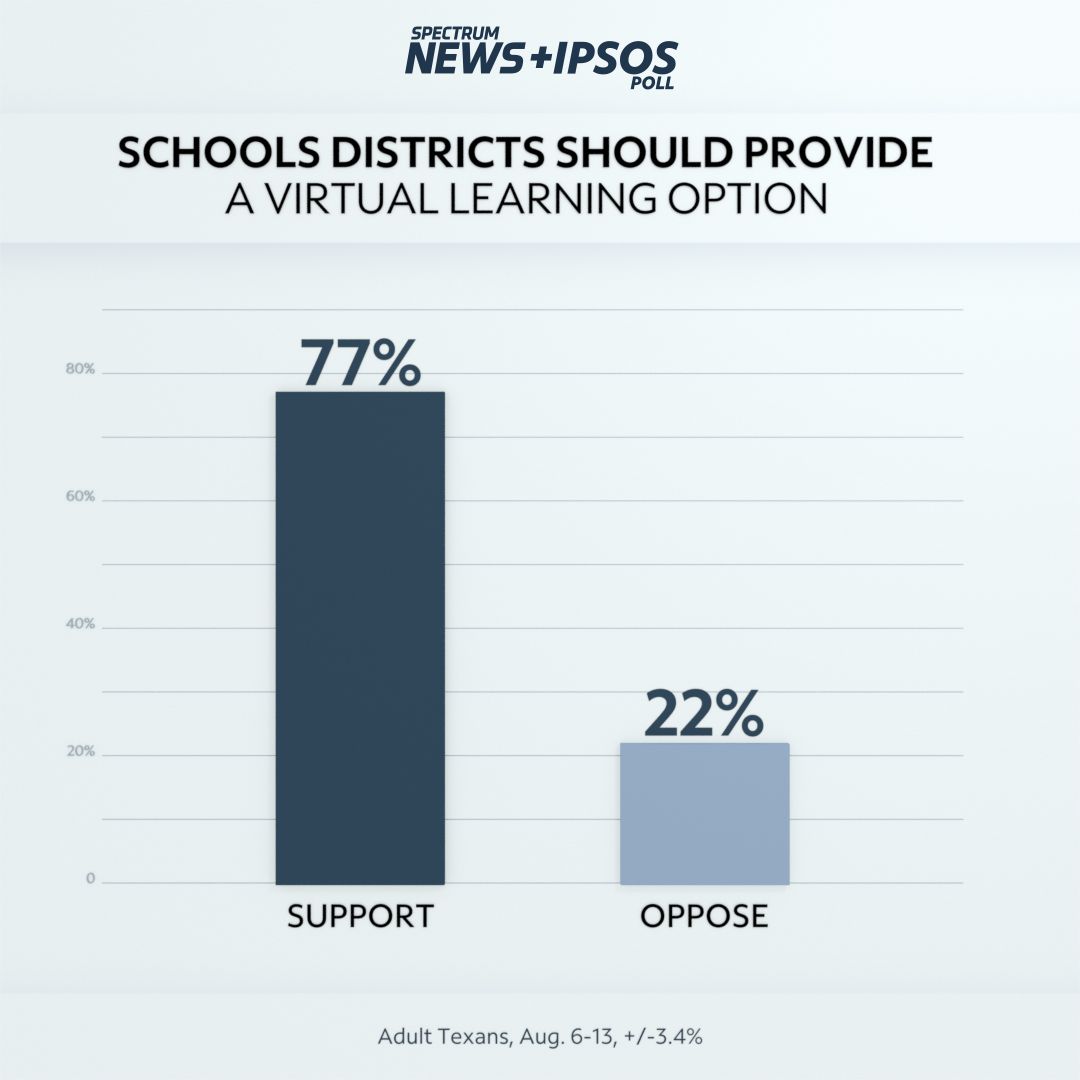 Around half, 49%, approve of Abbott's plans for sending children back to school, and parents do not differ from the general public on this (47% of parents with kids 4-17 approve). The public remains evenly split on this issue, consistent with last year's poll. Notably, just 39% of Texans agree that policymakers in the state are making decisions about COVID-19 that are based on science. The only demographic group surveyed in which a majority agree with this statement were Republican parents.
"A common thread that we see throughout the poll is still significant gaps in partisanship," Newall said. "Whether it's trust in public figures to give them accurate information, support for some of the proposals that tested, we see significant differences by party ID.
"What we're seeing is there's broad support for mask requirements in public places, for example, or requiring vaccines for teachers reentering schools," she continued. "Even though there is low support among Republicans, a significant majority of Democrats and independents favor these policies leading to the overall high levels of support that we're seeing."
One of the more surprising findings of the survey, Newall noted, was the level of consistency between parents and non-parents, particularly on issues of mask and vaccine mandates, notifying parents of a COVID-19 outbreak, and other issues related to the pandemic and schools.
"It's not necessarily parents driving these policies about the upcoming school year, but all Texans," she said. "I thought that consistency was remarkable because it shows how broad the support is for some of these policies. And it doesn't really seem to matter if you're actually personally impacted, meaning if you've got a kid in school or not."