Gov. Greg Abbott leads Democratic challenger Beto O'Rourke by 7 percentage points, according to an exclusive Spectrum News/Siena College poll out Thursday.
Texas is just four weeks out from early voting in the November general election. Busloads of migrants bused to New York City and Washington, D.C., plus the state's near-total ban on abortion, have pushed the Texas governor's race into the national spotlight.
Abbott, who is seeking his third four-year term as governor in the predominantly Republican state, continues to show an edge in the polls, 50% to O'Rourke's 43% among likely voters.
The Spectrum News/Siena College poll was conducted the week of Sept. 14-18 and included 651 likely voters. The poll has a margin of error of 4.4%.
The last time a Democrat was elected to statewide office in Texas was 1994. O'Rourke, a former congressman from El Paso, has come the closest to a competitive statewide race in the interim, with his challenge of U.S. Sen. Ted Cruz in 2018, a race which eventually split 51%-48%.
Professor Don Levy, director of the Siena Research Institute, says O'Rourke is struggling with a favorability problem. When Democrats, Republicans and independents are combined, only 39% have a favorable opinion of O'Rourke; 52% have an unfavorable opinion. Independents, which are now a larger voting bloc than Democrats in Texas, only gave O'Rourke a 38% favorable rating, compared to 49% unfavorable, Levy said. The remaining 13% either didn't know who O'Rourke was or had no opinion.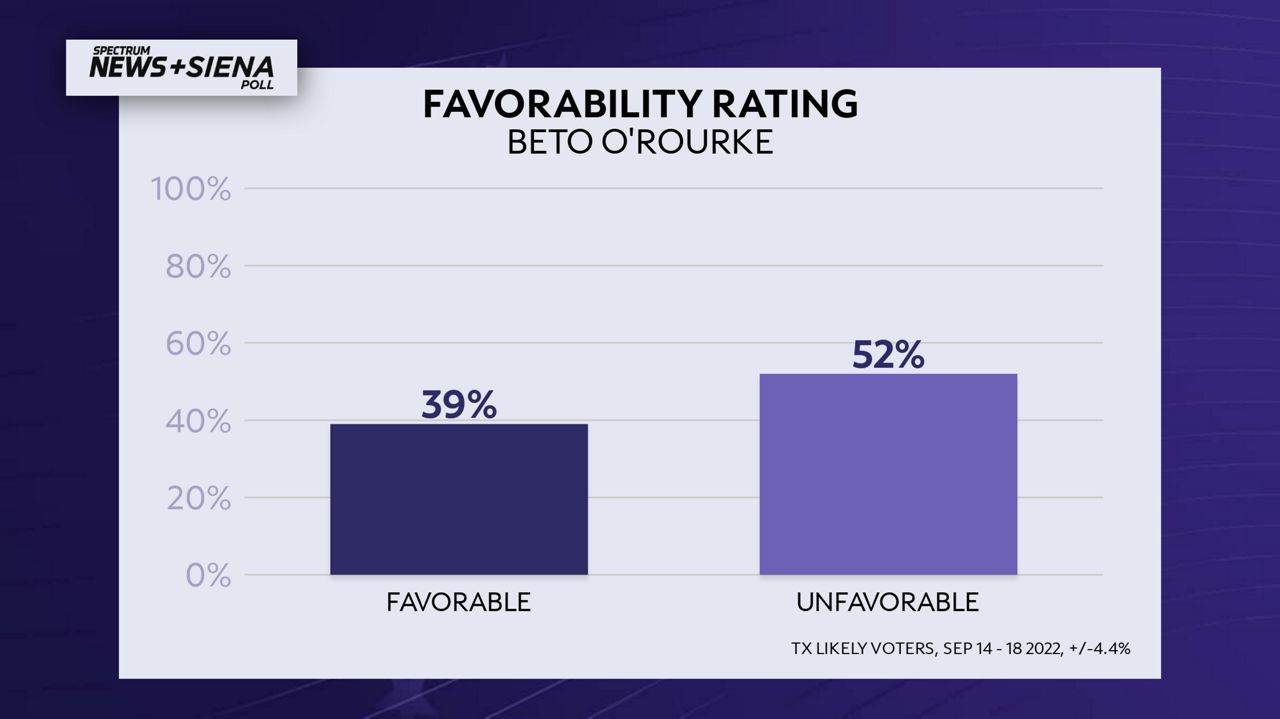 "Seven points is a big hill to climb, especially against a plurality Republican voting field," Levy said. "But certainly, former Congressman O'Rourke is going to have to work on each issue that he has an opportunity."
That means courting the independent bloc, which is about a third of all Texas voters. The Spectrum News/Siena College poll shows independents tend to side with Abbott on the economy, immigration and guns. But on social issues — such as abortion rights and critical race theory — voters lean toward the more liberal views of Democrats.
O'Rourke's strongest support is along the Austin-San Antonio corridor. O'Rourke, who just announced a college tour for next week, has his strongest support among the 18-34 age group. Black and Latino voters also indicated stronger support for O'Rourke over Abbott.
Abbott, by comparison, has a 47% favorable rating, compared to 46% unfavorable. Those who have the most favorable opinion of Abbott are white, rural, older, and across all incomes. Abbott and O'Rourke will meet for the first, and only, time in a televised debate on Sept. 30. Could independent voters swing toward O'Rourke? According to Levy, maybe.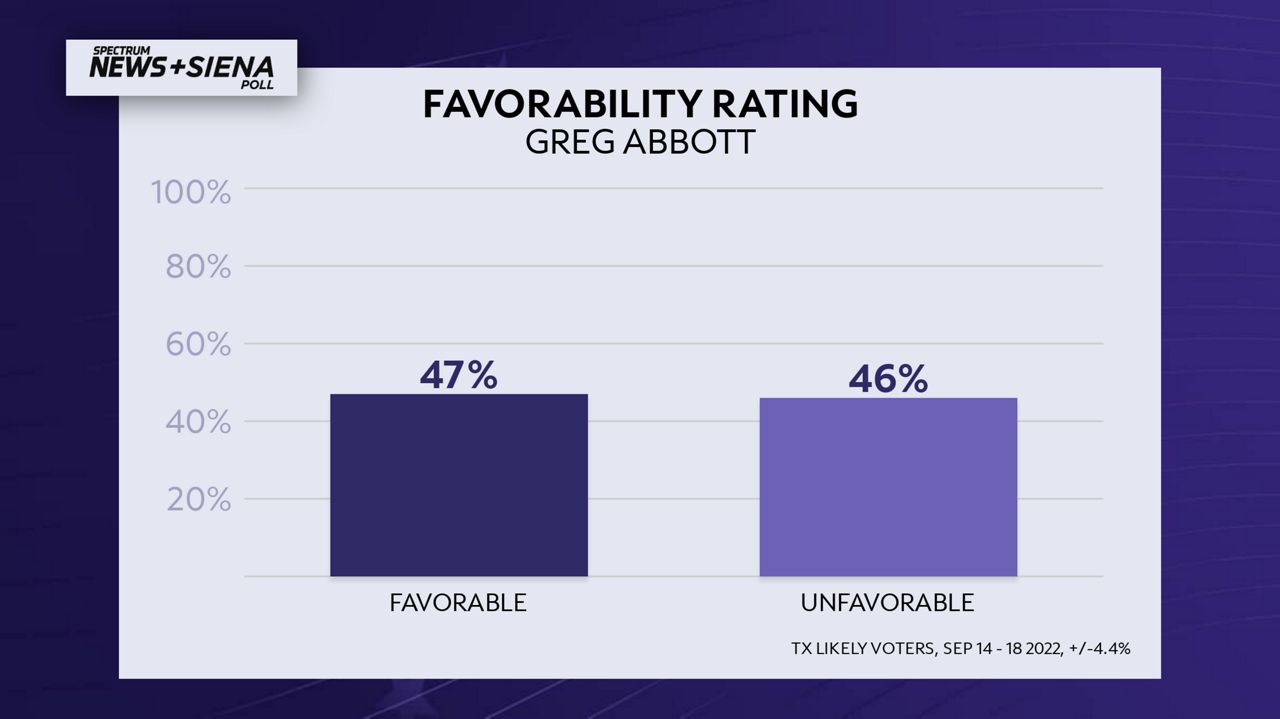 "There certainly are a small number of swing voters in Texas, and that's going to be the prize, whether it's in this debate, or the commentary after to debate, or whether something happens with the raid on (former President Donald Trump's office at) Mar-a-Lago," Levy said.
Both Lt. Gov. Dan Patrick and Attorney General Ken Paxton carry leads in their respective races. Patrick leads Democratic challenger Mike Collier, 49%-40%. Paxton leads Democratic challenger Rochelle Garza, 47%-42%.
Name recognition is a problem for both Collier and Garza. Both poll with 75% indicating they either don't know or have no opinion of the candidates, even though Collier also was Patrick's challenger in the 2018 general election.