AUSTIN, Texas — Updated results from an exclusive Spectrum News/Siena College poll show Gov. Greg Abbott and the entire Republican slate for Texas statewide office continue to maintain their lead over Democratic challengers, led by a well-funded gubernatorial candidate Beto O'Rourke.
New results, a poll of likely Texas voters Oct. 16-19, show Abbott leading O'Rourke, 52%-43%, with only 4% undecided in the upcoming election on Nov. 8. That compares to a 50%-43% split in a poll of likely voters during September, showing little progress for O'Rourke in the last month.
"Our feel of the race at this point is that much has not changed amongst Texans," said Professor Don Levy of the Siena Research Institute. "It appears as though Abbott has a favorable lead, and that O'Rourke has not moved into it."
What small inroads O'Rourke could have gained in the last month among independent voters – in an effort to catch Abbott – do not appear to have materialized. The margin of error in the Spectrum News/Siena College poll, conducted with 649 likely Texas voters, was 5.1 percentage points.
Levy describes Abbott's lead as "sizable and steady." Republicans continue to side with Republicans. Democrats are still in the corner of top Democratic candidates.
"Abbott has overwhelming support amongst Republicans. Beto O'Rourke has overwhelming support among Democrats," Levy said. "Where we saw some change was with independents. Whereas, last month, they were just about even – 45-44 – Gov. Abbott has now opened up a 5-point advantage with independents."
Voting across party lines is not common in Texas, even though straight-ticket voting has been eliminated. Spectrum News/Siena College poll results in other states do indicate a greater willingness to cross parties. For instance, popular Ohio Gov. Mike DeWine, a Republican, has a double-digit lead in his race. The U.S. Senate race in the Buckeye State – between Democratic Congressman Tim Ryan and Republican author J.D. Vance – is currently 46%-43%, with Ryan in the lead.
The statewide slate of Texas Republicans also continued to maintain their lead, despite the recent endorsement of Democrats in statewide races by newspapers such as the Houston Chronicle. The Dallas Morning News endorsed Abbott, but with multiple caveats, saying that Abbott had been pulled away from being a pro-business moderate to a more strident partisan position on controversial issues such as abortion and guns.
In other races, Lt. Gov. Dan Patrick led challenger Mike Collier in the updated survey, 49%-41%. Attorney General Ken Paxton maintained his lead over Rochelle Garza, 48%-42%. This follow-up survey of Texas voters did not ask about other races further down the ballot.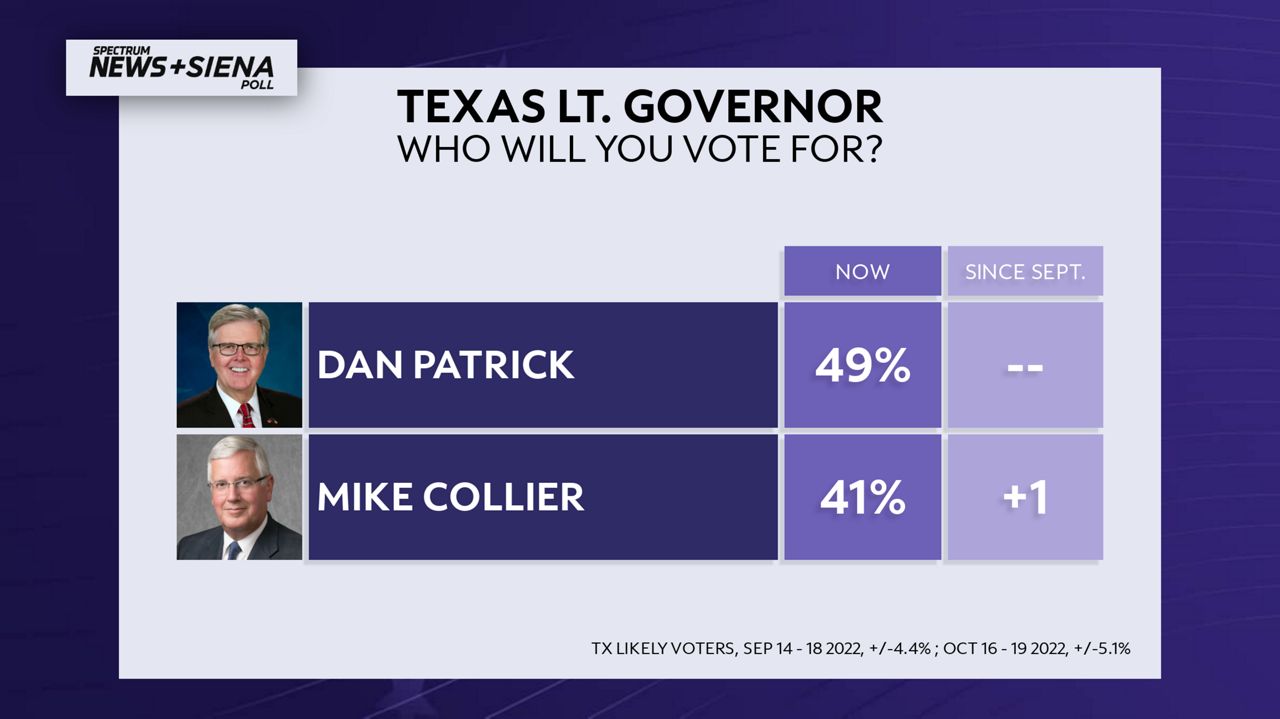 Compared to other states, Texas continues to be more bullish on the potential success of the state economy, Levy said. Texans remain more convinced the state can weather the concerns of a potential recession, compared to other states in the Spectrum News/Siena College poll: New York, Ohio, Florida and Wisconsin.