While SXSW brings talent all the across the globe, there are plenty of creatives representing Texas at this year's event too, and some you might not expect.
An immersive pop-up shopping experience with lights, sound and fashion showcased some of Texas' sustainable clothing brands and designers. It was like a silent disco mixed with a museum and tech fashion show all in one space for one day only.
Guests got to see the fashion, feel it and learn about its history from the designer with an auditory self-tour.
Loriza Ibarra is one of the Texans who put together this multi-sensory fashion experience.
"It's like if you were entering a museum, you know you can put the headphones on and scan a QR code," she said. "So it's pretty cool, it's very intimate."
On any other weekday, she's running her online Austin-based sustainable fashion marketplace reFIND. However, on this day, she stepped out of the virtual world into co-host Chisum Pierce's downtown studio, Fotohouse to show off eco-friendly brands from her store and here in Texas.
"I don't know if people really view Texas as like a fashion state," Ibarra said.
Co-host Melissa Pierce and her mother Carol Hargus were also one of the Texas sustainable fashion brands at the event. They co-own Soul Studio, a natural dye house and slow fashion label.
"We wanted it to be wearable art work," Pierce said.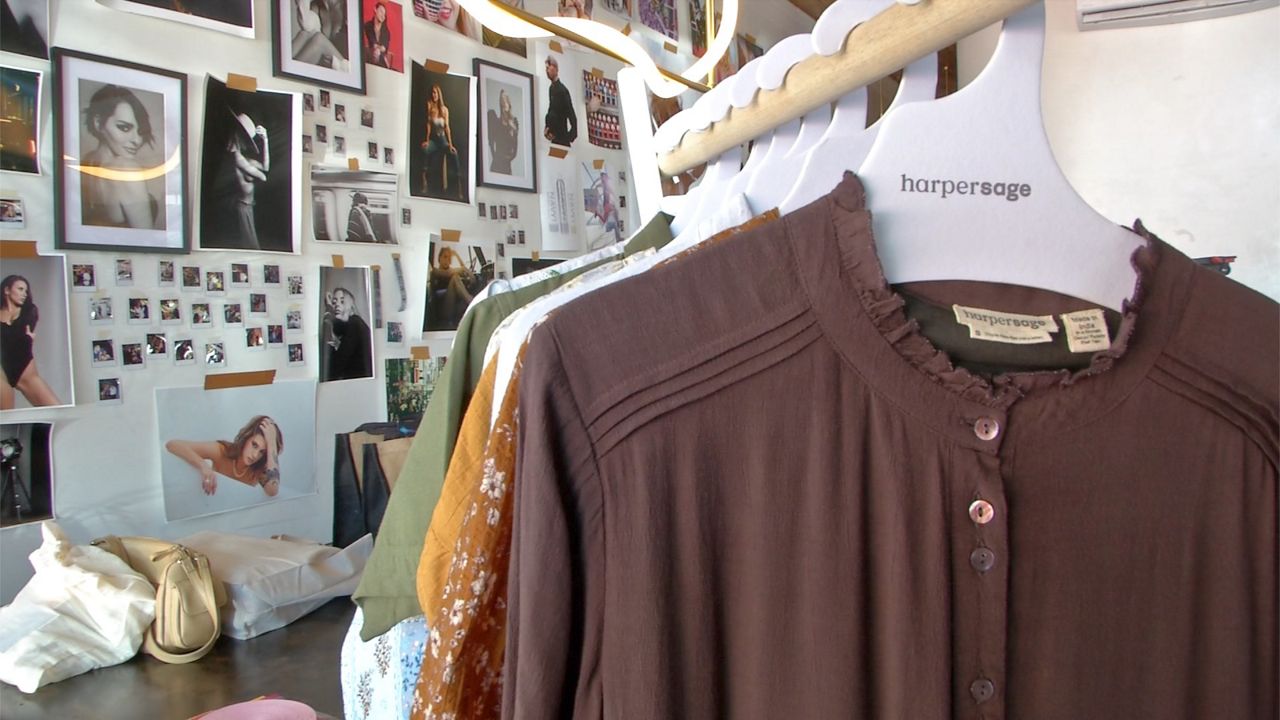 Instead of just hanging their garments on a rack, the designers were showing how they make them using flower petals, organic ingredients, and steam to set the color.
"Natural fibers is what we focus on," Hargus said. "We love fashion and we also know that the fashion industry is a huge polluter of our beautiful earth."
Another Texas textile featured at pop-up was the female owned and Austin based Harper Sage. The garments are ethnically sourced and made at a woman-owned factory.
So what does this have to do with technology?
The pop-up featured a panel discussion with sustainable tech and fashion brands about how to use technology to reduce climate change and the carbon footprint of supply chains.
"We're really hoping to foster the community for fashion here in Austin, especially sustainable fashion," Pierce said.
It's a rare event to see such tech and sustainable leaders in Texas come together in one place to work toward a common goal.
For Ibarra, that's the future, and this event is her way of showing Texas can be at the forefront.
"There's definitely an interest, and there are people are moving here and creating here, and it's very much possible for it to be, you know, a fashion state," Ibarra said.
A previous version of this story misidentified Carol Hargus, as well as failing to mention co-host Chisum Pierce. (March 21, 2022)