SAN MARCOS, Texas — Hays County is scrambling yet again to hand out vital rent relief before the federal government takes it all back. Commissioners just hired a contractor to take over its Emergency Rental Assistance Program after the program director resigned in January.
The ERA program has already lost nearly $2 million for struggling to distribute its funding to people in need.
In December 2021, the U.S. Department of the Treasury recouped $772,791 after Hays County failed to spend the required 30% of its budget. On Feb. 10, Hays County announced it returned another $1.7 million after missing the 50% spending deadline.
And while all of this is happening, people in need of rental assistance are at risk, like Lupe Randall. When Spectrum News 1 first spoke to the San Marcos mother, she and her 16-year-old daughter had been living out of her car for a week.
---
Related Stories
---
"We just get pillows and blankets and we put them over our head and say our prayers," she said.
Randall was applying for emergency housing after her family was evicted from their apartment. She used to own a restaurant, but it shut down because of the pandemic.
"I'm trying very hard not to break down," she said.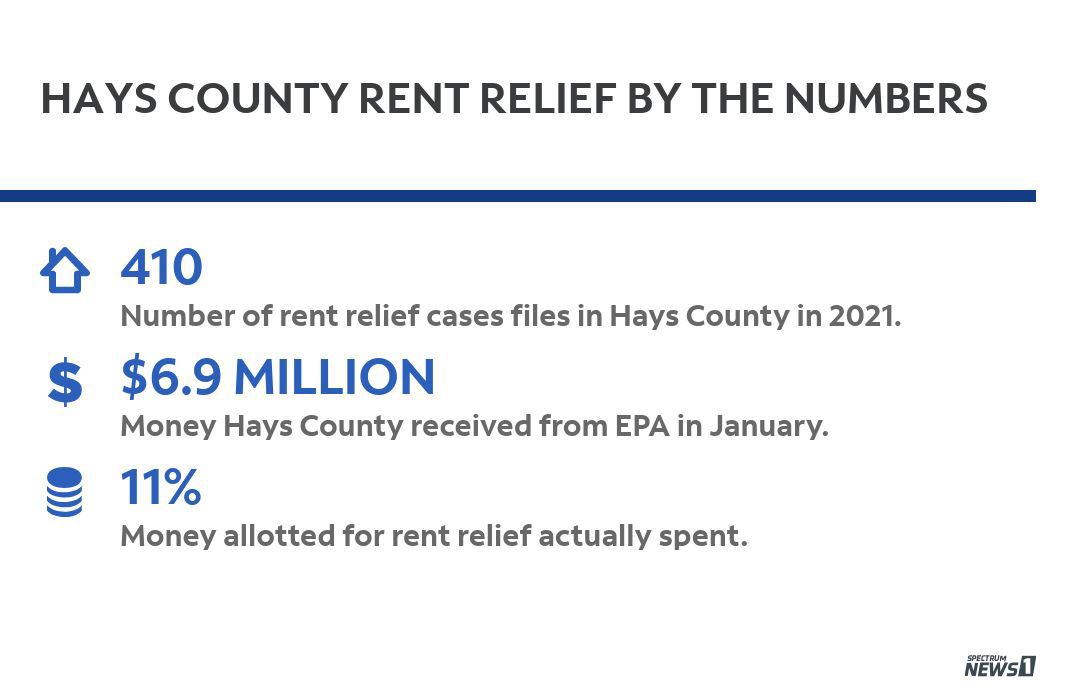 Data from housing advocacy groups show there were 410 eviction cases in Hays County in 2021. The ERA program received $6.9 million from the treasury in January. For the entire year, the county only spent about 11% of it.
"Unfortunately, I think me being evicted could have been completely avoided," Randall said.
According to the county judge, courts cannot evict anyone applying for rent relief. However, numerous housing advocates and residents told Spectrum News 1 that's not true.
Randall says she applied for rent relief on Oct. 1, 2021. In late October, ERA staff told her she needs to send more documents. A month after that, she told us her case was closed without any explanation.
"I never heard from anyone. I called over and over," she said. "I was getting to the point where I'm like, is there anybody that can help me?"
And Randall's frustrations are echoed by nearly everyone we spoke to who's gone through the process. There are hundreds of cases pending or under review.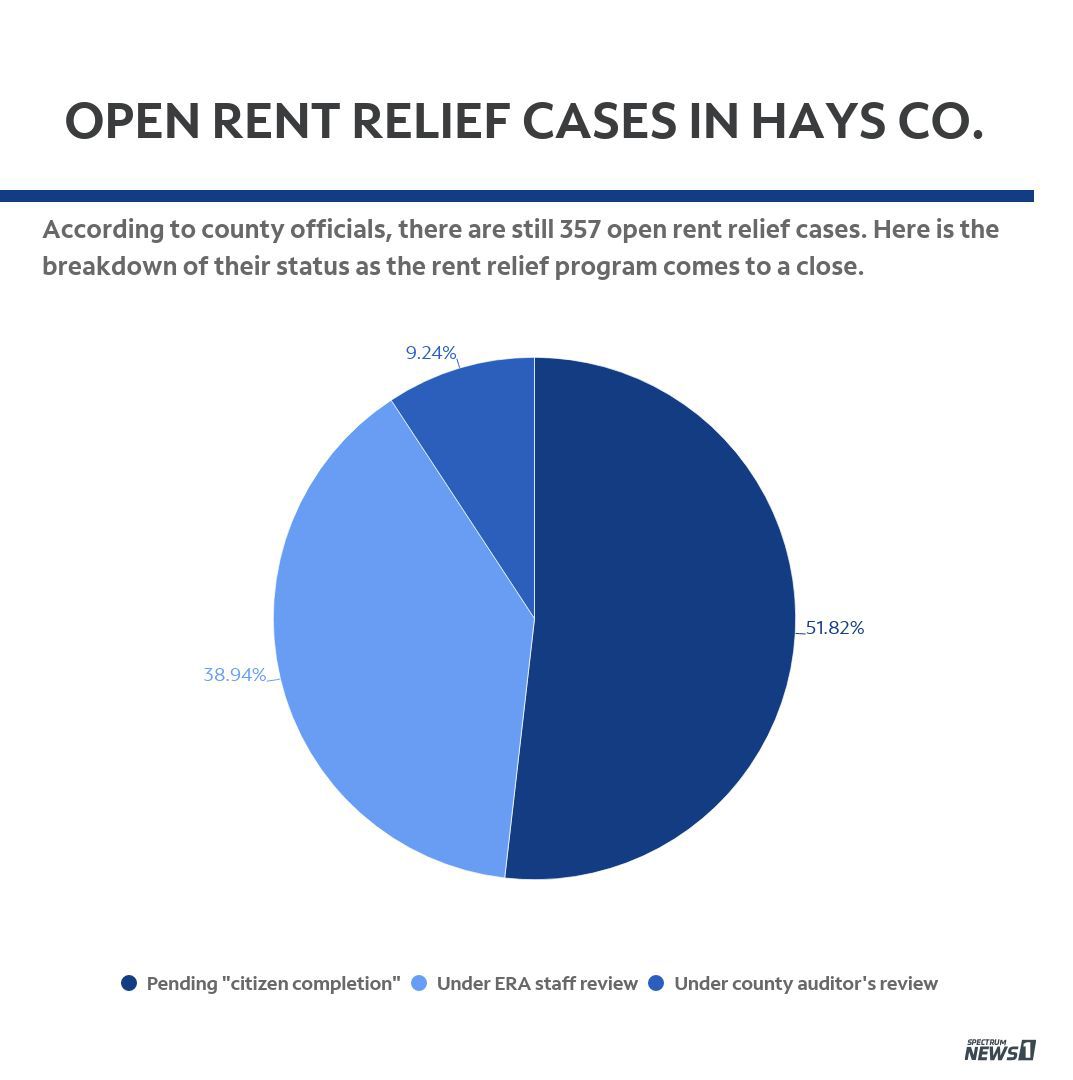 Former ERA Program Director Wesley Matthews resigned after roughly seven months since he was hired.
"The program was designed to fail," he said.
Matthews says the county is blaming him for the program's failures despite repeated attempts to fix them.
Emails we obtained from Matthews showed he reported problems and requested help with staffing, technology and communication numerous times. He wrote supervisors about his inability to because he was spending all his time working on application backlogs, which was not part of his job.
"Our goal became we need to close tickets," he said."To sit there and close the tickets of people who have a disability or people can't understand the format. I couldn't do that."
The program had two full-time employees. When he asked for more staff to handle the caseload, the county said it didn't have the funding.
Under Treasury guidelines, ERA programs can spend up to 10% of their budget on administrative costs. Spectrum News 1 has requested budget reports. We are still waiting to receive them.
Now, Matthews is volunteering for a nonprofit. He was actually the case worker who helped Randall the day we met her.
"There's a companion for the people versus a directive towards a goal," he said.
County Commissioner Walt Smith says the ERA program is intended to approve applications, not provide social work.
"The program was just not being administered in a way that was getting the money out the door," he said.
Smith told us he wasn't aware of any of the problems Matthews reported until recently.
"The more I've looked into it, the more concerns I have, and the more direct oversight the program is getting," he said. "Not only from me, but the court as whole."
County commissioners are responsible for overseeing the ERA program. It's had problems since it received funding back in January 2021.
After an unsuccessful bidding process to a hire a contractor, the program didn't start until July. By September, they had only spent 3% of its nearly $7 million budget.
In a letter, leadership promised to get their act together. That was November. Then the program lost another $1.7 million.
"It has been a trying program to deal with to say the least," Smith said.
Now, more than a year later, commissioners are hiring new staff and approved a bid for a contractor, all over again.
Smith has since identified another problem: a lack of outreach to precincts outside of San Marcos.
"Our county is trying to make hard steps to move forward to make this program successful," Smith said.
Leadership reports that to date the program has distributed $1.2-million and more than $500,000 since January.
Smith says while the county has struggled, they applied for the funding because they recognized the need in the community.
"No one wants to see the funding go back to the federal government," he said.
Texas Housers senior researcher Ben Martin says leadership has no one to blame but themselves.
"It's not appropriate for county commissioners to abdicate responsibility for getting these funds out the door," he said.
The housing advocacy group estimates 14 of 36 Texas ERA programs are at risk of losing up to $27 million in this second round of recapture. Treasury data shows Hays County is one of 21 ERA programs nationwide to involuntarily return funds.
"Hays County has been unfortunately one of the worst performers," Martin said.
The group and other nonprofits say the Hays ERA program requires documentation and funding restrictions that are required under federal guidelines.
Martin says this slows the process and prevents applicants from getting funding.
"County leadership is going to have to respond to why they weren't able to get this money that was on the table to be spent for this purpose out into the hands of these people," he said.
And time is running out to spend the rest of their money. Come March, if the county doesn't use it all, they lose it all.
For Randall and many others, the same is already done. Randall was able to get her family into a motel through the ERA program's housing stability funding. She is appealing her eviction and hoping to start reapplying for housing soon.
Martin says it's very unlikely Hays County will be able to spend the remainder of its funding by the end of March.
Texas Housers is recommending ERA programs with remaining funds voluntarily enter an agreement to reallocate their funds to Texas Rent Relief. This way it will stay in the state and continue helping Texans. If jurisdictions involuntarily return the funds, they will go back to the Treasury.
The contractor commissioners voted to take over is the ERA program is Ardurra Inc. It is based out of Tampa, Florida, but has offices in Dallas.
Spectrum News 1 requested information from Hays County about the company's role and the amount of the bid. A spokesperson says no one has responded to our request at this time.