DALLAS — Overwhelmingly, Texans want their next governor to be someone who shares their values as well as someone who has managerial experience, a new Spectrum News/Ipsos poll says.
And when it comes to the two frontrunners in the 2022 governor's race, voters see each candidate leading on one of the top two traits. However, in spite of sinking approval ratings during the last year, Gov. Greg Abbott may have a slight advantage when it comes to how voters view him on managerial experience.
When asked which candidate or potential gubernatorial candidate best exemplifies several traits seen as most important to Texas voters, about a third of Texans surveyed said Abbott was the candidate viewed as having managerial experience, according to the Spectrum News/Ipsos poll released Wednesday. Slightly less than a quarter of registered voters in Texas thought his Democratic challenger, former U.S. Rep. Beto O'Rourke, had such traits.
On the second important trait in a governor — a candidate who best shares your values — O'Rourke had a slight advantage over Abbott among voters, with 31% of registered voters saying the El Paso native best exemplifies someone who shares your values to Abbott's 26% of registered voters.
The poll was conducted from Nov. 16 to 26, with around 2,000 interviews from a representative sample of Texas' population. The poll has a margin of error of +/- 3.8 percentage points.
Texas voters were asked about the most important traits they want to see in their next governor as well as how Abbott stacks up against known and potential candidates in his reelection bid.
There are still three months before the party primaries and a year for the general election, but the Texas statewide races are heating up. Texans will choose their parties' candidates in primary elections this March and then elect a governor in the general election in November 2022.
O'Rourke announced two weeks ago that he would run to unseat Abbott in 2022. O'Rourke in 2018 rallied the Democratic Party in Texas in a bid to unseat Republican Sen. Ted Cruz. O'Rourke lost that race by just 3 percentage points but gave Democrats much-needed momentum in the party's quest to turn Texas blue.
The race against Cruz helped make O'Rourke a recognizable name in Texas politics, which has been a challenge for Democrats for several years as they tried to compete in a large state geographically with expensive media markets. O'Rourke has a high familiarity rating of about 71%, according to the poll.
Among registered voters in the Spectrum News/Ipsos poll, 44% had a favorable rating of O'Rourke, compared with 45% who had an unfavorable view of the Democrat.
Abbott in the same poll had a 44% favorable and 50% unfavorable rate.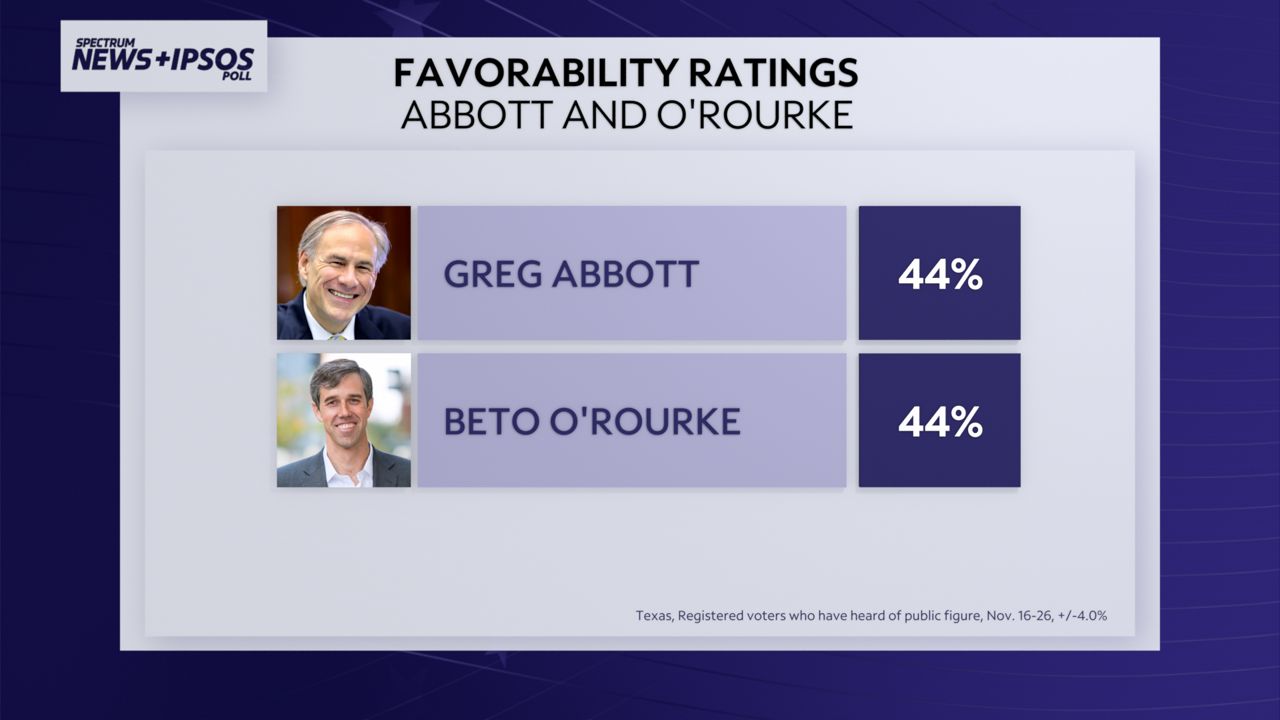 The Texas governor's approval rating in the past few months remained underwater after a significant increase in those voters who disapproved of his handling of the job a year ago, the Spectrum News/Ipsos poll showed.
In this recent poll, 45% of registered voters surveyed said they approved of the job Abbott was doing and 54% said they disapproved. That's comparable to what an August Spectrum News/Ipsos poll found, in which the governor's approval ratings were at 46% and disapproval ratings were at 53%.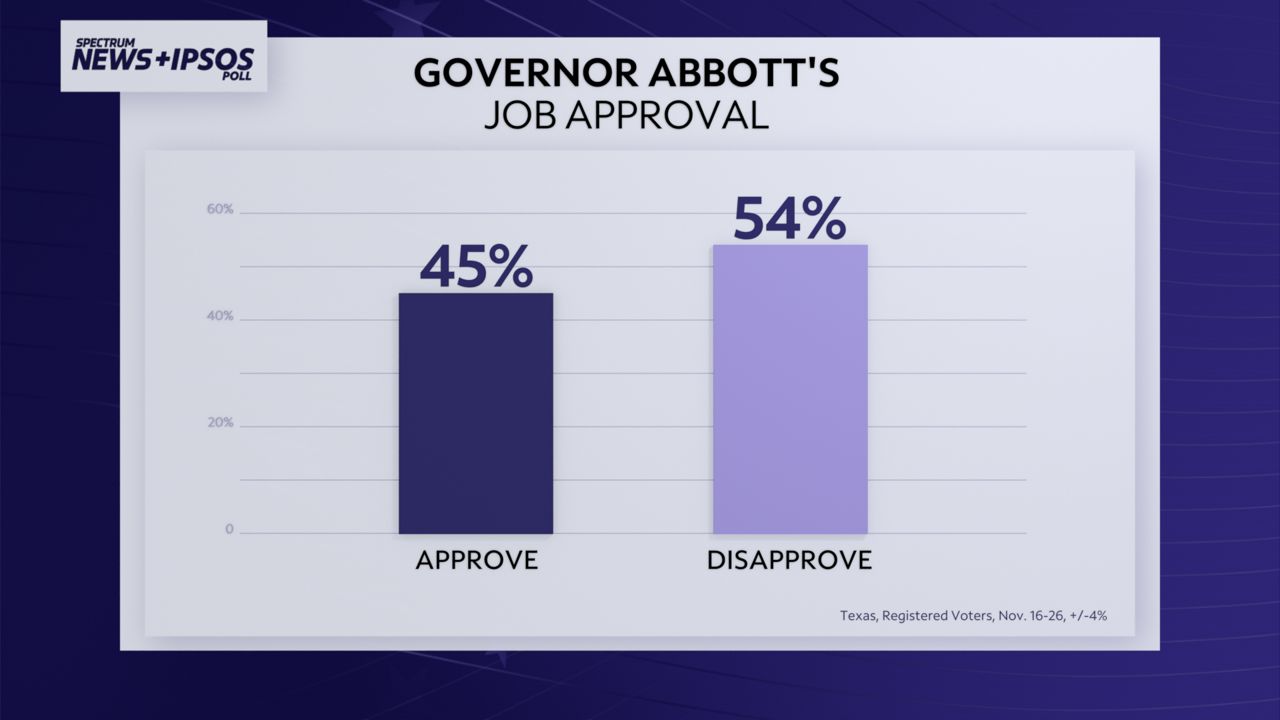 A Spectrum News/Ipsos poll in October 2020 showed 51% of Texans approved of how he was handling his job, and 37% disapproved.
"His job approval remains slightly underwater, meaning more people disapprove of the job he's doing than approve," said Mallory Newall, the vice president of public affairs for Ipsos.
Despite those disapproval ratings, Abbott isn't at a complete disadvantage, Newall said.
The poll asked how important certain traits were in the next governor, and Abbott holds an advantage on one of the two main issues, she said.
This is important "because what we have found through many years of election polling in countries around the world is that the candidates who are seen as strongest on the main issue to voters often have the advantage going into an election," Newall said.
"It's worth noting that we are still a year out from the general election and opinions certainly are not fully formed. A plurality but not a majority of people feel that Gov. Abbott best exemplifies that trait of managerial experience, but there is still a lot of room for opinions to be shaped as we start to enter into the campaign season."
This can be seen in the fact that 1 in 3 of those Texans surveyed said none of the candidates or potential candidates listed in the survey exemplified the traits they considered most important for the next governor to possess, Newall said.
"We aren't seeing a majority coalescing around one specific candidate on these important issues at this point," she said.
Newall said it's also worth noting that a trait that was at the very bottom of the list in terms of things Texans felt were important in their next governor was a person who best exemplified an "outsider independent from politics."
Registered voters are evenly split, 50% to 49%, on the importance of this trait for Texas' next governor.
But the potential candidate they gave the highest ratings for, Oscar-winning actor Matthew McConaughey, who just days after the poll concluded announced in a video that he would not, despite the rumors that had been circulating for months, be launching a bit for Texas governor this year.
Two conservative Republicans are challenging Abbott in the March primary, former chairman of the Texas Republican Part Allen West and former Texas State Sen. Don Huffines. Many analysts have pointed to the threat of these conservative right candidates competing for Abbott's seat as the reason for the Texas governor's sharp right turn this year in his executive orders and engagement in the culture wars consuming American politics.
According to the poll results, voters may see the same thing, with 54% saying that Abbott is more interested in playing politics than effectively running the state.
That was response was driven by more than eight in 10 Democrats, and about a quarter of Republicans agreed with that statement.
Abbott may indeed be responding to the heat he's feeling from his Republican primary challenges, although according to the poll, he may not need to worry as much. When Texans were asked in the Spectrum News/Ipsos poll how familiar they were with Huffines and West, only 15% of those surveyed said they were familiar with Huffines. West, who stepped down as the Republican party chair to run for governor, was familiar to only 24% of the respondents.
Abbott already has a huge war chest of $55 million with which to campaign for a third term. Before the primary, analysts say he'll need to win over conservative voters, who tend to be the majority of primary election voters, and then go into the general election campaign focused on swaying those in the center. He's already started running campaign ads as if his opponent will be O'Rourke, the likely Democratic nominee in the gubernatorial race.