IRVING, Texas — At 72 years old, Raveen Arora is the kind of person who goes out of his way to make you feel special.
When I reached out to him asking to profile his accomplishment of being nominated as a candidate for the 2021 Nobel Peace Prize, I told him I wouldn't need too much of his time.
He responded with an invitation for me to join him and his wife Clara at their new home in Irving for a homemade lunch. I said yes, of course.
While at the dining table, I learned Clara is a wonderful cook and that the couple loves entertaining guests. Arora is very personable with a great sense of humor, and he likes to laugh, although he doesn't like smiling for pictures.
He's one of 329 candidates, 234 individuals and 95 organizations from across the world nominated for the 2021 Nobel Peace Prize.The Norwegian organization said this year marks its third highest number of candidates ever, with the current record of 376 nominations in 2016.
Arora said he learned of the nomination effort in January and feels it's been a humbling experience that's inspired him.
"I don't live like it's the last day of my life," said Arora "I'm now beginning to live like it's the first day of my life, and how much difference can I make."
As he gave me a tour of his home, I was impressed by his life story.
He was born in a refugee camp in Kolkata (Calcutta), India, where his parents struggled financially, but made him wealthy in other ways.
"They taught me the power of an education," he said.
A love for learning is still something he values today, and can be seen in his home office where you'll find his hundreds of books, a few of which he's written.
Stories from his childhood include: walking for miles as a refugee to a ration shop where he'd get food for his family, and working alongside Mother Teresa to help the poor in his hometown. The Catholic nun known in the Catholic Church as Saint Teresa of Calcutta received the Nobel Peace Prize in 1979 for her work in undertaking the struggle to overcome poverty and distress in India and abroad. Arora treasures a picture he has with her taken in his youth.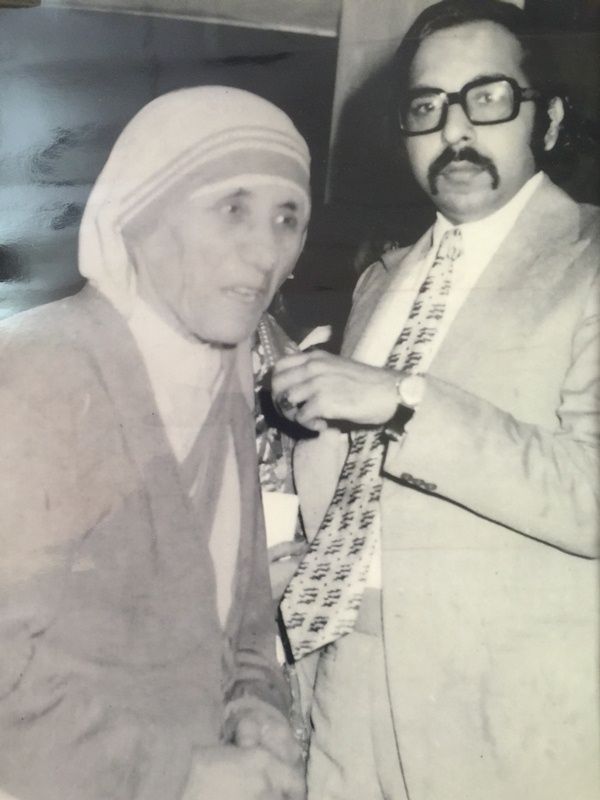 Another childhood story also included meeting and chatting about inequality as an 11-year-old with Martin Luther King Jr. during his only visit to India in 1959.
As an adult, Arora received his degree in accounting, finance and business management and wrote his first book at 24 while he worked as a white-collar crime specialist in India before moving to the U.S. in 1981.
Over the last four decades in America, he's made a name for himself as a humanitarian by providing resources for the homeless in Tempe, Arizona, where he lived for almost two decades.
There, he founded India Plaza in 2008, a business center that houses The Dhaba Restaurant, which he operated, along with spaces he rented that would become a market, gift shop, yoga studio, eyebrow threading business and a daytime respite center for those experiencing homelessness.
Arora and the plaza have been recognized in Tempe for promoting Indian culture and helping spur economic development in the area. Arora said he loves Tempe but was called to Texas for the love of family. He considers his family his greatest gift and has two children and four grandchildren.
Earlier this year he and Clara left their beloved community in Tempe and moved to Irving to be close to his daughter and her two elementary-aged children. "I am one proud grandpa," he said "They are my world."
In their new home, Clara has displayed his numerous trophies and awards, mementos of his past accomplishments. On the middle shelf sit a few that stood out:
The Mother Teresa International Service Award he received in 2018.
The American Dream Award from the National Restaurant Association, which represents a million restaurants in 2017.
The 2021 Global Citizen Award from Alliance Clubs International.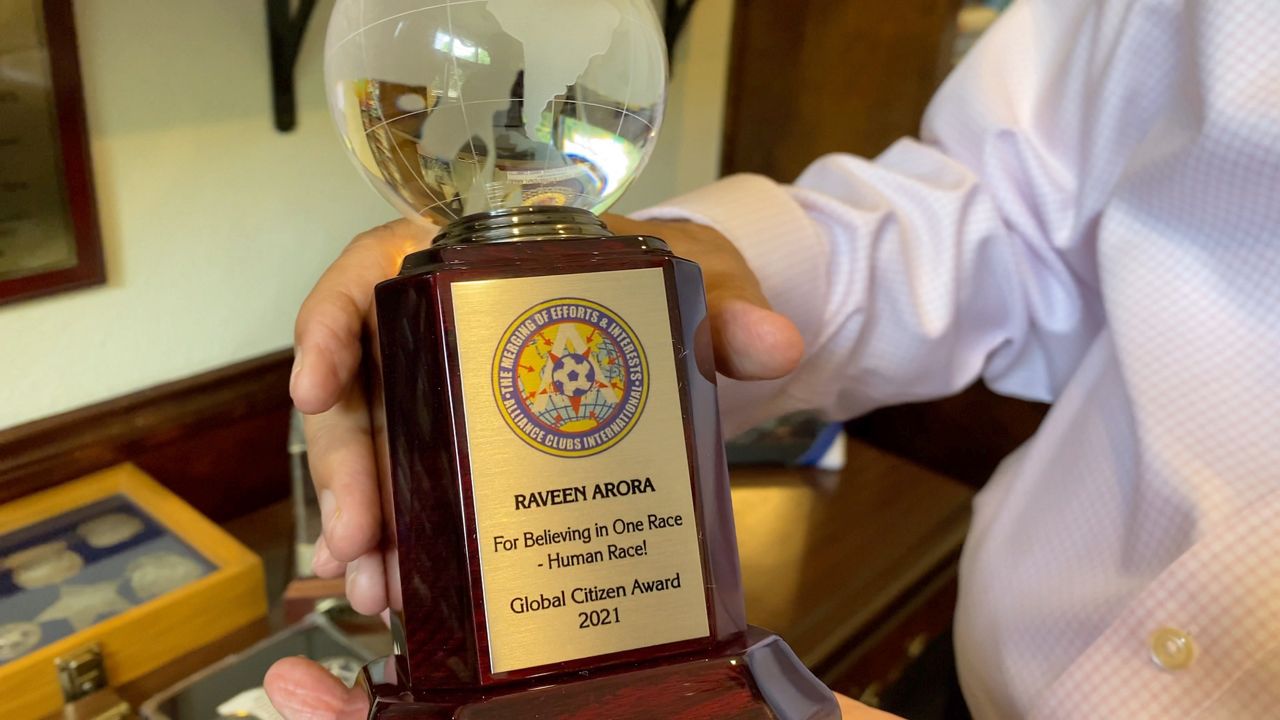 When asked how he felt about having the prestigious title of Nobel Peace Prize nominee, he responded with a heartfelt, "I felt very undeserving. I was truly overwhelmed with emotion, and I looked upon to the heavens, and I thought, 'Did I really deserve this to make my parents so proud?' What they didn't get in their lifetime."
Now a Texan, he plans to immerse himself in his new community by making connections with several local organizations.
"I've already reached out to North Texas Food Bank," he said. "I tell them, 'Don't take me because I'm a Nobel nominee. Take me for what I can do for you.'"
He will also continue to focus on Think Human, an organization he founded with the mission of humanizing communications in the workplace, social setting and relationships worldwide.
"We focus on treating one another as we want to be treated by applying these four principles," he said.
Above all, he hopes to be a source of inspiration for his grandchildren and looks forward to helping raise them in the years to come.
"I don't have a vision statement. All I have is me, one man trying to make a difference through normal interaction with human beings - just be humans," he said, stating that that's the key to spreading positivity.
Since the first Nobel Prizes were awarded in 1968, only 107 individuals and 24 organization have received the honor of winning the award.
Arora believes there are many candidates this year more worthy of the award, but feels honored to be a nominee.
"I won't win, not in my wildest dreams. However, the fact that so many people put their faith in me has made me a better Raveen," he said.
Nominations for this year's Nobel Peace Prize are currently under review and a special committee will vote on winners in October. The award will be presented in Oslo, Norway, in December.
If you have an interesting story or an issue you'd like to see covered, let us know about it.
Share your ideas with DFW human interest reporter Lupe Zapata : Lupe.Zapata@Charter.com ​