TEXAS — A majority of Texans believe immigration is the biggest problem facing the state, even more so than crime and violence, according to an exclusive Spectrum News-Ipsos poll released this week.
In a series of questions intended to gauge Texas residents' overall feelings toward immigration and border security, Ipsos, a global analytics company, asked more than 500 Texans a broad range of questions addressing national and statewide policies. The company also interviewed more than 1,000 people to gauge their views on the handling of immigration on a national level.
Mallory Newall, the director of public affairs for Ipsos, said the recent survey found Texans are in line with the rest of the country on immigration reform.
"I think over the overarching story here is that people in Texas certainly favor more restrictions and enforcement at the border — as does the American public — but at the same time, they're open to reforms of the immigration system as a whole," she said.
Overall, the survey found that Texans seemed happier with the way both President Joe Biden and Texas border patrol agents have handled immigration, versus the way they felt about how both former President Donald Trump and Gov. Greg Abbott have dealt with the issue.
While 44% of Texans approve of Biden's stewardship of the issue, only 38% liked Donald Trump's approach. Just 35% approved of the job Abbott has done. Border patrol agents won the most praise, with 47% approval. The numbers for the two presidents and border officers are within one percentage point of the national opinion, the survey concluded.
"Given the sample size of 500, the difference between Biden's and Trump's approval rating is actually not statistically significant," Newall said. "It's within the margin. I would caution you not to read too much into that."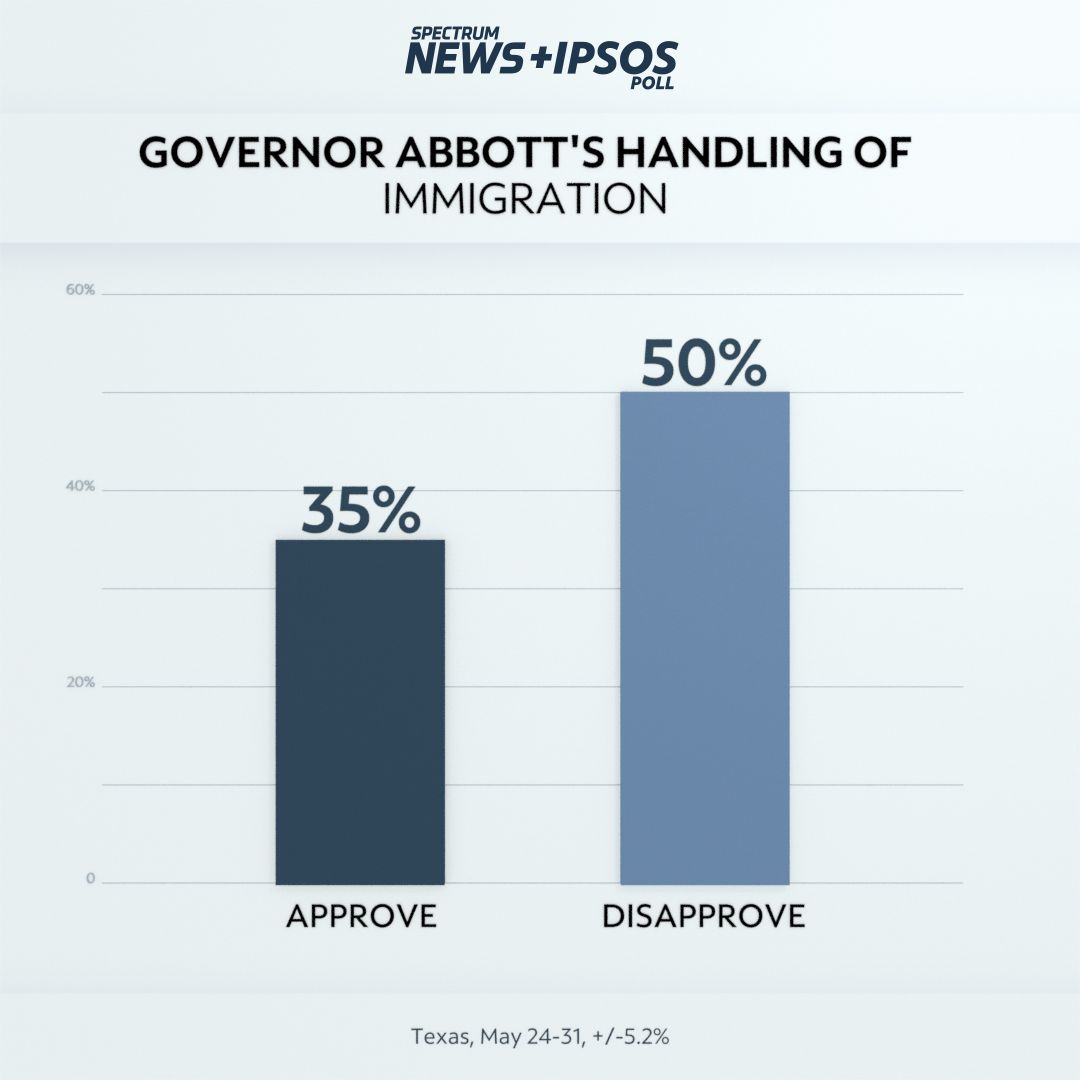 The survey also found most Texans and Americans support increasing the penalties for immigration smugglers who illegally cross the border. A comfortable majority of Texans also agreed that the country should impose economic sanctions on Mexico to encourage that government to curtail migrants and illegal narcotics from finding their way over the border; and increasing federal funding for immigration enforcement.
On the other hand, most Texans do not favor continuing construction of the wall along the U.S.-Mexico border — a major campaign promise and policy priority for former President Trump. Likewise, the majority of Texans said they do not want to raise the number of refugees and asylum seekers entering the country.
Newall said the data suggests that people who were surveyed take their cues from partisan leaders, and many of the residents who answered her company's questions were split along traditional right-left political lines.
"There is certainly a clear consensus that Texans would like the federal government to provide more resources to stop drugs from coming in through the border, but I think how you do that is an open question," she said.
"When you ask people about building the wall, I think is more of a referendum on the previous administration and one of their main points in terms of immigration reform," she continued. "What we see here is that views toward immigration at the national level and in these states, it remains a very partisan issue. So Democrats and Republicans are still very far apart on exactly how they would like to see the system reformed, and building the wall is a great example of that."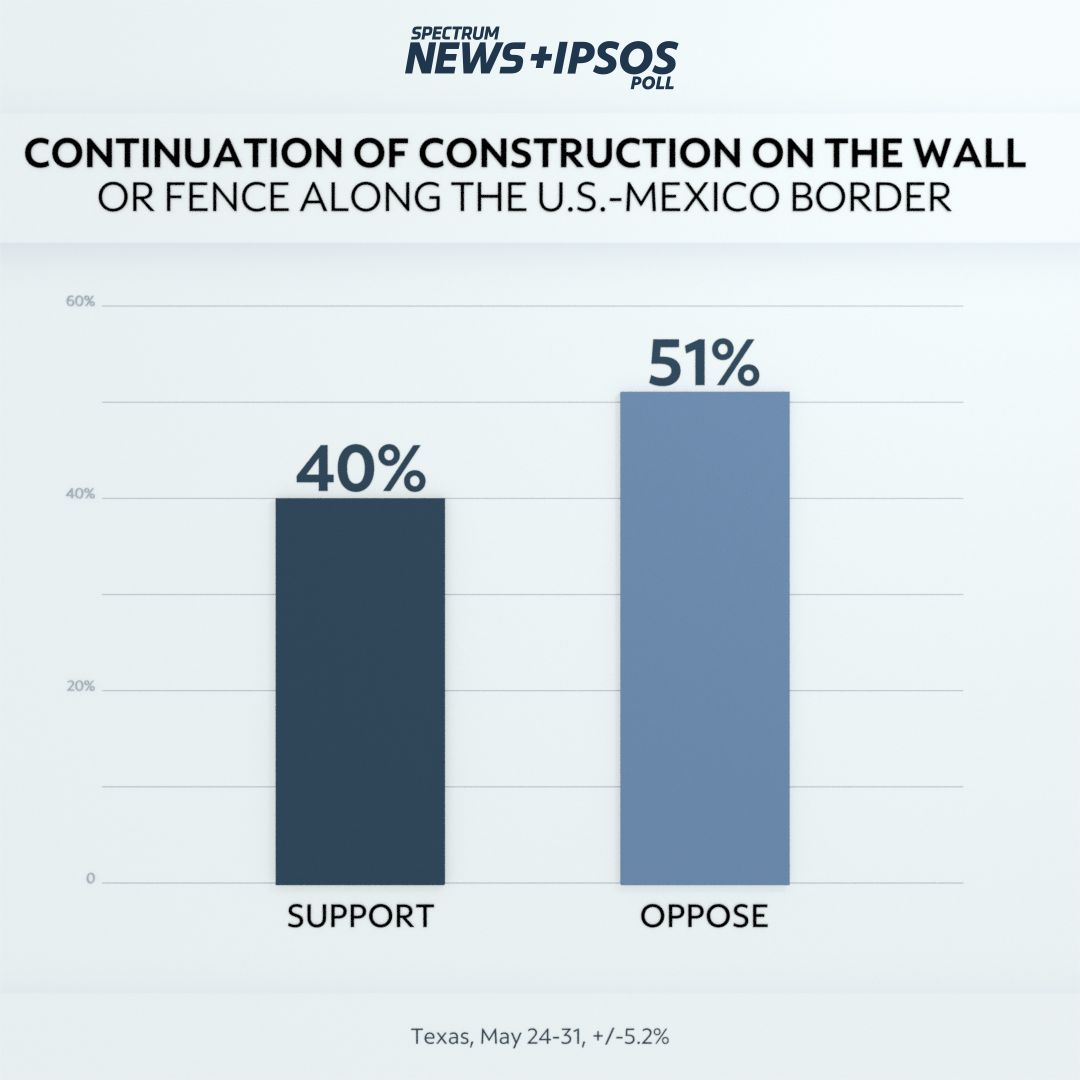 Ipsos' research also revealed most Texans believe agents from the Tohono O'odham Nation, which occupies roughly 60 miles of the U.S.-Mexico border, should share the burden of patrolling their land. Similarly, those surveyed believed overwhelmingly that patrolling the border should be a responsibility shared by federal and local law enforcement agencies.
The majority of Texans (61%) said they believe increasing spending and resources toward more federal agents would be an effective way to slow or stop illegal immigration.
Texans feel the three most important reasons people leave Central America, the survey said, are to escape crime and violence, poverty and to find jobs — all of which echoed the national sentiment, overall.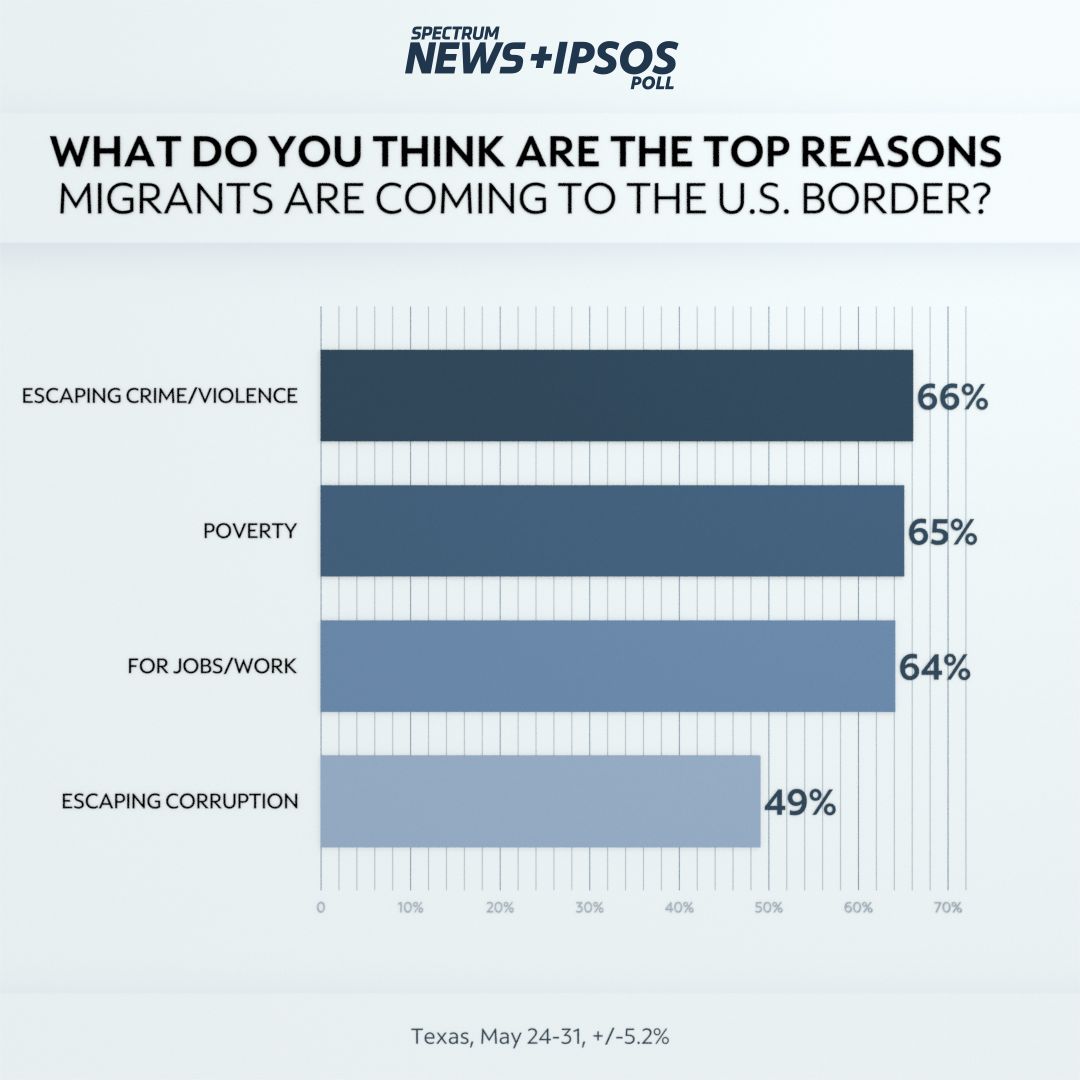 Though the survey found the majority of Texans seemed to favor slowing immigration, 69% of the state's residents conceded immigrants are an important part of America's identity. Most Texans believe any undocumented immigrant should be able to legally obtain U.S. citizenship. A greater number of Texans also think that America has a moral obligation to accept refugees.
Drugs and jobs were both problematic immigration issues for Texans. Some 75% of local residents thought the federal government should devote more resources to stopping drugs from seeping over the border, and 60% said they believe employers should favor non-immigrants when jobs are scarce.
"It's sort of this broad idea," she said. "Immigrants are an important part of our American identity. We have an obligation to help people, but at the same time, there's still some nativist or more populous sentiments about what that actually looks like in practice."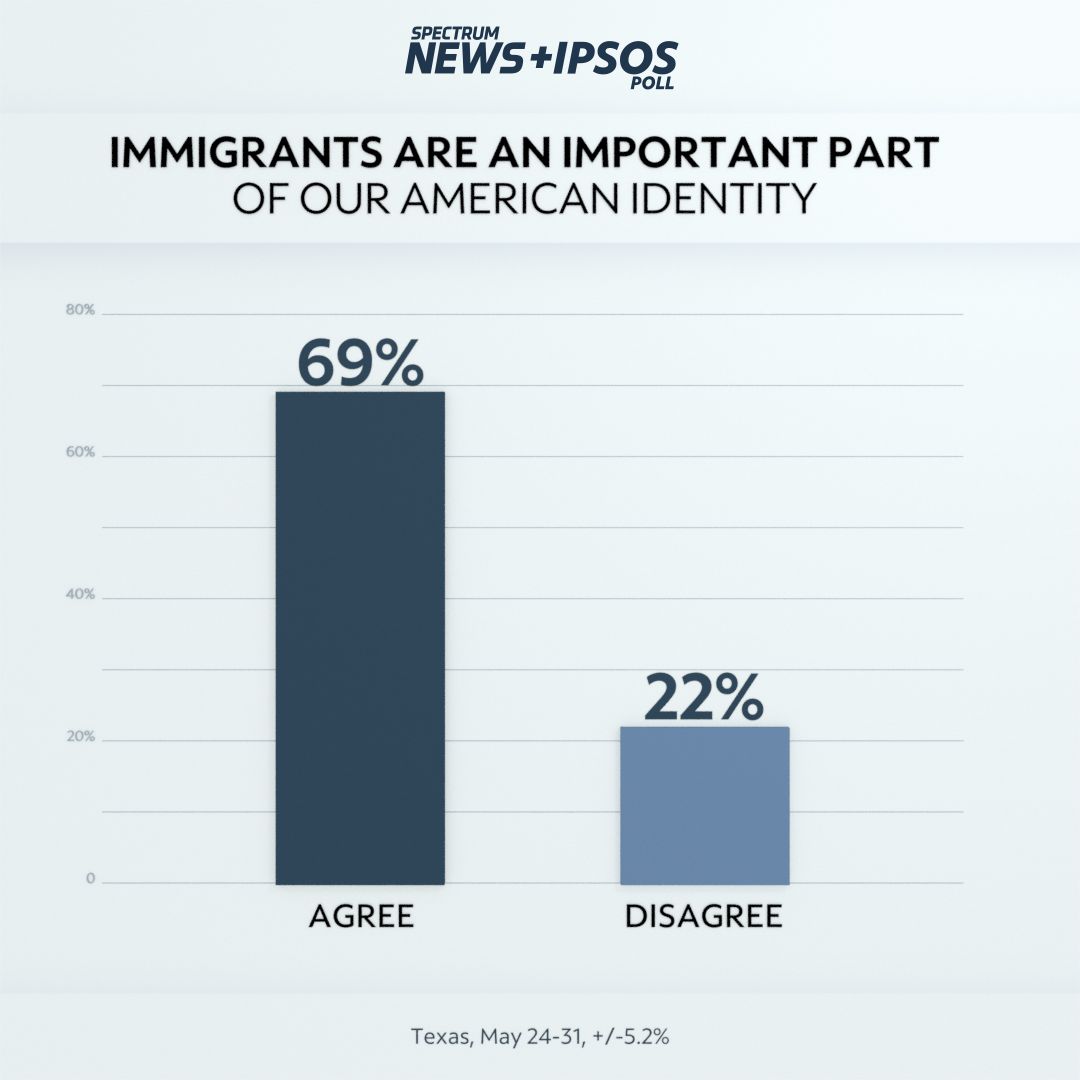 Of the Texans who took the survey, 32% said they are Democrats, 29% are Republicans, 23% are independent, while 14% didn't identify their political affiliation.