AUSTIN, Texas — Public health officials have raised the possibility of a spike in COVID-19 cases after people have gathered to protest against police brutality. Demonstrations have not been letting up and while one activist has expressed apprehension about participating, he could not hold out any longer.
---
What You Need To Know



Protesters in many cities encouraged to get COVID-19 testing


One protester said he didn't protest at first because of virus


Eventually decided to go out and protest anyway


He plans on getting tested for coronavirus
---
Gerardo Silguero has always used art as a way to amplify the voices of the Latino community and to document history through their lens. The Brownsville native is an artist-in-residence with the nonprofit Jolt Action after connecting with them as a student at St. Edwards University.
After the death of George Floyd, Silguero told Spectrum News he felt a range of emotions including a lot of anger and sadness. He says policing is something that has always impacted the Latino and Latinx communities, referring to interactions between community members and law enforcement entities like ICE or Border Patrol.
"I think always having a force that is constantly hunting us down feels like [it's] something that aligns exactly with these protests," Silguero said.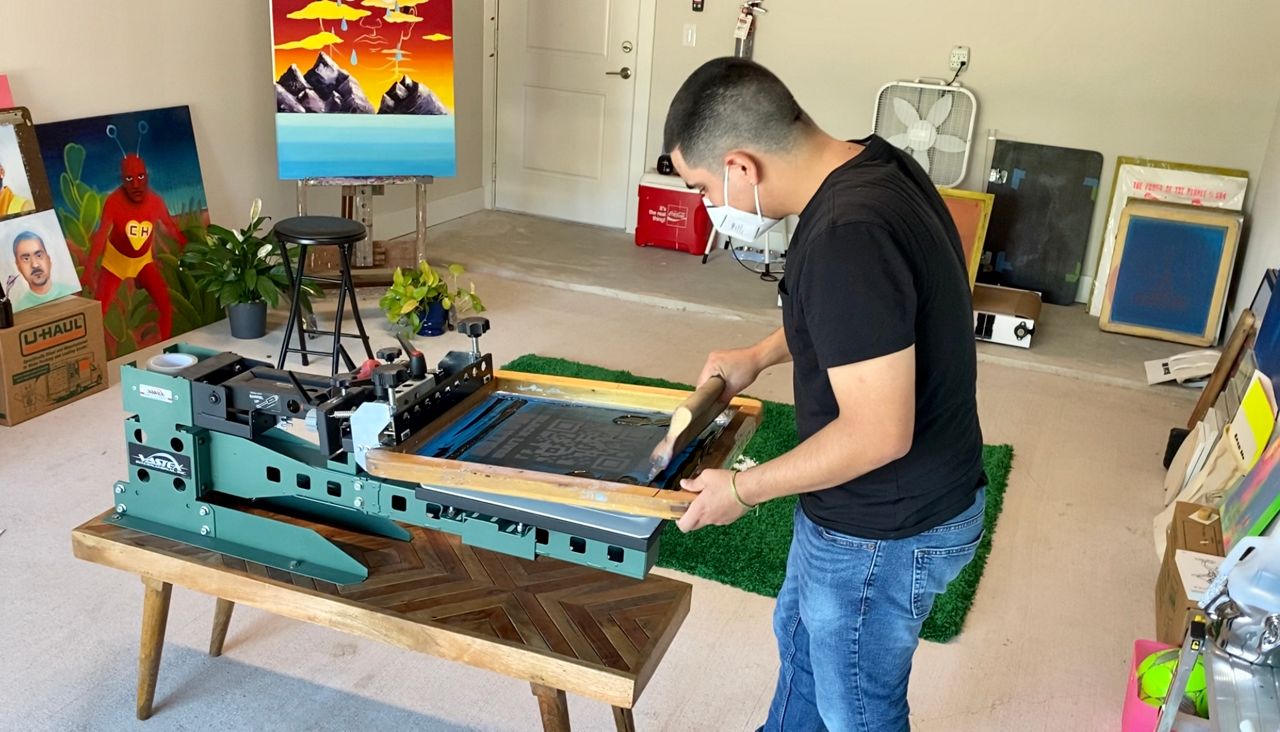 Gerardo Silguero working on a screen print. (Spectrum News)
Silguero wanted to protest like he has in the past but felt pressure this time to stay safe from COVID-19.
"I've just been pretty worried about the whole pandemic situation going on. I'm one of the main, or the main financial supporters for my immediate family. If it were to get sick that's a lot of pressure on me and my partner trying to move forward," he said.
For days, Silguero supported from a distance by donating to causes, signing petitions online, and sharing information on social media. He also began screen printing posters for protesters. Silguero created a print of a QR code that takes people to resources online.
But recently he decided he could not stay home any longer and decided to participate in one of the largest gatherings so far in the Texas Capital City, which took place at Huston-Tillotson University.
"It's something worth fighting for, no matter the circumstances that we find ourselves," Silguero said.
QR code screenprint designed and created by Gerardo Silguero. (Spectrum News)
At this point people understand the risk of COVID-19 transmission in larger groups. Public health experts believe a rise of coronavirus cases is possible in Texas after these protests.
"We may see an increase in the number of COVID-19 cases due to these protests because of course you have a lot of people getting together in close proximity for prolong periods of time, but it's going to be difficult to separate that from the other things that are going on in our community, such as additional reopenings," said Dr. Diana Cervantes, assistant professor of epidemiology at the University of North Texas Health Science Center.
Recently Gov. Greg Abbott said state officials are now locating where to send additional COVID-19 testing resources in areas where protests denouncing police brutality took place. The governor said the goal is to better assess how the protests have affected the spread of the virus. Cervantes said expanded testing is a good idea.
"You want to make sure that you're able to quickly identify people who could have COVID-19, because the quicker you are in identifying that through testing, the quicker you are to isolate them and then do contact tracing, so that you're breaking those chains of transmission," Cervantes said.
These days, Silguero is working on a portrait series highlighting friends and family who are essential workers. He hopes to capture their work ethic and willingness to continue forward despite adversity. After protesting in person, Silguero plans on signing up for a COVID-19 test in Austin where public health leaders have encouraged protesters to do so, even if they do not have symptoms.
"It was a terrible thing that happened, very tragic. How the people reacted, I think that's what's really powerful. I'm glad and I'm happy to see the community being active, being vocal, not standing still," Silguero said.