TEXAS — Ahead of Memorial Day, bars, bowling alleys, and bingo halls are all allowed to be back open with reduced capacity. It is part of Gov. Greg Abbott's goal to reboot the state's economy during the coronavirus pandemic. One owner of a decades-old bowling alley is pinning his hopes on customers stopping by his small business this holiday weekend.
---
What You Need To Know



More Texas businesses were allowed to reopen on May 22


Bowling alleys given certain guidelines for safety


Owner of Highland Lanes feared he'd have to let go employees


Small business loans helped business get to this point
---
Starting May 22, Texans can strike bowling alleys off the list of businesses closed. It will be hard to find anyone more excited about that than 47-year-old Bryan Pogor, who has been throwing it down at Highland Lanes in North Austin since he was about 6 years old.
"Highland, specifically, is my happy place. I always feel safe here. I've been coming here pretty much my whole life," Pogor said.
The competitive player was one of the first to show up for reopening day after life under lockdown. Pogor plays in a league and before the pandemic, he would sometimes stop by the bowling alley up to four times a week.
"If there may be some other aspect of my life that is stressful or worrisome or something, that kind of goes away when I start bowling. I'm able to focus on bowling and that I think helps me relax and get back to what I need to do," he said.
The longtime family owners of Highland Lanes, who also operate Dart Bowl and Westgate Lanes, are sparing no expense when it comes to safety.
"I view it as very important, because that's what gives people a comfort level to come in and bowl," owner John Donovan said.
Staff at Highland Lanes have taken away some tables to maintain six feet distance on their course. Employees wipe down surfaces regularly and when customers are finished in a lane. Plexiglass shields were added to the front desk, where employees disinfect shoes. Instead of leaving bowling balls out, there is a room with a new machine to clean bowling balls at high temperatures. Staff members will then hand out clean bowling balls to players.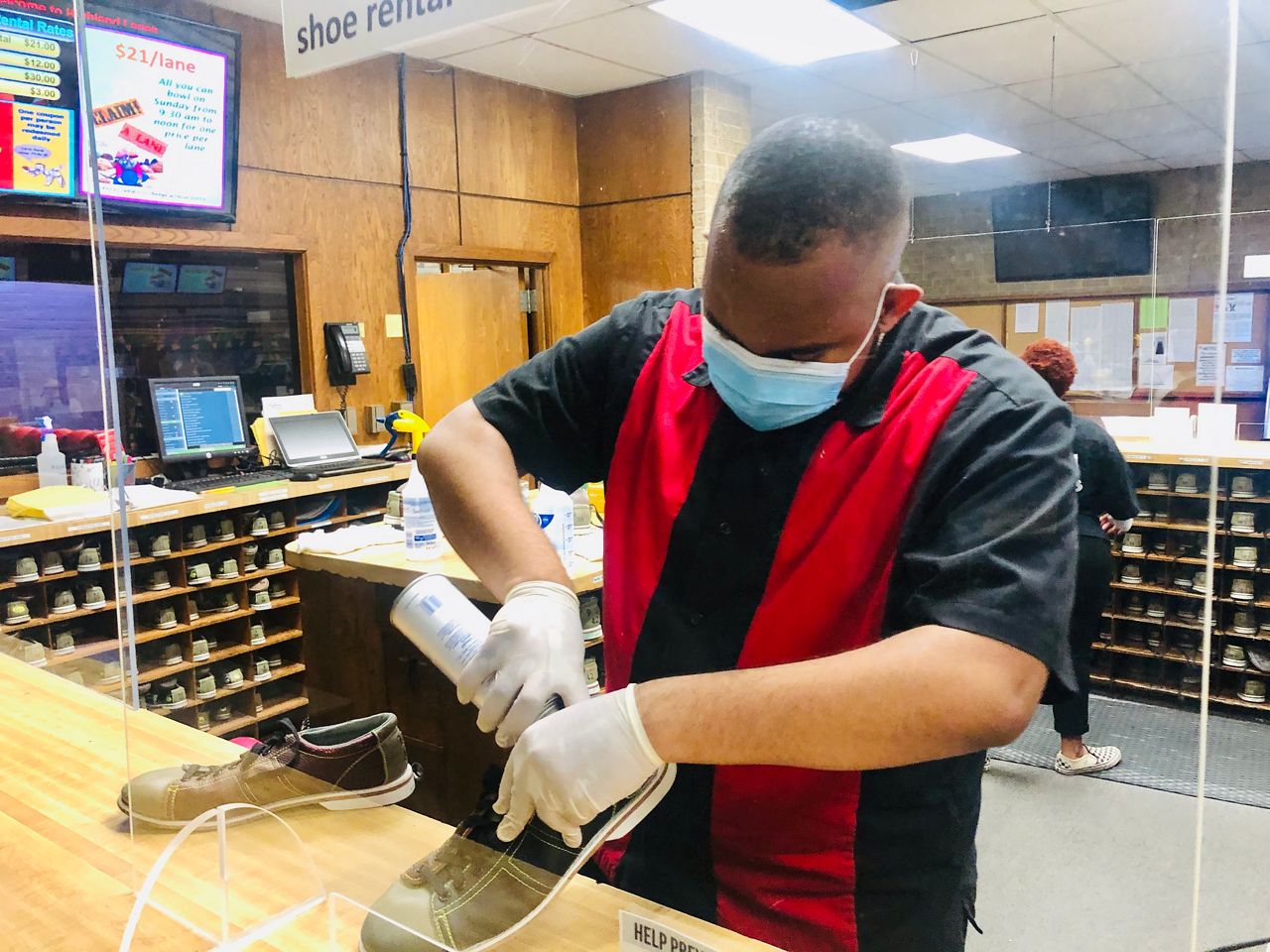 An employee at Highland Lanes disinfects bowling shoes while wearing a mask and standing behind plexiglass (Spectrum News)
"We're ideally suited for someone to have an activity, but keep people separate. When we space people out with a lane in between them and only use half of our lanes at the most. They're well suited," Donovan said.
The minimum standard health protocols for bowling alleys includes, but is not limited to:
Configure your facility such that customers are separated by at least six feet
Disinfect all equipment, including inside all bowling balls, shoes, and other rental equipment, before and after customer use
Make hand sanitizer, disinfecting wipes, soap and water, or similar disinfectant readily available
Consider having all employees and contractors wear cloth face coverings
If the bowling alley provides a meal for employees and/or contractors, the bowling alley is recommended to have the meal individually packed for each individual
Donovan said they are implementing whatever it takes to keep longtime employees working. He told Spectrum News that after two months of closures he feared having to let some staff members go. With the help of a small business loan, he said it did not happen, but having to pay other bills has been nerve-racking.
"I'm so excited to be able to get back to work. I'm excited for my people, my employees to be able to have a job. I mean, it's a scary time and if we can keep our people employed, that's a good thing," Donovan said.
Returning customers know while it may not be the perfect game right away, it is one they are willing to make adjustments for to keep playing. Pogor said it was his first time bowling with a mask on.
"Don't be afraid to come bowling and wear a mask. I just did it for two and a half hours. It wasn't that bad," he said.