TEXAS -- Many small business owners are taking the plunge and opening their doors to customers per Gov. Greg Abbott's latest executive order allowing retailers at a 25 percent maximum capacity.
Stores following social distancing, sanitization guidelines
Owners juggling the idea of keeping shopping online-only
While each retailer may have additional measures of safety, the "Governor's Report to Open Texas" lists the minimum safety protocols customers should follow when shopping. These include self-checking for any symptoms of illness, washing or disinfecting hands when entering a retailer and before interacting with anyone inside and after the payment process, maintaining at least six feet separation from others, and if available, consider wearing face coverings or masks.
San Marcos locally-owned boutique Trends & Traditions is following the governor's guidelines and has put precautions in place customers are to abide by if they come into the store, including using hand sanitizer when entering and wearing a mask.
"We also are going to have disposable gloves because when you're shopping, you want to touch things, you want to pick up the garment and hold the hanger up and look at it, and then, 'Oh no I don't want to try that on' and put it back. So you have to be able to touch things, so I think if the hands have been sanitized and then gloves are put on, then the customer can feel comfortable to go around and touch whatever they want to touch," said owner Kelly Leinneweber.
A woman inside a boutique steams a jumpsuit (Spectrum News/File)
So what is the procedure for trying on clothes? Leinneweber said any garment tried on will be set aside and steamed before being returned to the sales floor. Sold items that customers want to return will also be steamed or set aside for a few days.
"If it's jewelry or some other item, then we can set it aside for a period of time. You know, three to four days and then I think that the virus doesn't live on the surface longer than that, and then put it back out," Leinneweber said.
Before coming to shop, Leinneweber asks that customers "RSVP" to help manage the amount of people coming to the store. To stay capped at the 25 percent capacity, only four customers are allowed if two employees are working.
"I was trying to think of some way of making it not where you had to feel like you had an appointment. Because it's shopping, it's supposed to be fun and pleasant and not stressful to be there at a certain time. And so I thought, well that's like an invitation to a party, you know, RSVP," Leinneweber said. "I am looking forward to seeing my customers and feeling some form of normalcy. Although I know it'll just be a new normal and we're just going to give it a try and see how it works out."
No-slip mats placed throughout the store help customers stay spaced out and allow for social distancing.
"So that we're going to politely say the rule is only one person on a rug at a time, unless there's somebody from your own bubble. And that will keep people equally spaced throughout the store without us having to, you know, reprimand them or put them on a red X or anything like that," Leinneweber said.
As the owner, Leinneweber has the liberty to determine if abiding by the new guidelines are working out, and if not, she said she will close up shop again and go back to online sales.
"I don't have to open and I do have two compromised individuals in my life that live and work with me. And so, I'm going to take every precaution. I'm not taking this lightly," Leinneweber said. "If anybody feels uncomfortable, we can lock the door and go back to online and working that way."
Leinneweber said in the last month, the store has had to find creative ways to keep up the sales despite losing the foot traffic.
"We did a lot of work to make sales through our website, through Facebook. We had a steep learning curve to start doing lives, which we are now doing. I didn't think I was ever going to do that," Leinneweber said. "Really long days and nights of working at home. I didn't really binge on Netflix much because I was really trying to keep the sales moving. Our merchandise is seasonal, so you have a limited amount of time with it, that it's sellable. And so I really worked hard at that. Sales are down. I don't know to what percentage."
Trends & Traditions is also a Jon Hart retailer, which is a popular luggage company that started in San Antonio. Jon Hart merchandise is popular for graduation gifts, and Trends & Traditions wanted to make a special stamp for the occasion that could also help bring in sales.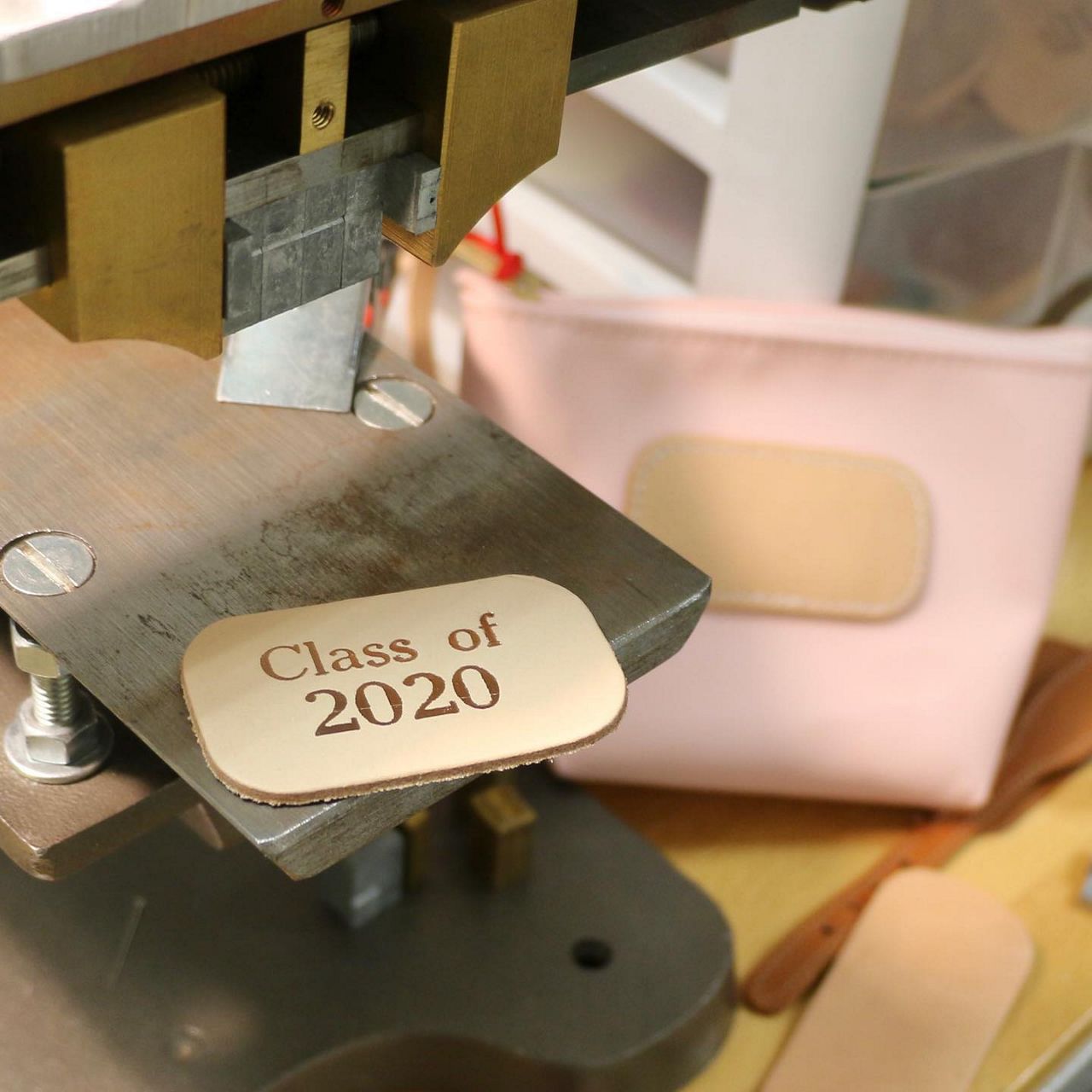 A "Class of 2020" stamp on an embroidery machine, designed by John Hart (Courtesy: Trends & Traditions)
"We do our own personalization of the Jon Hart here in store. And so we were able to create a personalization that says "Class of 2020" on the patch, because we felt like that would be kind of a badge for any poor senior that had their spring semester kind of get taken away from them, not kind of, it did," Leinneweber said. "It has a lot of meaning for them this year. So, that was received well, and of course we have it all online."
Leinneweber said being able to implement retail to-go has been helpful to keep a flow of sales coming in.
"Not one thing saved the day. It was 10 million different little things. A little here, a little there, a little online, a little curb service, a few phone calls. We ship out boxes to customers directly, so we did that and we just did a lot of little things that kind of held it together," Leinneweber said. ​
New Braunfels-based boutique River Rose has two additional locations in San Marcos and Lubbock, which are now back open for business. Boutique staff said they will be following the governor's rules for operating at the 25 percent capacity and will be requiring six feet of social distancing.
"We are so excited to be back and are taking precautionary measures to ensure your safety. Safety is our number one priority, so the number of individuals in the store will be limited. We will also be sanitizing dressing rooms after each use, using a touch free checkout, and maintaining the 6-feet social distancing standards," the boutique's social media post reads.
"We've partnered with a sanitizer manufacturer and will be providing a sanitizer station outside. I've also found a non-toxic, organic, biodegradable disinfectant that we will be wiping each surface down throughout the day," River Rose staff told Spectrum News.
River Rose will also still be doing curbside pickups for customers not wishing to come into the stores.