AUSTIN, Texas -- Jess "Shug" Bess loves Halloween but didn't expect to pull out her skeleton decorations so early this year. When the pandemic invaded our lives, she brought them out and displayed them in her front yard in South Austin.
Took funny perspective of toilet paper shortage
Added jokes about moms needing wine, dads with unfinished projects
She knows the children love the skeletons during the fall, but she felt they needed them again during these dark times when people are isolated in their homes.
Not knowing where to start, she found the toilet paper crisis was enough to spark some much needed laughs, as neighbors take their walks to get out of their houses.
"Everyone thought it was hilarious, that toilet paper was the first thing to go and that was the easiest joke to make fun of was the toilet paper shortage," Bess said.
She has four skeletons, three that look human, and one that's a dog. She poses them in situations that bring attention to the COVID-19 crisis, with messages intended to evoke laughter from her neighbors.
One message was special for the mothers who weren't expecting the kids to be home for the rest of the school year. One of her skeletons was portrayed as a mother in front of a table with several glasses filled with what looked like red wine.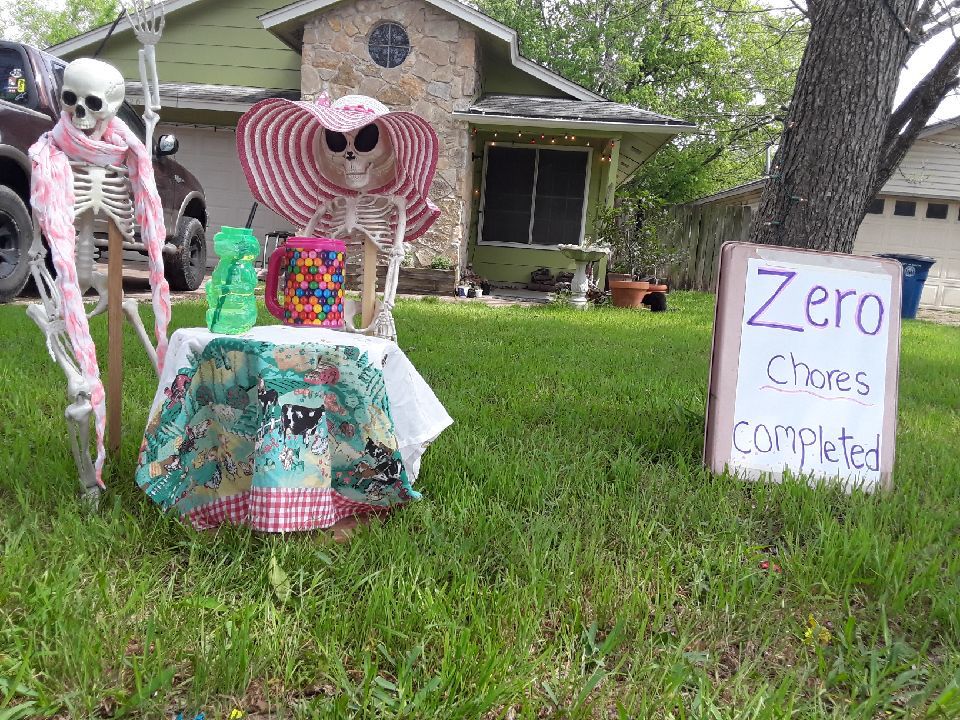 Halloween yard decorations of skeletons dressed in women's clothes with a sign that reads "No Chores Completed"
"The wine one was a classic hit home to all my moms. It's the realization that you might need a glass or two of wine to get through your evenings," Bess explained.
As she uses her lawn as her canvas, Bess changes the scenes every couple of days. With each scene she also displays a handwritten caption, to capture chuckles from those who walk by.
"I think humor and hope are coincided in a sense that if you're able to laugh during something scary and dark, you have a hope that the better times are around the corner," she said.
One of her latest scenes was three men who are supposed to do yard work. One of the skeletons is posed holding a weed whacker, while another one just casually sits by and observes while drinking a can of beer.
The handwritten caption propped nearby read: Thoughts and prayers going out to all the men who said "I'll do it when I have more time."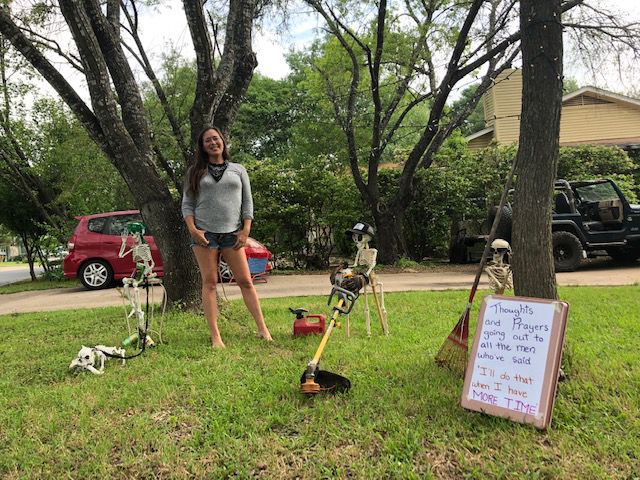 South Austin resident Jess "Shug" Bess stands in her yard with Halloween decorations (Spectrum News)
For Bess, bringing humor during hard times is important and seeing the neighbors laugh or take selfies with her skeletal creations makes it all worth it as we all experience the pandemic together.