AUSTIN, Texas -- Last year, Jackie Venson became the first African American woman to win the category of "Best Guitarist" at the Austin Music Awards, and the 30-year-old will make history once again at this year's ceremony as she becomes the first black female to co-host the event. The musician will be joined on stage by Austin comedian Chris Cubas to announce the 50 winners chosen in the Austin Chronicle's music poll. The 50 sub-categories fall under the categories of "Best of the Year," "Best Performing Bands," "Best Austin Musicians," and the "Austin Industry Poll." Additionally, five Austin acts - Extreme Heat, Thor Harris, Pamela Hart, Octopus Project and Carolyn Wonderland - have been nominated to be inducted into the Austin Music Awards Hall of Fame.
In 2019, Jackie Venson became the first black woman to win the category of "Best Guitarist" at the Austin Music Awards
Venson will be co-hosting the 38th Annual Austin Music Awards on March 11 with Austin comedian Chris Cubas
Venson credits her father and other Texas music legends for inspiring her to pave a path for future musicians - especially women of color
Jackie Venson after winning "Best Guitarist" at the Austin Music Awards. (Courtesy: Austin Music Awards)
Jackie Venson was born and raised in Austin, Texas, as the youngest of nine children. Her father, Andrew Venson, has been singing and rocking the bass guitar for nearly half a century. Jackie Venson credits her father's musical influence for playing a crucial role in her development as a musician. You could say Andrew' Venson's "little girl" is a chip off the old block, but Jackie Venson has spent the last decade paving her own path in the Texas music scene.
From a very young age, Venson was classically trained as a pianist, but during her senior year at Berklee College of Music, she picked up an electric guitar and discovered a new passion. It wasn't long before she found herself shredding a six-string in the national spotlight.
After more than three years on guitar, Venson entered the "Modern Southern Music Contest" and officially launched her music career. Venson won a headlining spot on the Belk Summer Tour, which included the opportunity to open for country music stars Jason Aldean, Tim McGraw and James Taylor. In 2016, at the age of 26, Venson made her national television debut when she performed on stage with Mac Miller and the Late Show Band on "The Late Show with Stephen Colbert." She returned to the show two years later for a three-night stand on guitar and vocals.
Jackie Venson appears outside the "Late Show with Stephen Colbert" studio in New York City. (Courtesy: Jackie Venson)
More recently, Venson joined multi-Grammy Award winner Gary Clark Jr. on his national tour last year, and her popularity has skyrocketed from the momentum of new fans and new territory. For Venson, however, fame takes a back seat.
"Me being the first black woman to win guitar player of the year - that's nuts. That's deeper. That's deeper than just like 'Hey, you got an award!' Now we have a black woman representing that space for other black women, and maybe that will influence people of different cultures and different backgrounds. People from other towns and other backgrounds and other walks of life can now see that that space can be occupied by something different. That means a lot to Austin culture."
While Venson becomes the first African American woman to co-host the Austin Music Awards, she and Cubas also become the first "funny" duo to be tapped for the job.
"I'm really stoked about it. I feel like it's the best consolation prize ever for not winning one!" joked Venson. "I'm not bitter about not winning one, because I'm hosting the whole thing, baby!"
Since 1982, the reputably distinguished Austin Music Awards ceremony has created the local music scene's biggest night of the year. With unforgettable performances every year by legendary guests like Townes Van Zandt, Bruce Springsteen, Willie Nelson, Stevie Ray and Jimmie Vaughan, the AMAs has solidified a reputation for hosting Texas music royalty.
"I think it means a lot to a lot of people in this city," said Venson. "I just think it's like an important Austin Cultural event that I'm really glad happens. Like, if it didn't happen, what would we do? Culturally, I think it's just really important for people to have stuff that bring us all together."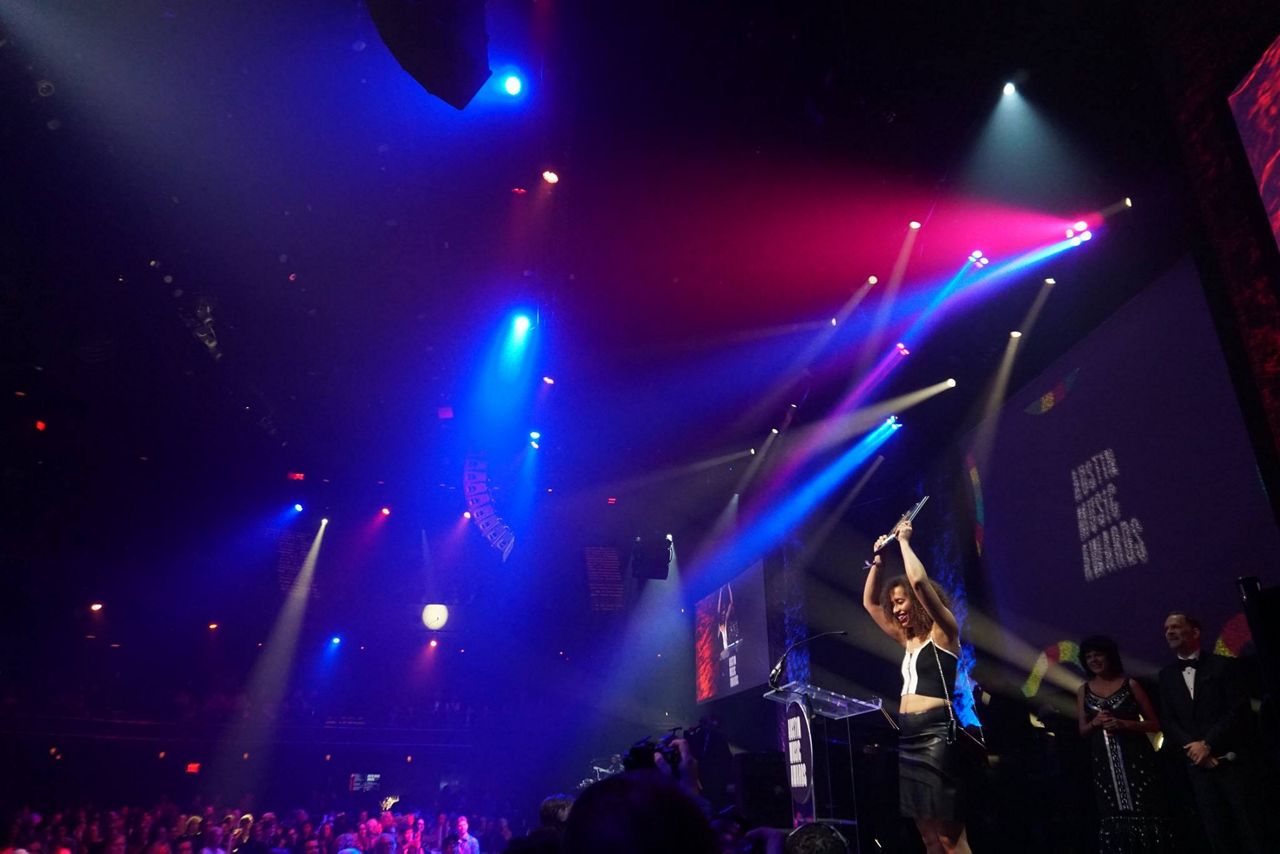 Jackie Venson accepts the "Best Guitarist" award at the Austin Music Awards. (Courtesy: Louis Black Productions)
After touring the U.S. and performing overseas, Venson has already seen more of the world than many people will see in a lifetime - but she still believes there's no place like home when you're a Texas-born musician.
"Are you kidding me? I couldn't experience this anywhere else! Texas is the greatest place in America to play and make a living off of music," she said. "I'm gonna make that bold statement right there. On TV. On television in front of God and everybody! I'm gonna tell everybody that Texas is the greatest state to be a working musician! It really is."
Venson recognizes how fortunate she was to grow up with a professional musician in the house. From an early age, her father instilled in her the values of preserving Texas music and celebrating the artists who have gave the Lone Star State its reputation.
"The amount of incredible people in this state is just a testament to how supportive this state is of its music. People like Willie Nelson, the Dixie Chicks, Beyonce, Buddy Holly, St. Vincent… people like that wouldn't have gotten to where they got to if it weren't for the support of this state. There's a reason why we swept up - we cleaned up at the Grammys. There's a reason why. Because we love our music, man! We go out, and we go to Gruene Hall, and we two-step, and the band better be there! You know what I'm saying? Or else there ain't no party, and if there ain't no party, there's gonna be riots! Texas needs to party. We love our music, and I love living here."
The 38th Annual Austin Music Awards will be hosted Wednesday, March 11 at the ACL Live Moody Theater. Special discounted tickets will go on sale at noon to benefit the local music community, which is currently trying to bounce back from the sudden cancellation of SXSW.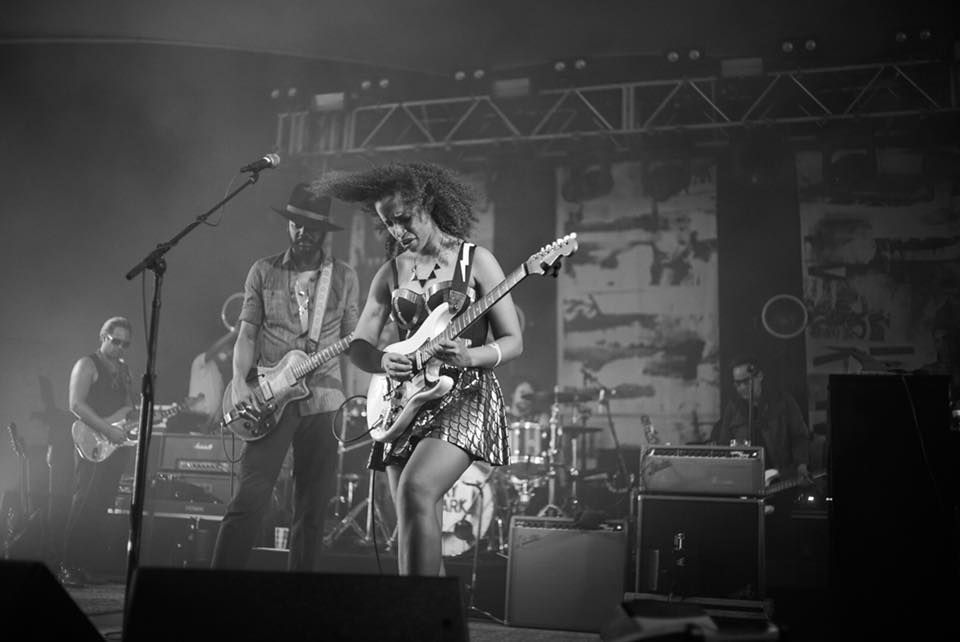 Jackie Venson performs on stage with Gary Clark Jr. (Courtesy: Greg Giannukos)