AUSTIN, Texas — Texas is well known for breeding many of the world's most highly regarded musicians of all time.
The brothers started performing as children
Strong national fan base
They've shared the stage with several well-regarded musicians
Many of the most influential music artists in history were African American Texans, and the same is true today. During Black History Month, Spectrum News is on the Lone Star Music Beat with a spotlight on today's African American artists shining in the Texas music scene.
The Peterson Brothers have been building a legacy of original jazz, blues, soul and funk tunes since they were ages 9 and 12, but it hasn't been without help from their family and other Texas musicians that have walked with them along the way. The siblings were in elementary school when they began performing in Austin bars and music venues, and throughout the last decade, they've been invited to share the stage with the likes of Gary Clark Jr., Buddy Guy, Robert Randolph, Kenny Wayne Shepherd and the late B.B. King.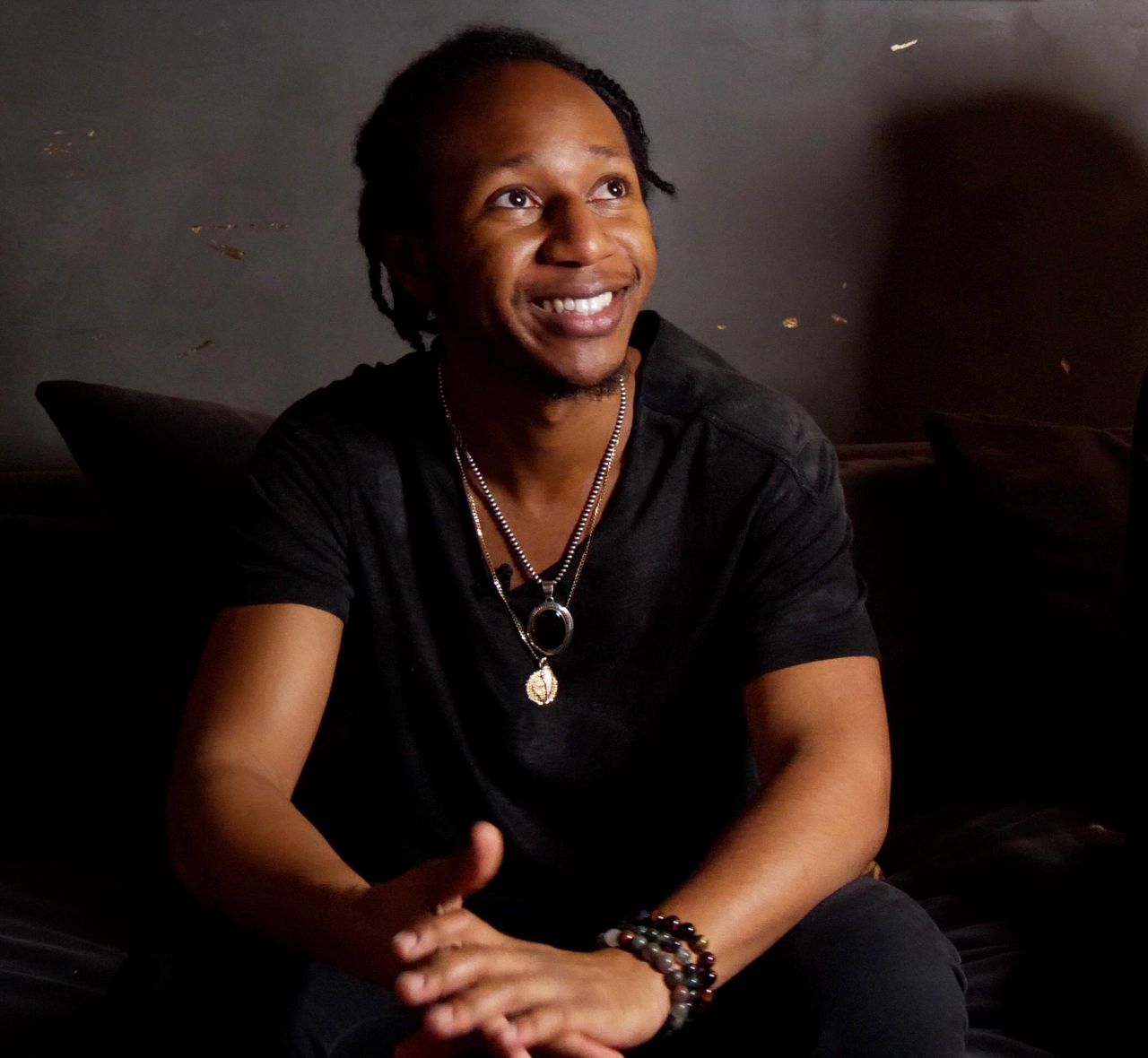 Photo of Glenn Peterson Jr. (Tara Petitt/Spectrum News)
The infectious melodies Glenn Peterson Jr. delivers through his vocals and guitar-picking combined with Alex's unique and always-in-the-pocket rhythms on bass and violin are a recipe for success in the Texas music scene. The brothers certainly have the "Austin flavor," but the maturity and eccentricity of their music puts them into a category that can't be replicated. The genuine sound of the Peterson Brothers is wise beyond its years, and people from all ages and walks of life are soaking it up.
Now ages 23 and 20, Glenn Jr. and Alex Peterson have a strong fan base across the country, but the love from their loyal hometown followers is undeniable. In late January of 2020, the Peterson Brothers were getting ready in the green room at Native Hostel while hundreds of paying fans waited in line downstairs to hear them perform. Later that night, they would release their new EP "The Intro," the second album of their career together. The brothers' weekly residency for the last seven years at Austin's iconic music venue Continental Club has painted the siblings as regular fixtures in the Live Music Capital of the World. Getting the opportunity to hear them perform is a privilege. Before they went downstairs to take the stage, they sat down with Spectrum News on the Lone Star Music Beat to share their story. The Peterson Brothers' musical journey began in their hometown of Bastrop, Texas.
"The first song we ever learned together was Amazing Grace with him playing violin," said Glenn Jr. Peterson.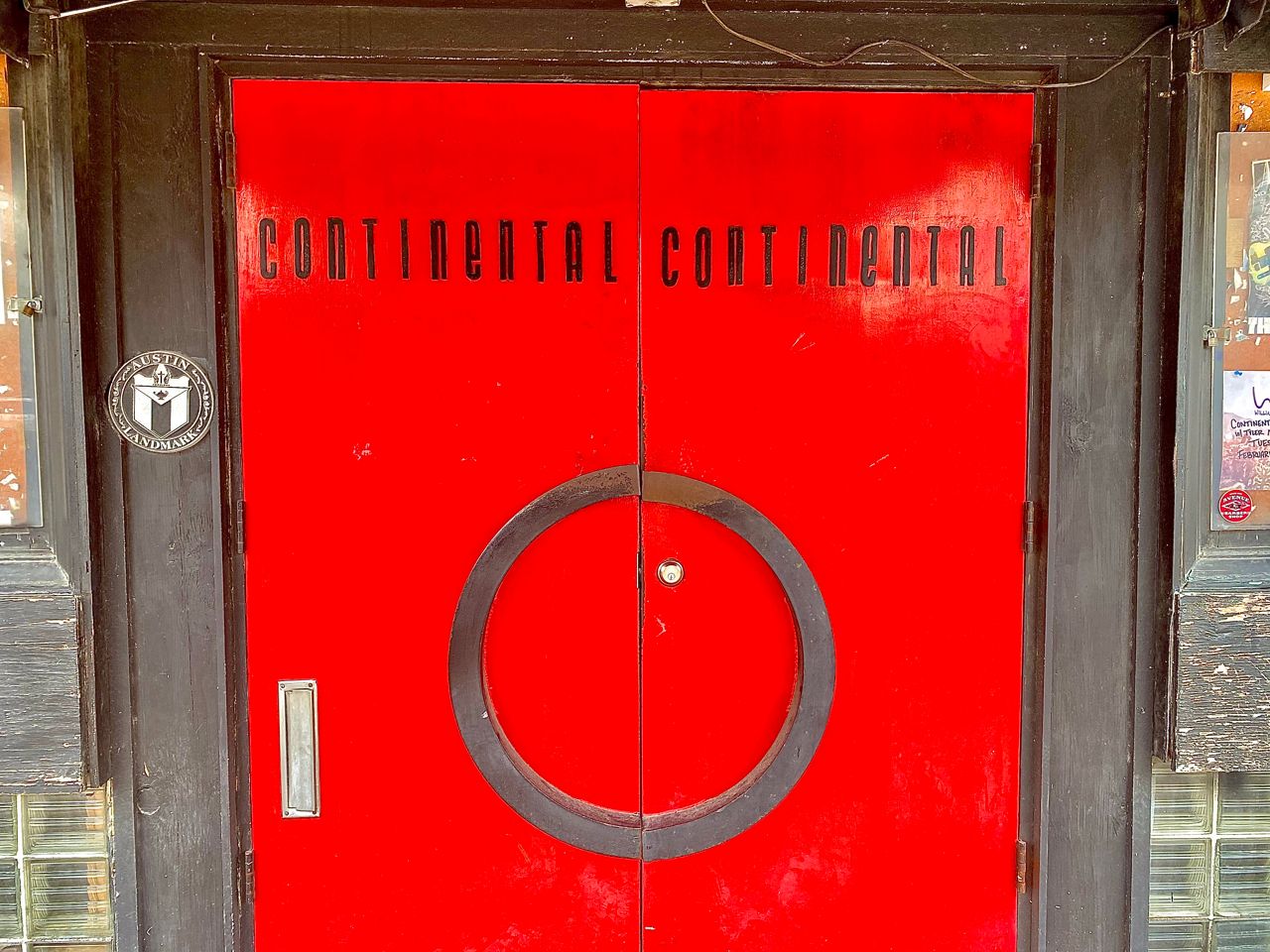 Photo of the Continental Club (Tara Petitt/Spectrum News)
Unlike many other musicians in the Texas music scene, The Peterson Brothers didn't grow up in a musical family. There was no band at their church, and at the ages of 9 and 12, they weren't old enough to go watch live music in a bar. Their influence would come from a garage sale.
"Our mother and our grandmother, they use to go to garage sales and stuff like that," said Alex Peterson. "They had gotten this, like, all-in-one record player and a crate filled with assorted records. Some of those first records we pulled out of there was like a B.B. King Record, some Isley Brothers records, The Brothers Johnson and Earth, Wind & Fire, and those are some of our earliest musical influences."
After becoming inspired by the sounds of some of the greatest jazz, blues, funk, and soul artists of all time, Glenn Peterson Jr. picked up a guitar, and Alex picked up a violin. The siblings instantly connected with each other through their instruments and through the joy music brought them. Alex quickly added the bass guitar and several other instruments to his repertoire, and they both began to sing and perform for anyone who wanted to listen.
"Everybody kind of watched us grow up in this scene," said Glenn Peterson Jr. Their two biggest fans haven't missed a beat. "Mom and dad are always around. They've been keeping up the last ten years, and it's been a journey!"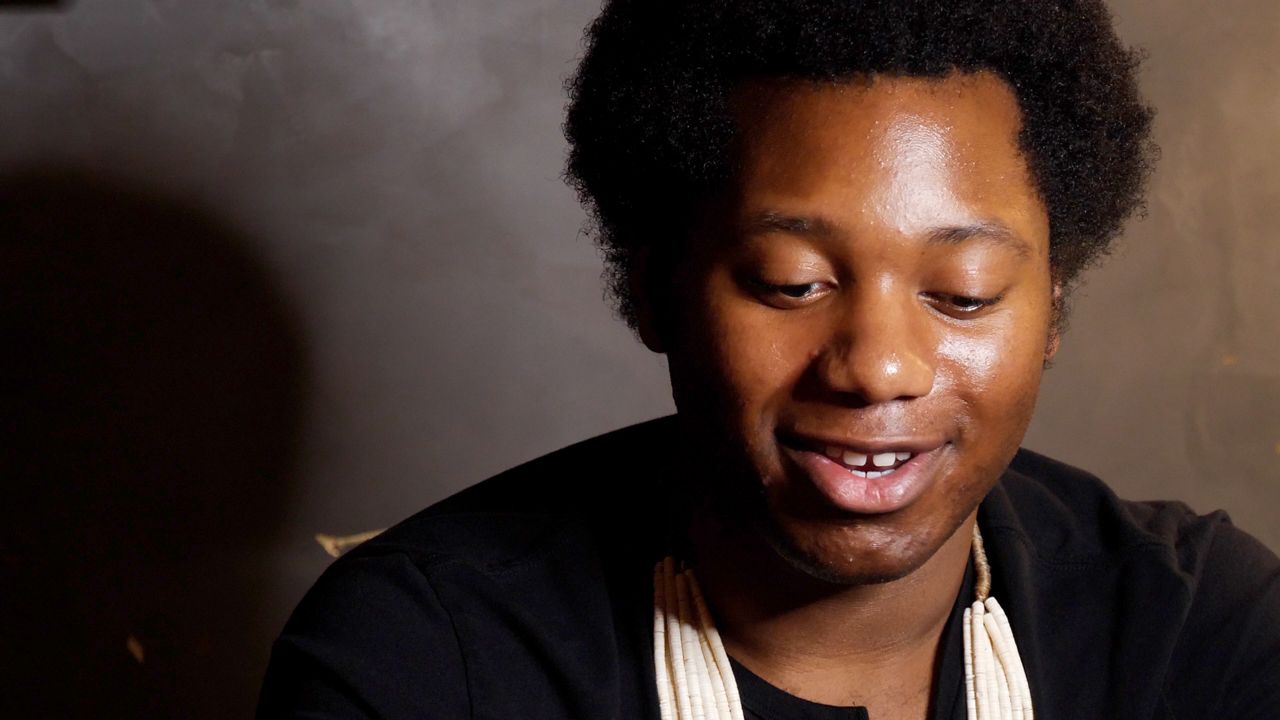 Photo of Alex Peterson (Tara Petitt/Spectrum News)
By "mom and dad," Glenn Peterson Jr. is also referring to his managers, merchandise salesmen, ticket doormen and most loyal followers. Glenn Sr. and Deanna Peterson aren't your typical parents, the Peterson family isn't your typical family, and the Peterson Brothers certainly aren't your typical brothers.
"According to other people, a lot of other people fight with their siblings, and that's like never been a thing," said big brother Glenn Peterson Jr. "I know people probably don't believe us, but it's really true- we literally always got along all the time."
"That's some lucky parents!" exclaimed Spectrum News' Senior Executive Producer Meghan Gonzalez.
"Oh, well I mean, we're blessed to have them," replied Glenn Peterson Jr. "I mean, they're amazing parents. They said there's not a book on parenting or there's no certain way to do it, but however they did it is probably the way you should do it."
"We were really fortunate to have our mom and dad," said Alex Peterson. "Being able to grow our musical abilities from a young age… A lot of musicians don't necessarily get that from their family, but having that family support meant a lot for us."
Growing up in the "Live Music Capital of the World" also has its perks. For the Peterson Brothers, one of those perks has been the opportunity to share the stage with their fellow Austinite and role model, Gary Clark Jr. The brothers met the multi-Grammy award winner 11 years ago in Downtown Austin at the music venue Antone's. In the last year, the brothers have played nearly two dozen shows with Clark, including a cameo jam sesh during Clark's performance of "Come Together" at the 2019 Austin City Limits Music Festival.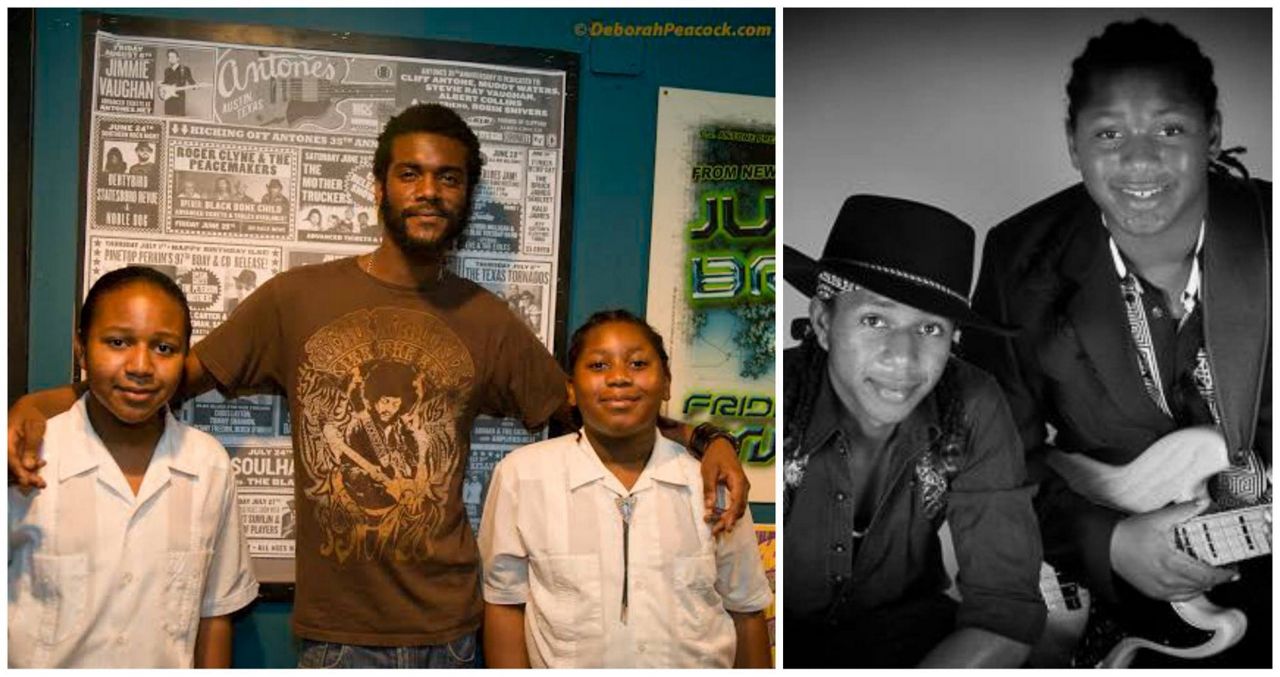 Photo of the Peterson Brothers with Gary Clark Jr. (credit: Peterson family)
"We were just super excited- really grateful," said Alex Peterson. "Especially, you know, artists like him just being so willing to help introduce us to new people and new cities and to expand our reach. Hanging out with him and the band, all of the crew…. Everyone's like big brothers, you know? Everyone's just so kind and just really watched out for us anytime we were out, so we really appreciate Gary for doing that for us."
"Everybody from that crew and everybody pretty much from our crew, we were all Central Texas boys," said Glenn Peterson Jr. "It's awesome to have people that you know around in situations like that, and then everybody being so cool, interacting with the guys from the start of the show to the end of the show, and it's really just like a big family."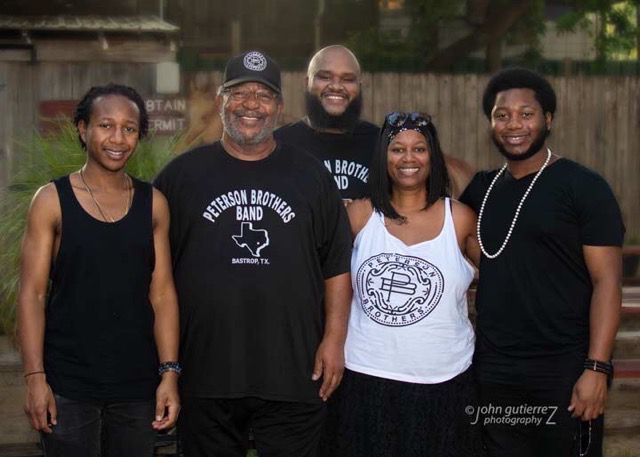 Photo of the Peterson family (credit: Peterson family)
The importance of family has been center stage throughout the Peterson Brothers' journey to success. After all, it was family who brought home their first records, it was faith that breathed the sound of gospel into their songs, and it was music that brought them and their fans together. If you're lucky enough to experience a live performance by the Peterson Brothers, you will witness humility, joy and genuine love within every song. It's contagious, and by the end of the show, there's a good chance you'll be dancing, clapping and smiling along with them, even after the music stops playing.
"It's really happiness," said Glenn Peterson Jr. "The happiness in the room from our parents being there, from us being on stage together, and just loving what we do and being able to do it together. It's genuine love and connection on stage."