AUSTIN, Texas — Cemeteries are oftentimes a direct connection to the past.
Caminar exhibition honors Tejanos buried at Oakwood Cemetery
Caminar means "to walk" in Spanish
Exhibition ends March 18
That's why many people are advocating for preserving them as Texas cities continue to grow.
City of Austin officials and other advocates are working to tell the untold stories of those buried in Oakwood Cemetery. The latest exhibit at the historic East Austin site is called Caminar and it aims to honor Tejanos buried there, as part of ongoing research into the lives of all people buried there. Our Reena Diamante did a series of three stories looking into the work behind the exhibit and how it impacts descendants of Mexican-American families there. Watch the video above.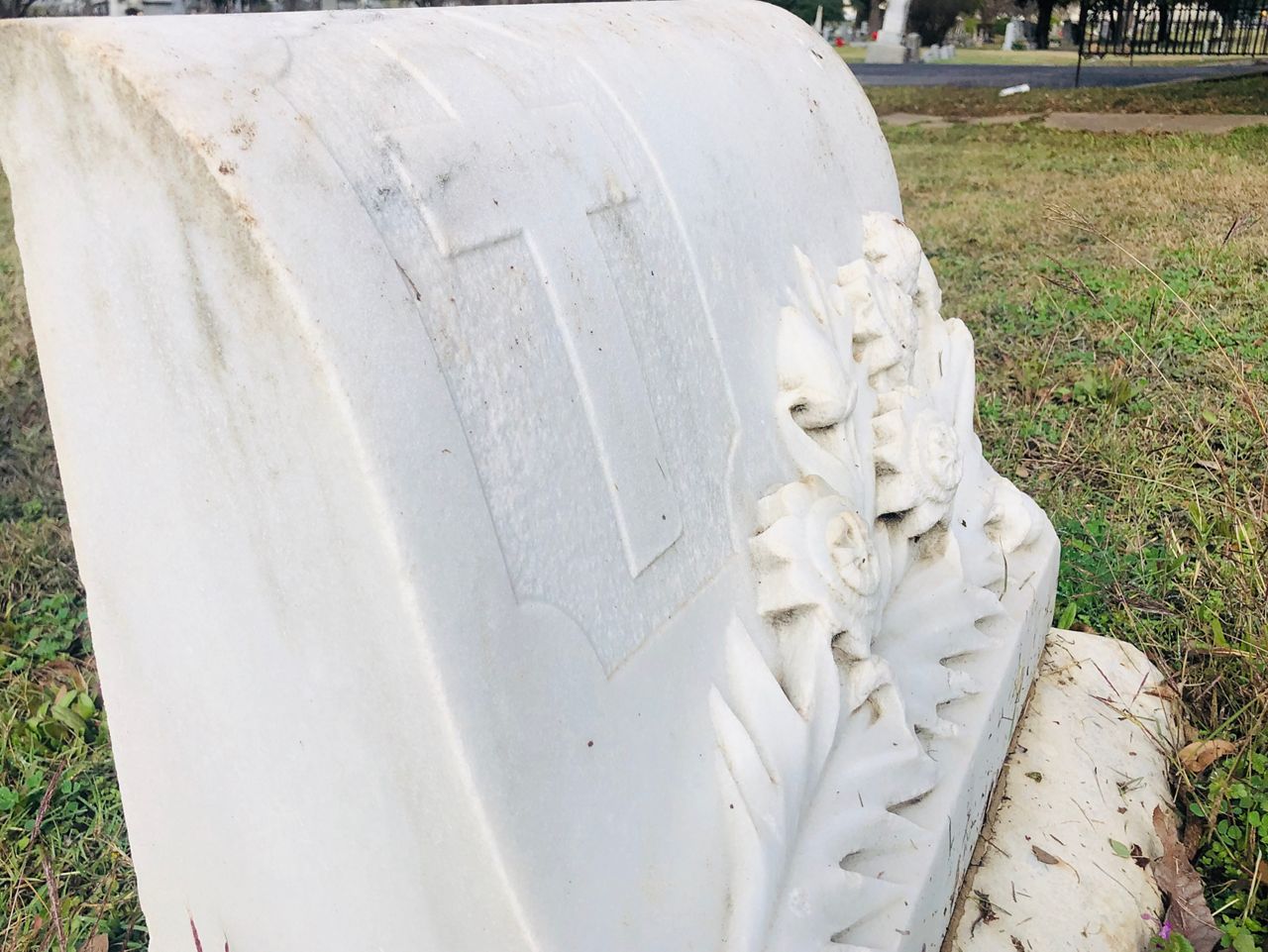 Photo of a grave at Oakwood Cemetery (Reena Diamante/Spectrum News)
There are more than 23,000 burials and 15,000 monuments on the 40-acre grounds, which are just east of I-35 and south of Martin Luther King, Jr. Boulevard. Oakwood, the oldest of the municipal cemeteries in the Texas Capital City, was established when Austin was founded in 1839. At the time, the cemetery was located on the outskirts of town.
"It's interesting to note that there are all kinds of people that are buried and all kinds of people who built Austin. So for me, it's not a matter of class or access to opportunity or being able to afford something like this beautiful monument that says how much we matter or how much we've loved," Jennifer Chenoweth, the museum site coordinator, said.
Advocates say cemeteries represent a snapshot of history. Around the cemetery, recognizable last names can be seen, as a number of notable people were buried in Oakwood including Battle of the Alamo survivor Susanna Dickinson and Texas Gov. Elisha Pease.
Photo of Alan Garcia at Oakwood Cemetery (Reena Diamante/Spectrum News)
The cemetery also reflects views about race at the time. During the 19th century, people of color were laid to rest in Oakwood in the segregated sections called "colored grounds." Among the significant people buried there are Reverend Jacob Fontaine, educator L.C. Anderson, and dentist Dr. Everett Givens.
"It helps us understand, the way that in time, people treated each other in life. Different classes and groups of people worked together toward common goals, even though there was a lot of inequity," Chenoweth said. "You have all kinds of municipal workers and citizens all right here together in Oakwood Cemetery, so it really tells the story of people who through certain values come to a place and then they build a community."
Melissa Rogers is the president of Save Austin's Cemeteries, a nonprofit dedicated to preserving and promoting historic cemeteries in Austin through documentation and education. The group believes cemeteries are cultural resources. Group members monitor the conditions of the gravestones and host walking tours, among several programs.
"The real history of this community is made up of the everyday people and all of the people that were here," Rogers said. "We need to, in general, start talking about history, and not just having it be about the people who are quote-unquote famous, who are in the history books, but having history really be about the day-to-day people who built this place."
Along the margins of Oakwood Cemetery are the burials of Mexican-Americans. Officials with the Austin Parks and Recreation Department, which oversees operations of the municipal cemeteries, said the sextons of the time who were record keepers would sometimes misspell the names of Mexican-Americans or sometimes just wrote "Mexican."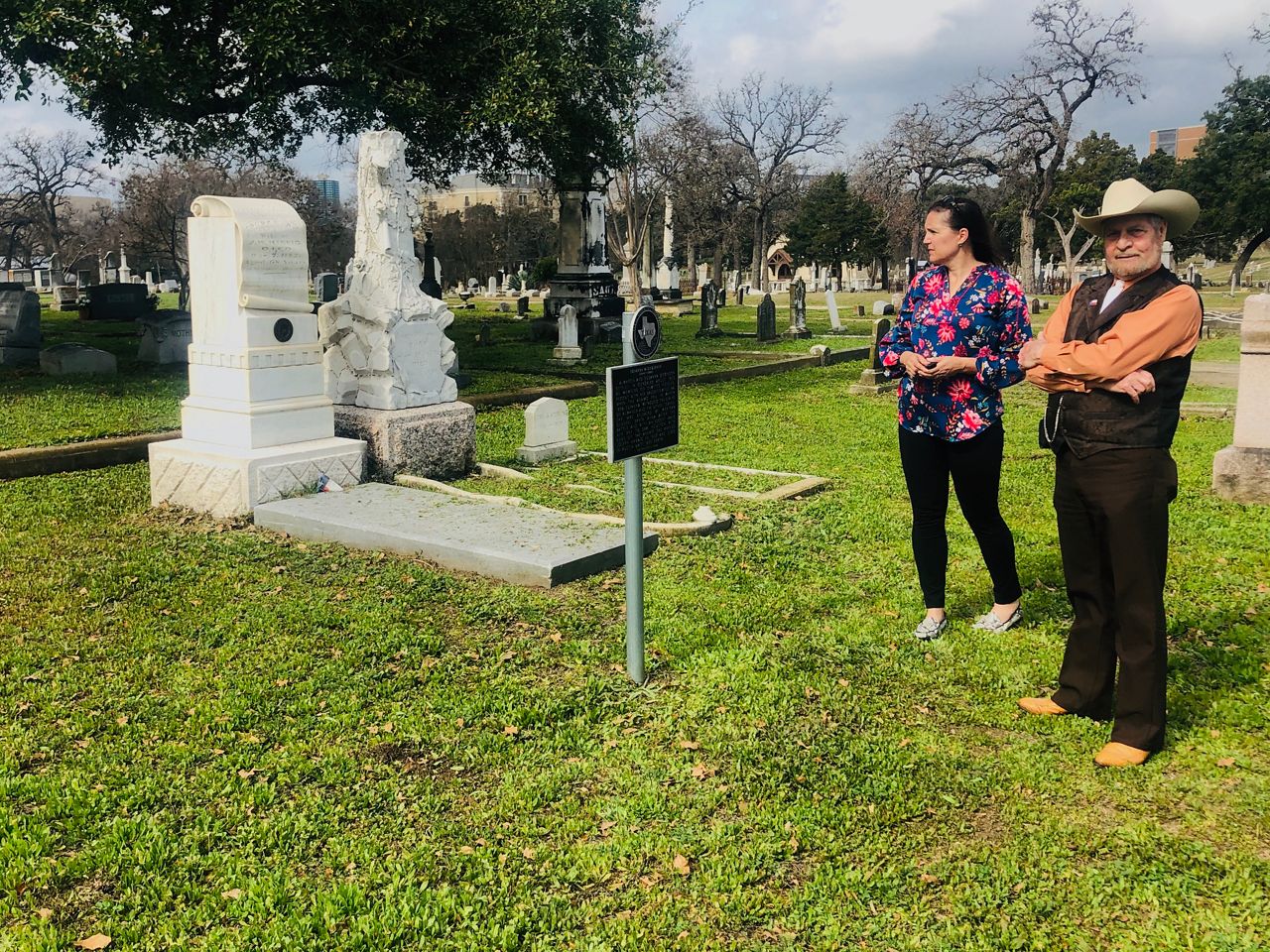 Photo of members of Save Austin's Cemeteries near a monument belonging to Susanna Dickinson, a survivor of the Battle of the Alamo. (Reena Diamante/Spectrum News)
City staff is now addressing some of those mistakes. First, they mapped out known burials of hundreds of Mexican-Americans and took pictures. Alan Garcia, who works at the Oakwood Cemetery Chapel, has been working to match the names on the monuments to the handwritten records. Garcia, an Austin native, described the work as "extensive," but perhaps more importantly, "healing."
"Growing up in Austin, as a Mexican-American, my parents being immigrants from Mexico, it was really important for me to learn about Austin's earliest Mexican-American families, and help correct this injustice that was done with a lot of prejudice, a lot of disrespect in the way they recorded their burials," Garcia said.
Garcia and others will begin researching, scouring historical archives and old newspapers, to uncover whatever information they can about the Tejano families there.
"Their lives matter, their stories matter, where they weren't respected in life and death, we're hoping to give them the attention that the deserve, the honor that they deserve," Garcia said.
The exhibit, Caminar, which means "to walk" in Spanish, hopes to give visitors the opportunity to reflect on the stories of Austin's early Mexican-American community. The Austin Parks and Recreation Department is partnering with Austin History Center, Projecto, and the Tejano Genealogy Society of Austin.
"We were not just the forgotten people. Our ancestors were somebody. They explored, they start building little towns and communities. We want to bring, kind of highlight their stories in kind of way in saying, look they were here, these were ordinary people, they contributed a lot, they helped build Austin, they were here, we want them acknowledged," Minnie Wilson, secretary of the Tejano Genealogy Society of Austin, said.
"We get to look back in history and see that there were people who looked like us who have been here for a long time. It gives you a sense of pride and joy to know that you look like them, you spoke the same language. That translates to the present, where you see yourself and you might not be the majority of the United States, but you know that you've been here for a long time," Maria Solis, the nonprofit's president, said.
Sixty-eight-year-old Dolly Camacho-Watson said she walks with pride, because she knows her ancestor's stories. She feels a connection to Oakwood Cemetery and therefore to the city of Austin, too.
"You stand a little taller, you feel a little better about yourself and your family." Camacho-Watson, a longtime Austin resident, said. "Our story was hidden for a long time, it was discredited, discounted, and now it's elevated. People's interest has increased, and that's why it's important to fill in the gaps and share the information."
Some of her ancestors are among the first settlers to Austin. Her great-great-grandmother Pilar Luna and great-grandmother Carlota Fuentes are buried in Oakwood Cemetery. Camacho-Watson and her older brother Danny often visited the cemetery to gather information and learn more about their relatives' lives.
Danny Camacho, one of the co-founders of Save Austin's Cemeteries, died in 2016, but the local historian has inspired others to continue researching the lives of Mexican-Americans buried in Oakwood. The Caminar project pays tribute to Danny Camacho, as well.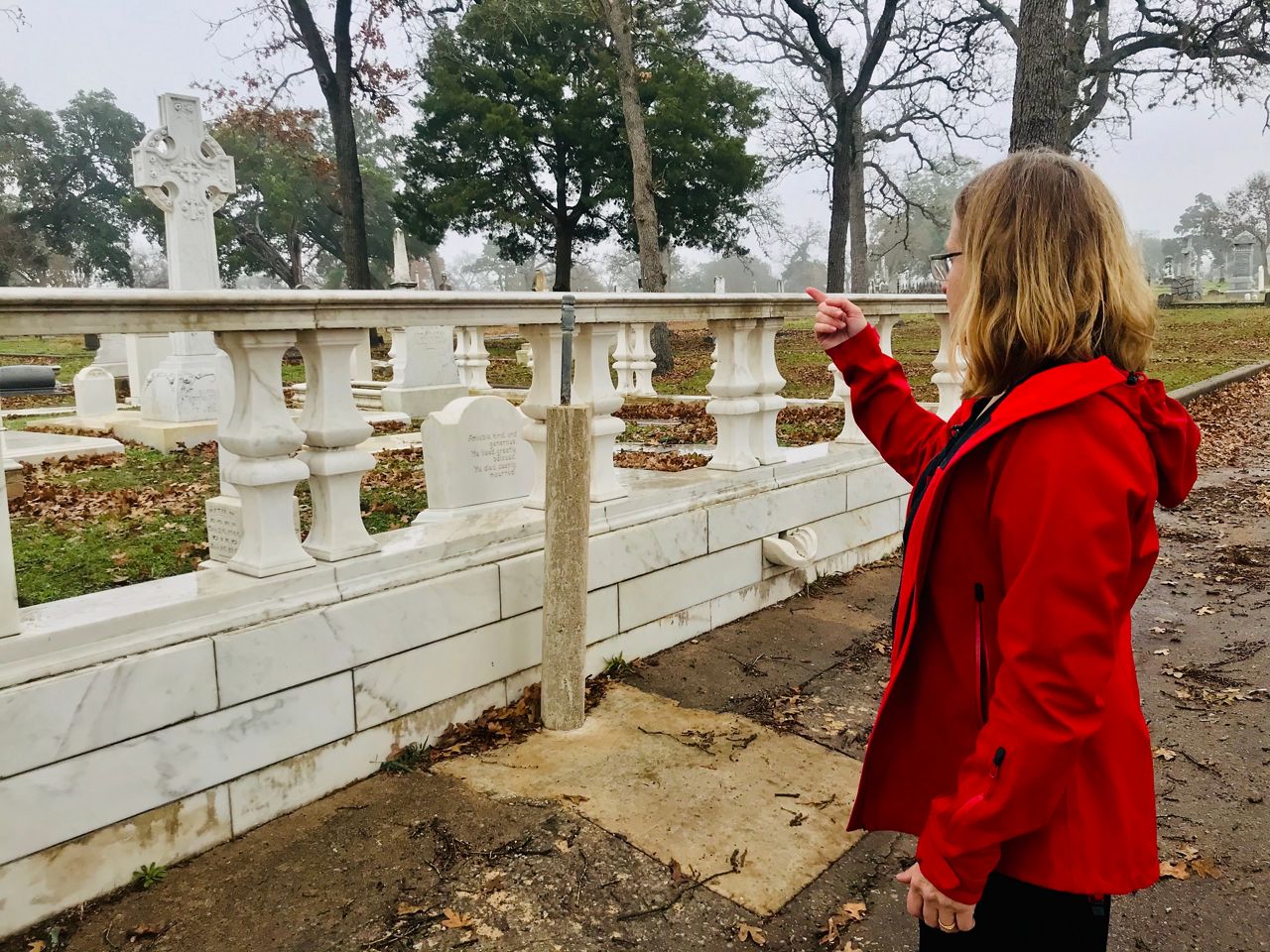 Photo of Jennifer Chenoweth, museum site coordinator, at Oakwood Cemetery (Reena Diamante/Spectrum News)
Dolly Camacho-Watson believes the exhibit is a step in the right direction, and hopes more work will be done to also remember other people of color segregated in the cemetery.
"History connects us all and we can learn from history," she said.
Caminar officially ends on March 18. Leading up the closing, parks staff is holding a couple of events. For more information, click here.
Events:
February 1, 12:30 p.m.: Caminar: "Tamalada" storytelling by Mary Jane Aranda and tamale making performance for Día de la Candelaria.
March 7, 9 a.m.: Caminar: "El Sacrificio" will include a traditional music procession by Robert Ojeda and the Bronze Band.
March 7, 12 p.m.: Caminar: Action of remembrance by Francisco Gonzalez, to be followed by screenings of films Hundiré en el Jardín Mis Manos by Mayra Silva and Building the American Dream by Chelsea Hernandez.