AUSTIN, Texas – Colorful street art is a defining characteristic of East Austin neighborhoods, and chances are if you've driven down East Cesar Chavez, you've probably seen the work of Mando Martinez.​
Since the late 1800s, Mando Martinez's family has lived in East Austin.
Now known by his street and art names, "Taner" and "Lace," he began spray painting graffiti murals all over East Austin in the mid '80s.
"It's the passion you know, the passion to draw and color. And it's artwork," said Martinez.
Martinez can often be found working in his practice studio in his backyard. It is also where he's painted two murals— tributes to his late mother and his wife's late parents and brother.
"In June is when I did this, because her dad passed in March. Our two moms were already there, but not with the background. And so, I added her dad, and just made a whole mural here," said Martinez, gesturing at his depiction of his late relatives. "And then my brother-in-law is here— this is Robert who passed in '17."
Martinez took a break from graffiti to raise his family but returned to his art about five or six years ago.
"We started a crew called Old School Kreators. And that's what, that's what we're known as today. And that's a lot of us that started back then and there's still, you know, three of us that are still doing it," said Martinez.
RELATED | Every Austin Mural Has A Story to Tell
Prior to his break, Martinez work could be seen all over. Many of those murals have been painted over or replaced. But new pieces are popping up all over East Austin.
"I got several murals on Cesar Chavez," said Martinez. "So that's the name of that one is, it's East Side Pride. And to be right here on Cesar Chavez, we had a lot of attention. Especially because, you know, being from the neighborhood, we had a lot of friends and family stop by."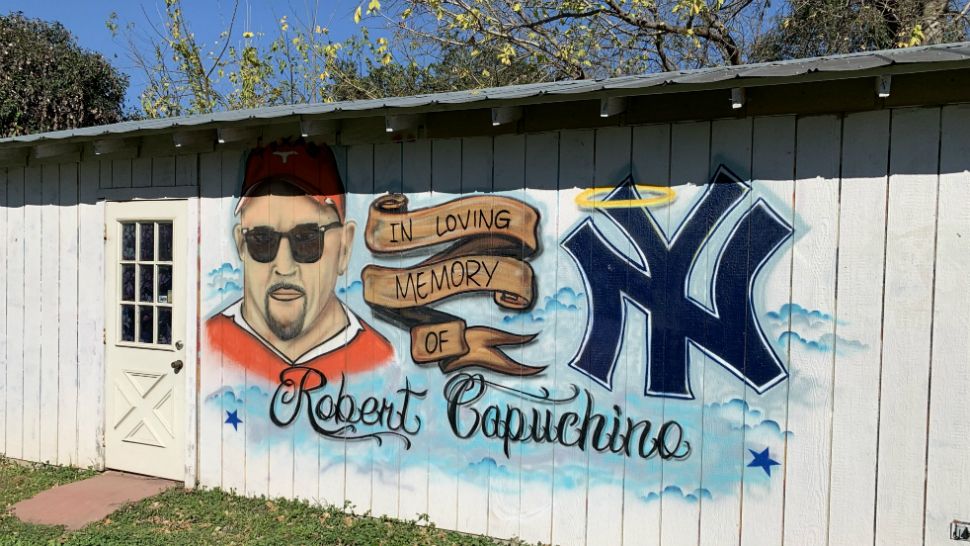 A mural created by Mando Martinez appears in East Austin, Texas, in this image from December 2019. (Niki Griswold/Spectrum News)
Some of Martinez's favorite pieces are a mural near Zaragoza Park and another on First Street.
"Yeah, especially the one over here at Zaragoza Park, because I put my heart and soul into that one. It took me, at least three months to complete because you know working and going after work, staying late, working on the weekends. You know it, to me it came out good. It came out good, because I took my time," said Martinez.