MANOR, Texas — Hundreds of dollars in unpaid school lunch debt have been paid off in one Manor Independent School District elementary school, thanks to contributions from the community.
75% of school districts have unpaid meal debt
Manor ISD students with meal debt can use "Lunch Buddy" account
"Lunch Buddy" account is created with donations
The effort is inspiring a new donation-driven program to provide hot meals to every student in the district.
This month, all Manor ISD campuses charging for lunch will have a "Lunch Buddy" account drawn from donations. Any student with a negative balance will be able to use that account to pay for lunch. On December 6, there was a $1,500 lunch debt in the district.
District officials said parents are still responsible for negative balances, however they hope through the new initiative, children will not be impacted. Under current district policy, students are charged two meals once their balance hits below zero. After that, students are given an alternative meal, which consists of a sandwich and milk.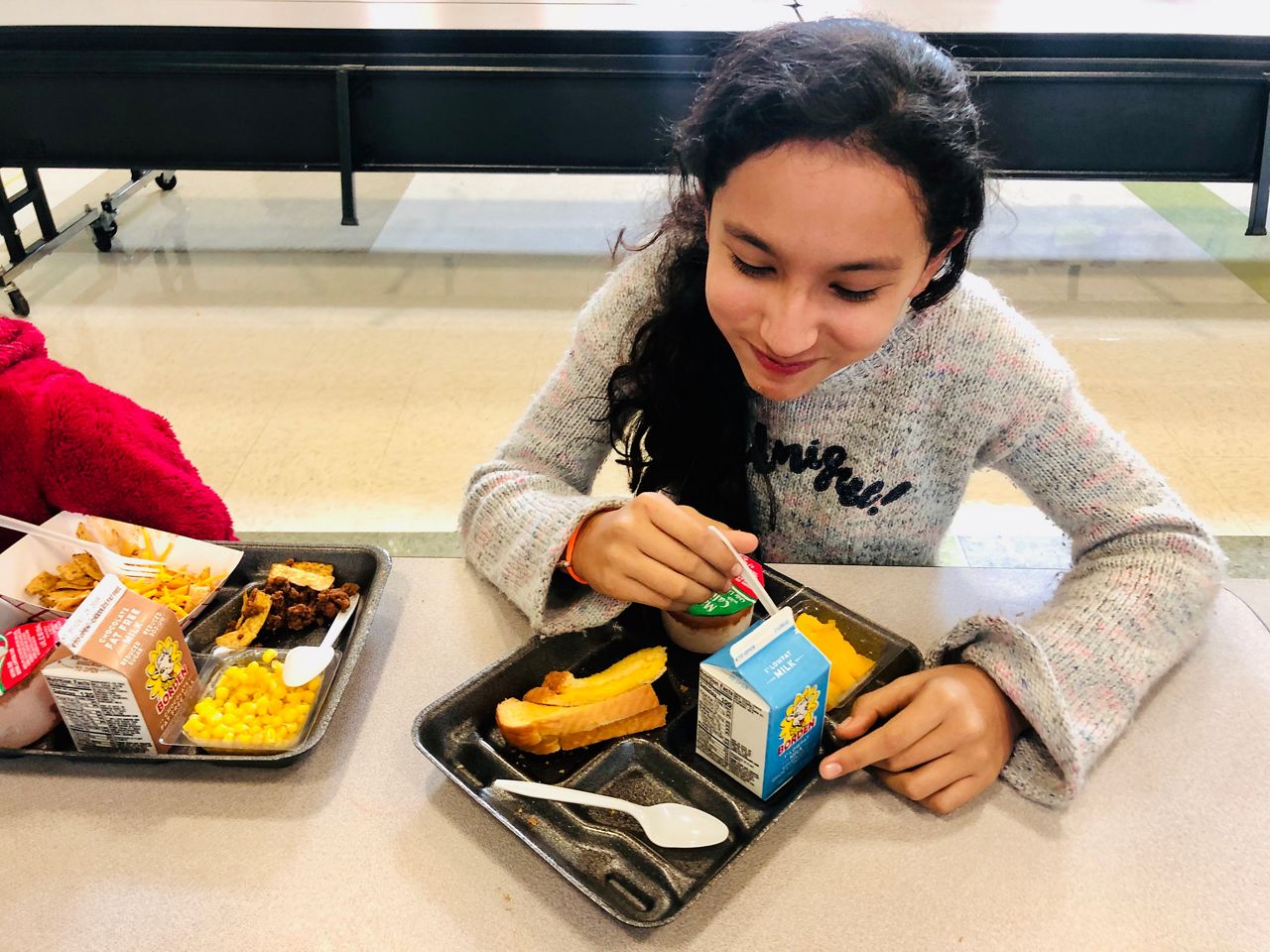 Photo of Manor ISD students eating lunch (Reena Diamante/Spectrum News)
George Townsend, director of Manor ISD's food services, told Spectrum News it is a policy the district is "not proud of," but have in place in order to keep the debt low.
A recent survey from the School Nutrition Association found that 75 percent of school districts across the country reported having unpaid meal debt by the end of the 2017 to 2018 school year. The report also said the debt amount depended on district size, with the median debt ranging from $325 to $32,000.
"Our goal is to take care of the kids and make sure they get a hot meal every day regardless of the circumstances. Even though we know it is the parent's responsibility to make sure money is on that account, there are circumstances in our district where children do not have that amount that they need. Some of them I know could use help just at that moment," Townsend said.
Once donations run out, school staff would have to resort to that district policy.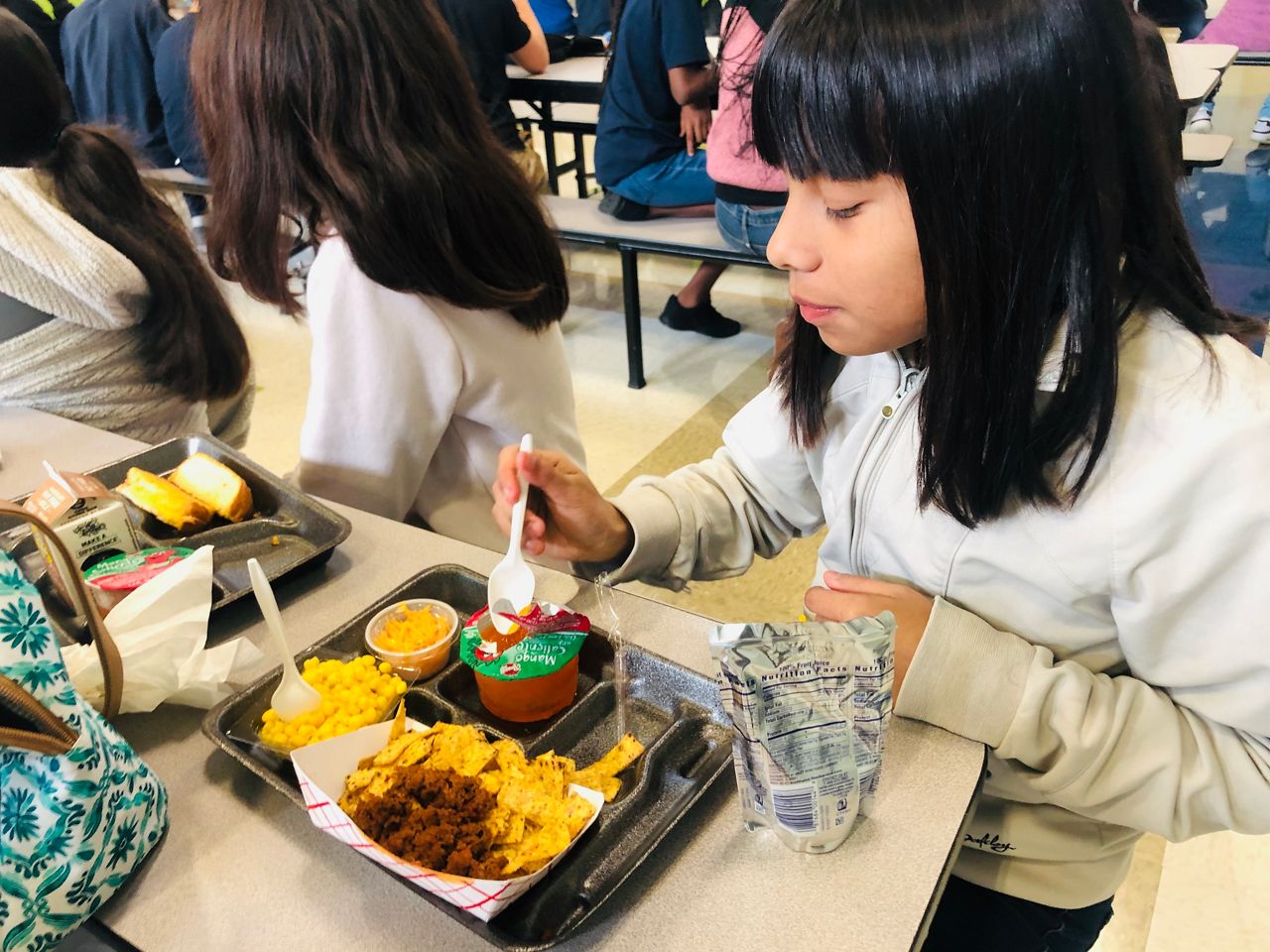 Photo of Manor ISD students eating lunch (Reena Diamante/Spectrum News)
"An assistant principal was paying for a couple of kids and it was just a disturbing thing to see where it had an effect on me so it inspired the program. When you see the kids' trays pulled, just come in, come and watch it. It's so disturbing. It inspires you to do something about it, and that's how this whole idea came to place," Townsend said.
The program was first piloted at ShadowGlen Elementary School, where district leaders say 16 students a day are using the "Lunch Buddy" account. Parents, relatives, and friends of students there raised more than $700. On December 6, there was $315 left in the account. Principal Niccole Delestre said once the announcement was made, they were seeing donations come in within days.
"To have your tray taken away from you in front of your peers, it's quite embarrassing, especially if you don't know what the cause of it is. As a student, that's not their worry. To take away that embarrassment from a student, as well as to build up their social, emotional well-being, that was my reasoning for wanting to do this for students," Delestre said.
Staff at Manor ISD is encouraging the public to continue donating. They are also seeking corporate sponsors.
This program will not include Decker Elementary, Manor Elementary Early Learning Center, Presidential Meadows Elementary and Manor Excel Academy, because those campuses qualified for free breakfast and lunch for all students prior to the start of school.
Those interested in donating can call the Food Services Department at (512) 278-4080 or email George Townsend at george.townsend@manorisd.net.