AUSTIN, Texas – The city of Austin's slogan "Live Music Capital of the World" became official in 1991 when Austin was recognized as having more live venues per capita than anywhere else in the United States. Today, the city is known for hosting some of the largest music festivals in the world – SXSW and Austin City Limits Music Fest – but the massive festivals aren't the only things keeping Austin's music beating.
City coined "Live Music Capital of the World" in 1991
Rising property cost contribute to music venues closing
Nonprofit providing resources to musicians and artists
Nearly 2,000 local bands and performers can be found in Austin's nearly 200 live music venues every single day at almost any given time.
Dan Redman​ has been at the center of Austin's music scene since 1992. He moved to the "Live Music Capital of the World" one year after the city coined its nickname. Redman has spent nearly three decades working to keep Austin's local music scene alive and well.
"We live in this 'Live Music Capital of the World' that doesn't necessarily support the infrastructure for creatives," said Redman.
He can vouch for anyone who says Austin in 2019 isn't what it was in 1992. Redman has watched Austin change dramatically over the years, and although change can be good, he believes the creative sector has fallen through the cracks.
NEW TO AUSTIN? Check out this guide for everything you need to know now that you're here.
"While we're one of the fastest growing cities in the country year, after year, after year, there's short-term memory of what Austin was. Some of our great venues like Liberty Lunch and the Armadillo – losing these venues day after day is tragic," said Redman.
Rising property costs have been a common factor in the cases of many Austin venues shutting down in recent years. The high cost of living has also affected local artists who struggle to make ends meet on a musician's budget.
RELATED | Texas Music Scene Creates Economic Boost
Redman saw the need for affordable resources in the creative sector, and that led him to create the Mosaic Sound Collective in 2015. The 25,000-square-foot hub in East Austin provides affordable resources and services for local musicians and artists. The nonprofit connects creatives to the tools, skills and relationships necessary to support a sustainable career.
"Everybody thinks about New York, LA, and Nashville – cities that have these infrastructures that support the music industry – whether it be the record labels, licensing and publishing, and things like that," said Redman. "Austin has always had this core of great local musicians. Some of them have made it huge, but for those local artists who are working every day and working in clubs and struggling to do whatever they can, it's become more difficult for musicians to make a living through their art. It's like you have to go outside of Austin to survive."
Redman developed Mosaic Sound Collective using a sustainable model focused on providing affordable tenant space for creatives, implementing multiple revenue streams and engaging in community outreach.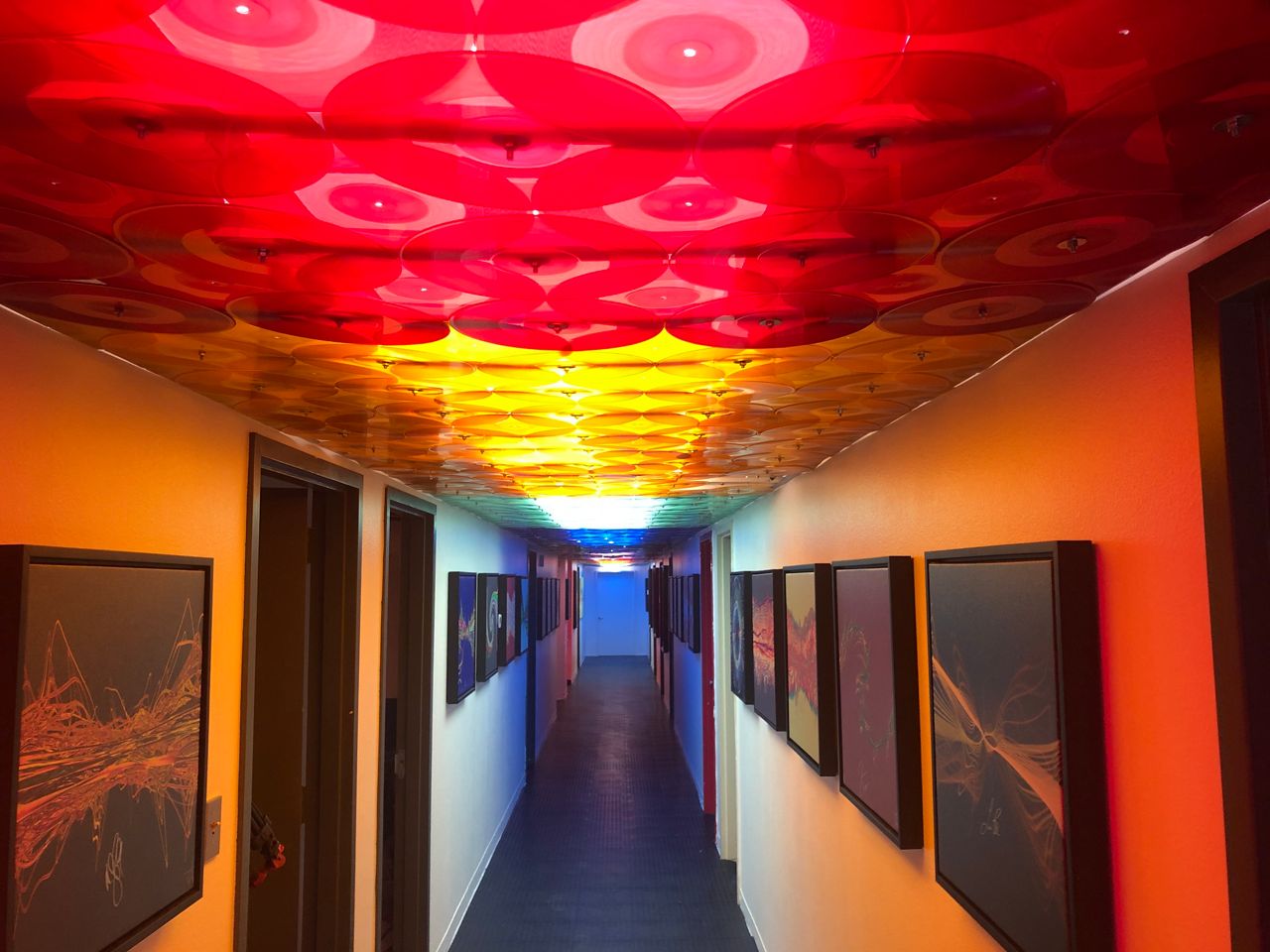 Musical themes can be found all throughout the Mosaic Sound Collective. The ceiling of this hallway for example is covered with colorful records and the walls have paintings by Visual Artist Tim Wakefield. (Tara Petitt)
Artists have access to recording studios, rehearsal space, record labels, visual arts, screen printing, photography and video resources. Anything that a musician or artist would need is under Mosaic's roof.
The only prerequisite for taking advantage of the resources is finding something you're passionate about and using that passion to contribute to the Mosaic Sound Collective and the Austin community. The nonprofit uses the motto "give back to get back".
RELATED | Hundreds of Austin-Area Benefit Concerts Support Underinsured Musicians
"Any vibrant music or arts community throughout the country needs a support structure," said Redman. "So, creating a sustainable nonprofit model that is kind of a YMCA for artists is something that I think any city could use."
While bringing more industry and tech to Austin has played a role in the city's rapid growth, Redman is hoping Mosaic Sound Collective can remind the Austin community of its roots and where it came from.
"I really feel like the tech industry and the creative sector can do so much more to collaborate, and I feel like it's our responsibility – and it's a responsibility of city officials and state officials to say 'You know, instead of giving these huge incentives to developers and huge incentives to corporations, let's tie that to something that is creating infrastructure to support those that have been here and help to grow what Austin was about,'" said Redman.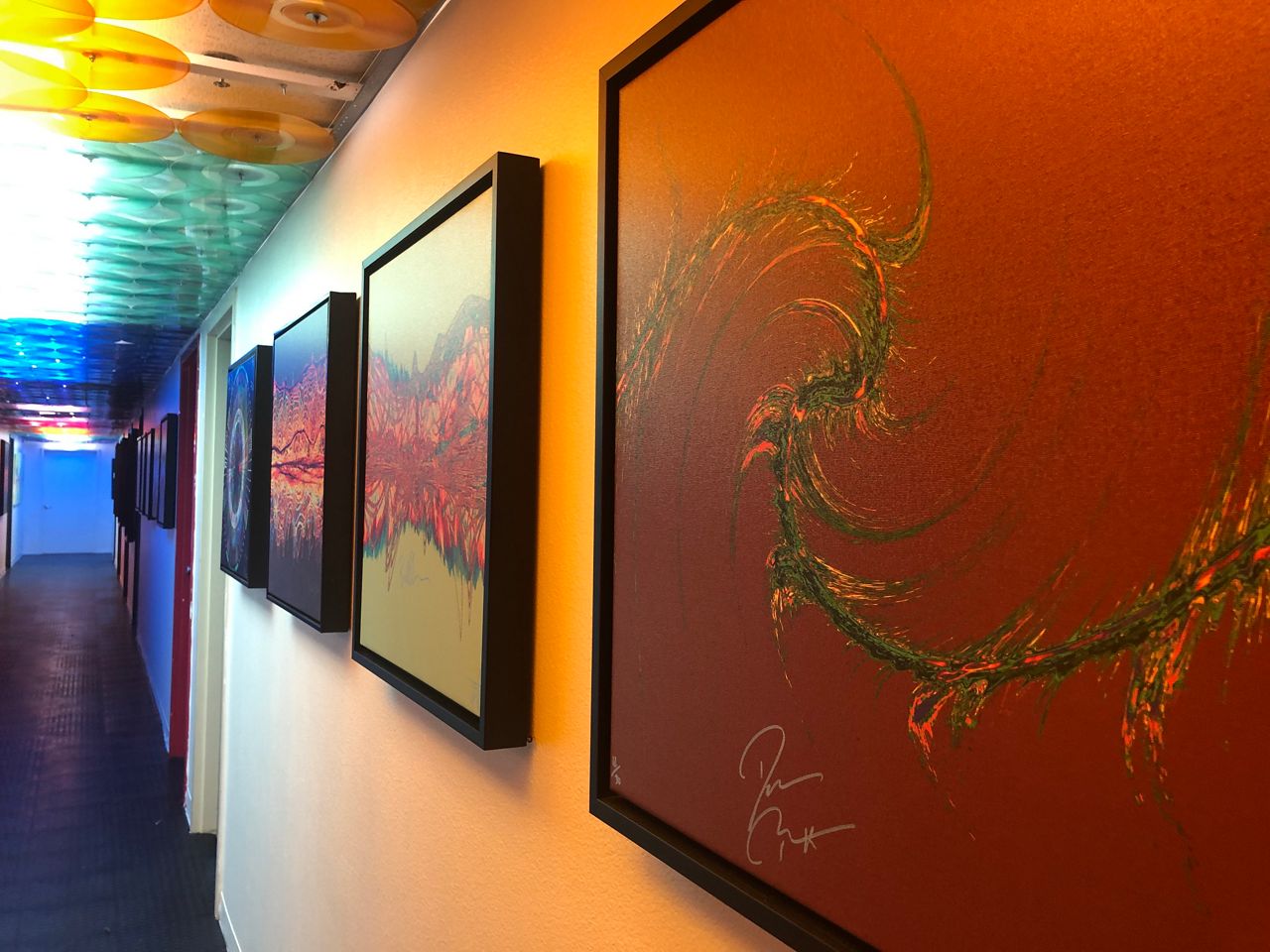 Artwork by Visual Artist Tim Wakefield decorates the hallway of Soundwaves Art Foundation at the Mosaic Sound Collective. (Tara Petitt)
The nonprofit focuses on more collaboration and less competition to reinforce what makes Austin the "Live Music Capital of the World".
"If we don't fight to protect, and preserve, and create things that are focused on our creative sector and on the less fortunate, then we're just going to become another big city – and frankly, I don't care to live in a city that has no identity," said Redman.
Looking to the future, the nonprofit is working to tackle one of the biggest issues facing Austin artists: lack of affordable housing. Mosaic is currently in the planning phase of a 200-unit community development on site that will provide affordable housing options for creatives. If you'd like to learn more about Mosaic Sound Collective, click here​ to visit the nonprofit's website.