AUSTIN, Texas -- On Saturday, Texas nonprofit Youth Code Jam held a coding event that specifically catered to neurodiverse kids, meaning they are on the autism spectrum or have other cognitive differences.
Coding event held by Youth Code Jam
Specifically catered to neurodiverse kids
The event was part of Youth Code Jam's effort to make the tech industry more diverse in the future.
Michana Barry-Davey, 15, was one of the participants at the low-sensory Code Jam. She's on the high-functioning autism spectrum, and she also has a passion for computer science.
"Her autism doesn't necessarily define her. It just enhances who she already is," said Adana Barry, her mother.
"I just like computers and seeing how they work, like how to program different things on them and give different commands," said Barry-Davey.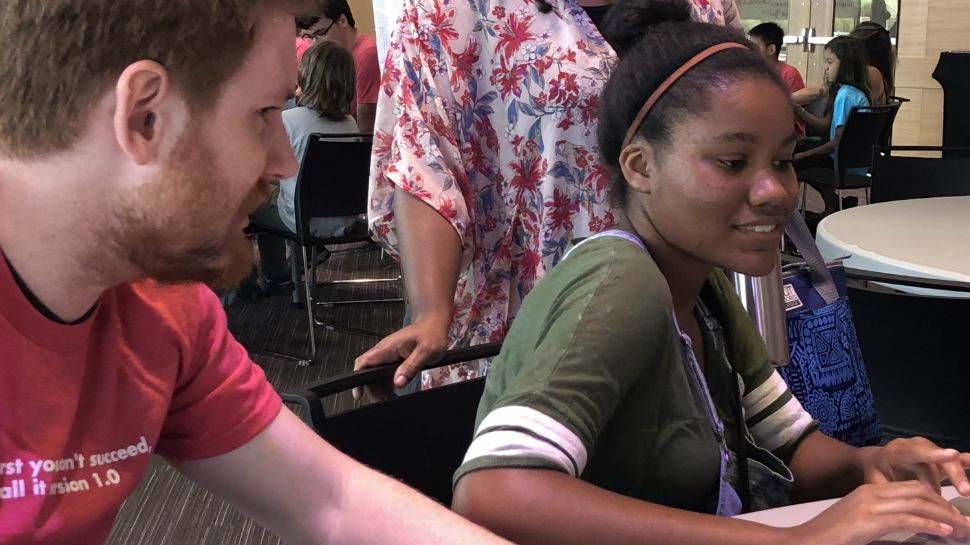 Student paticipates in Youth Code Jam (photo credit: Mary Japhet)
Saturday's low-sensory Youth Code Jam event was quieter, smaller, and more intimate than the community-wide events. It was designed to be more comfortable and accessible to kids on the autism spectrum.
"The fact that it is low-sensory, it helps her, it calms her down and allows her to ask the questions that she needs to ask. It allows her to interact a little bit more with, with the teachers as well. And so that's always very helpful for her," said Barry.
"Education is very much focused on people who learn a certain way, if you don't learn that way you're just sort of left out in the cold, you know. You might be really brilliant in some ways but we're just not catching it. So it's really maintaining that trend of trying to make sure that we are finding ways to accommodate all different kinds of people," said Youth Code Jam Board Member Maia Donohue.
RELATED | Autistic Woman Pushes for Neurodiversity in Technology Workplace
For Barry-Davey, being on the spectrum is just one facet of who she is.
"I just think that's part of me, not really a disability. If you look at it, look at it as a disability, it sort of makes you hide it and maybe you're like, 'Oh I don't want anybody to know that I have autism.' It's like, you know, just let it be a part of yourself," she said.
If anything, she and her mother say it makes her unique, and will someday be a valuable asset to a prospective employer.
"There's a diverse population out here, that's also very capable of learning, and also capable of mastering the skills of working in the tech industry, and that they will bring all types of flavor to their company, and all types of different perspectives," said Barry.
Youth Code Jam holds events in both Austin and San Antonio, for more information about the organization visit their website.