BASTROP, Texas — The U.S. Navy is recognizing a Bastrop High School student for her academic achievements.
Student 1 of 13 cadets in country to receive the award
Has been a member of NJROTC for past 4 years
Leads the color guard team
Senior Rena Richard, 17, is one of only 13 Navy Junior Reserve Officer Training Corps cadets in the country to receive the honor. Richard was named the NJROTC Area 10 winner of the Joseph C. Gilliam Academic Achievement Award. Bastrop Independent School District officials said NJROTC Area 10 covers most of the state.
Richard is the cadet commanding officer for the program at Bastrop High School.
MORE | Learn about the program
She has been a member for the past four years.
"I was really scared to do anything. So now I can step up to people and talk to them, not be nervous about it. I know what I'm doing, where I'm going, and I just have confidence mostly in myself," Richard said.
"I've seen her change, and I've seen her grow. She's much more outgoing. She's much more willing to take on confrontation, much more willing to take on challenges," Captain Chris Fletcher of the NJROTC program said.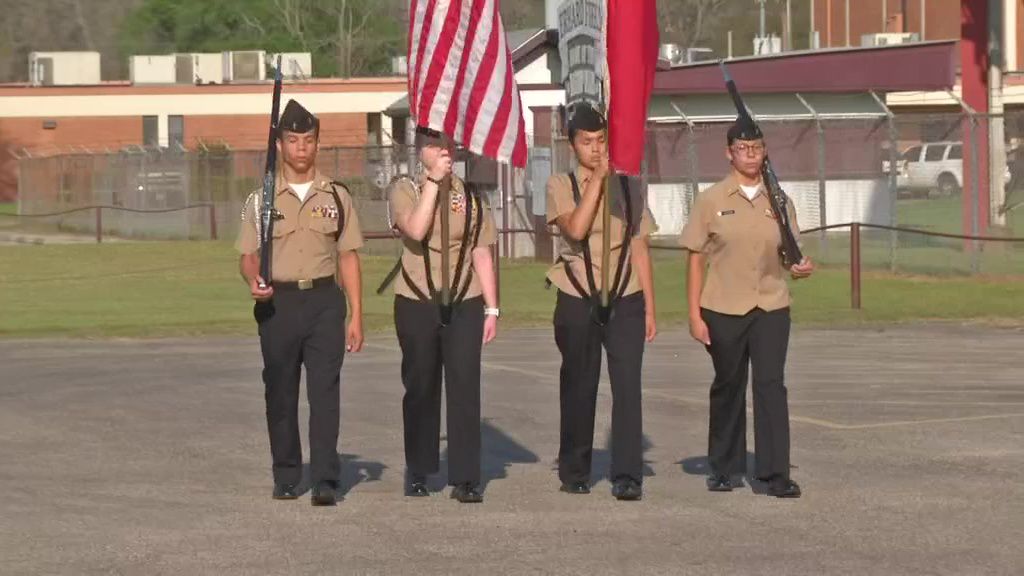 Among many responsibilities, Richard leads the color guard team, which performs in competitions and other events throughout the year. In addition to learning about the fundamentals of naval operations, seamanship, and navigation, cadets are participating in field meets, marksmanship training, and physical fitness activities. Cadets also spend a lot of time giving back to their community.
Richard said she has tutored students, visited retirement homes, and taken part in highway cleanups.
"I just like to give back, especially to the people who serve like veterans, police officers, firefighters. They give everything they have, I can give all that I have." -- Richard.
Richard is the first student in the history of Bastrop's 25-year NJROTC program to receive the national award. Bastrop educators said she has become a leader.
"She shouts orders when she needs to. But she also goes over and quietly talks to folks, as a good leader should, makes sure that people are going to be successful. I think her bottom line is she wants everybody be successful," Fletcher said.
In order to win the award, Richard needed to send a transcript of her grades, write an essay, and a letter of commendation. Richard said she in the top quarter of her class.
"She's always ready. She's on time, she has all her things, her homework always turned in. She's always asking questions trying to learn more," Fletcher said.
Richard plans on attending Stephen F. Austin State University in the fall to study forestry. She is inspired by the brave men and women who combated the 2011 Bastrop County Complex Fire.