CARY, N.C. — It's strawberry season in North Carolina, and at Phillips Farms of Cary, Michael Phillips, is carrying on a longtime family legacy. A legacy that's over 100 years old.
In 1976, Michael Phillips' father, Lee Phillips, purchased the farm from his grandfather. In 1996, their strawberry fields became an essential destination for people all across central North Carolina.
For the last 10 years, Michael Phillips has been running the farm, carrying on with the family tradition. While there are many different ways to enjoy a strawberry, Phillips has a recipe for picking the perfect strawberry.
"Depending on the weather, we can pick almost every day. We try to pick the fields clean. You have to pick the right berries when they're ripe. You can't wait," Michael Phillips said.
Micheal Phillips says weather and farming go hand-in-hand.
"North Carolina has the weirdest weather. I feel like out of all of the states, keeping them protected late in the season is something different every year. You think you got it one year, and then the next it just switches," he said.
His crew begins picking berries around 3:30 p.m. and into sundown. Micheal Phillips says on average, they pick anywhere from 500 to 1,000 pounds of strawberries daily.
They recently stopped offering U-Pick, where families could come to pick their own strawberries.
"We had done U-Pick in the past, but just the fact that we've had so much growth in our area, and so much growth with our seasons, we've had to move the strawberries farther and farther away," he said.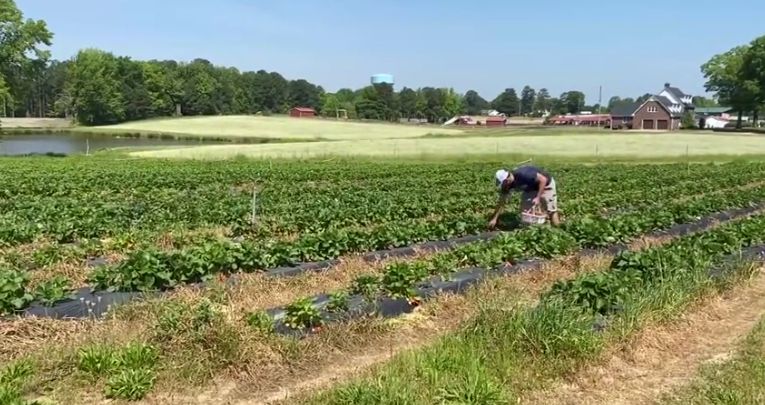 Instead, they sell their strawberries by the quart at their on-site market, Busbee's General Store.
"I usually weigh them, we put them in the back of the truck, and I carry them up to the store," Phillips said.
This year, they opened the Philips Farms Farmers Market to help support local vendors and people in the community.
It's open every Saturday and Sunday from 9 a.m. to 3 p.m. through August. Aside from strawberries, Phillips Farms of Cary also farms hay, straw, pumpkins and Christmas trees.
Looking for a good recipe for a dish to help you enjoy your fresh berrries? Try this one:
Lazy Strawberry Sonker Recipe from NC Strawberry.com
Lazy Strawberry Sonker
Filling:
2 pounds fresh NC strawberries
1/4 cup sugar
1/4 teaspoon salt
1/4 cup water
3 tablespoons cornstarch
Topping:
1 cup AP flour
1 teaspoon baking powder
1/2 cup milk
8 tablespoons melted butter
1 teaspoon vanilla
Directions:
Mix filling ingredients and transfer to a deep
dish pie plate. Place pie plate in another oven
safe piece of kitchen ware, such as a 9×13
pan, as the filling will spill over during the
baking process. Cook 35-40 minutes. Halfway
through, stir filling.
Mix topping ingredients while the first
ingredients are baking. Once out of over,
cover top of sonker with topping. Bake 35-40
minutes more. Let cool 20 minutes.