CHATHAM COUNTY, N.C. — When most people hear the word pawpaw, they might think of their grandpa. But a pawpaw is also a fruit that grows all the way from the Great Lakes down to some parts of Florida.
What You Need To Know
Pawpaws are fruit trees native to North America. They grow in many states including North Carolina
The fruit's skin can vary from yellow to green to dark brown, and the pulp's taste is often described as tropical or a combination of mango-banana-pineapple
Chefs and farmers are working to bring back the popularity of pawpaws by introducing it to customers and using it in innovative recipes
Chefs and farmers in North Carolina are using pawpaws in different recipes and even to brew beer, all in an effort to introduce more people to this forgotten fruit.
Wynn Dinnsen owns Full of Life Farms in Pittsboro. He has about 280 pawpaw trees on his property and during season gathers them twice a day as they fall to the ground.
"They know when they want to drop," Dinnsen said. "That's why the old song goes, 'picking up pawpaws, putting them in a basket' haha. It's not like picking down."
Dinnsen got his pawpaw seeds from N.C. State in a regional trial. He's spent years growing and studying different varieties to see which trees produce the best flavors of pawpaws.
"It can have the flavor or pineapple, banana, mango, melon, pear, peach ... depending on the tree," Dinnsen said. "All of these trees are different."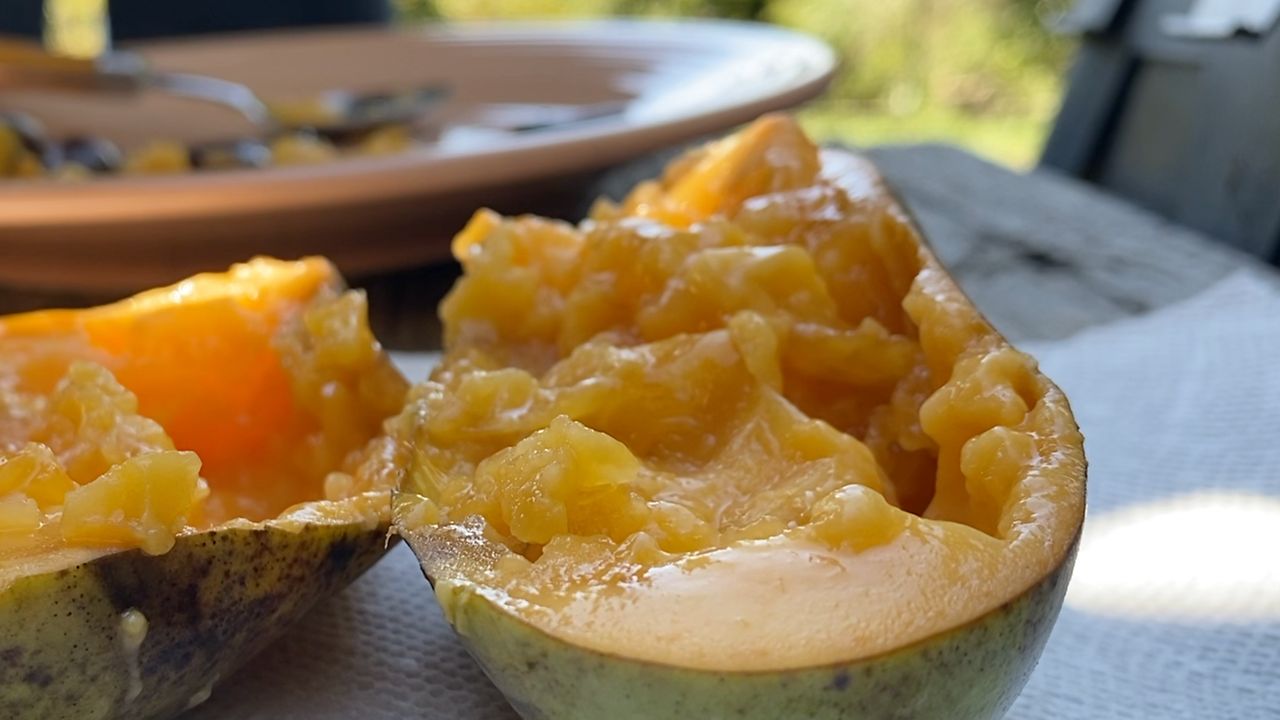 Now Dinnsen sells his seedlings and pawpaws wholesale to others. One of those businesses is Juneberry Ridge in Stanly County. It's an event venue in Norwood that teaches people about regenerative farming practices.
Ross Lackey is Juneberry's Ridge's lead designer. He works with his staff to design different recipes for pawpaws. Typically pawpaws need to be eaten in a few days if they aren't refrigerated after being harvested. That short shelf life is why you most likely won't find pawpaws at your grocery store. And why Lackey and his staff often turn the pulp of pawpaws into a puree and freeze it, then use it for things like pawpaw bread, pudding or ice cream.
"People need to encounter things in a way that they are comfortable with," Lackey said. "So they're like, 'Crème brulee ... that's good! So you're saying it's a little different, I'll try it!' Rather than being like, 'here's this mushy fruit, stick your face in it.'"
Lackey says at the turn of the 19th century, pawpaws were at the same level of blueberries. But eventually we started seeing less and less pawpaws being sold.
"Blueberries made the jump into being packaged into a pint, being put on a truck, refrigerated and shipped nationwide. That fruit was able to do that. The pawpaw was not able to," Lackey said.
Now Lackey and his staff are working to reintroduce the fruit to customers. They grow pawpaw trees from Dinnsen's seedlings on their property and are also selling pawpaw trees to customers. Guests can participate in overnight stays, tours and forage in the forest around the land to learn about regenerative farming.
Lackey says one of his favorite phrases is, "the forest will feed you." Now he and others from Juneberry Ridge are showing guests that's possible.
"Our role is to help grow them, source them, find them, prepare them and share them with guests of the farm and share them with other chefs and breweries and things. So that we can share this message and teach people that food comes from the land," Lackey said.
Some other places that are using pawpaws in their recipes are Full Steam Brewery in Durham and Ran-Lew Dairy in Alamance County.