CHARLOTTE, N.C. — A new medical device is helping patients recover more efficiently from spinal injuries while also reducing the chance they return to the hospital.
What You Need To Know
Austin Rabah needed a discectomy after a sports injury, which is a spinal surgery on a herniated disc
A herniated disc is when fluid inside a disc spills out, which can put pressure on a nerve and cause pain
Not all discectomies are successful and some result in recurrence
Barricaid is a device that is designed to plug the hole so fluid doesn't leak out
The company says patients who have a Barricaid implant have an 81% reduction in the surgical failure rate compared with their surgical peers
Austin Rabah has been playing rugby for the last decade, and says he likes it because of the team comradery.
"It's one of the best feelings in the world, knowing that 15 of your best boys are going to be right there next to you when you go into a tackle," Rabah said.
The sport is a combination of soccer and football, but without any pads. While playing one game, however, he noticed something was very wrong.
"After the game I knew my back had taken a beating, but I didn't know the severity of it," Rabah said.
Rabah had a herniated disc. Dr. Brad Segebarth, an orthopedic surgeon with OrthoCarolina, is his spinal surgeon and explained what this means.
"The fluid, or inside material, can herniate out," Segebarth said. "This can cause pressure on a nerve, which can be pretty painful."
Segebarth says a discectomy is the typical surgery for this, which involves removing a damaged part of the disc of the spine. But sometimes fluid can rupture out again after surgery. It's why he was excited about a new device that is designed to reduce reoccurence of a herniated disc.
"The barricaid is a device that has a deployable mass that plugs the hole," Segebarth said.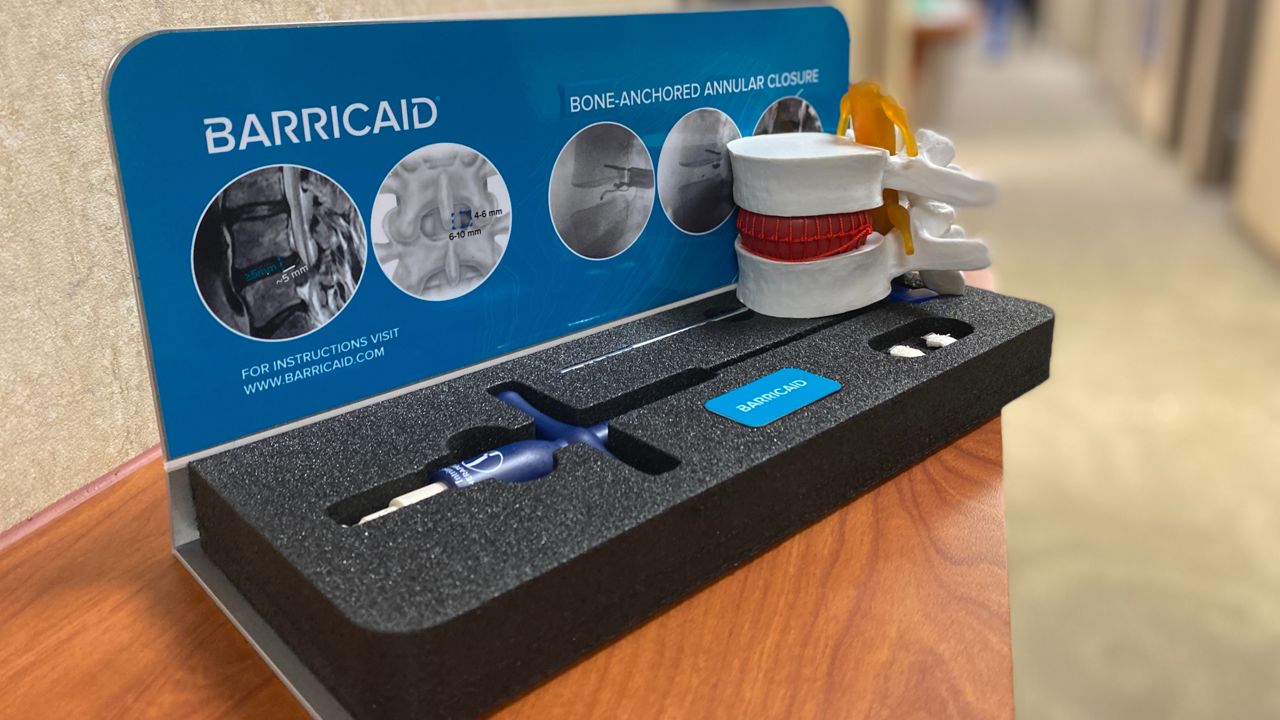 The device is applied like a hook. It leaves a piece of metal inside the spine to prevent future rupture of the disc.
"It really helps people get back to life faster," Segebarth said.
Segebarth says patients like Rabah have been able to return to their activities faster than before.
"It feels pretty normal right now," Rabah said. "I have been exercising and running for the last two months pretty vigorously."
He admits that he is a little more cautious when out on the field, but is happy to return to the sport.
"I am just grateful I can keep on going and play rugby at a high level that my body allows me to," Rabah said.
Barricaid is also available at clinics in Morganton and Hickory.
It is, however, not suited for everyone. A patient's herniated disc has to be a certain size in order to have this procedure.
The device was FDA approved and has undergone years of clinical studies. Barricaid says this includes 8,500 implantations and 65 peer reviewed publications.
To find out more about the device visit Barricaid's website.