CHARLOTTE, N.C. — The cost of treatments and drugs for multiple sclerosis has skyrocketed in the last two decades. It's a tough cost burden for those living with the disease.
---
What You Need To Know
The annual price for certain drugs to treat multiple sclerosis has increased around 1,000% in the last 20 years


Michel Daisley lives with multiple sclerosis and says with Medicare he still pays about $330 a month out of pocket


Healthcare expert David Wilcox says drug prices have increased because the market is largely unregulated


The Build Back Better Act would impose a tax penalty on drug companies that increases prices faster than the rate of inflation
---
Michel Daisley says he tries to get outdoors a few times a week and enjoys walks on the greenways in Charlotte.
By walking, he means he uses an all-terrain wheelchair called the GRIT Freedom Chair. It has tires similar to that of a mountain bike, so it allows him to go on rough, uneven surfaces.
"I get a good upper body workout and can go further distances," Daisley said.
Daisley has multiple sclerosis. He often uses his walker to move around, but says it can really slow him down.
"If I am coming from a Davidson game trying to walk with it, other people are passing me left and right," Daisley said.
Daisley admits the GRIT Freedom Chair was not cheap. He paid about $3,000 for it since it is not covered by insurance. But the cost of this chair is not what bothers him the most. It's the rising cost of his multiple sclerosis medication. He has Medicare, but still has a lot of out-of-pocket expenses.
"In total, my medical costs out of pocket is about $325 a month," Daisley said.
That amount totals nearly $4,000 a year. What really rattles him is that the price of many drugs went up so fast. The Multiple Sclerosis Society reports that some medications have increased around 1,000% in the last 20 years.
"Fortunately, I have done okay and I am in a position where I can afford some of these in a way that other folks can't," Daisley said. "But at the same time, it's not easy and shouldn't be this hard for anybody."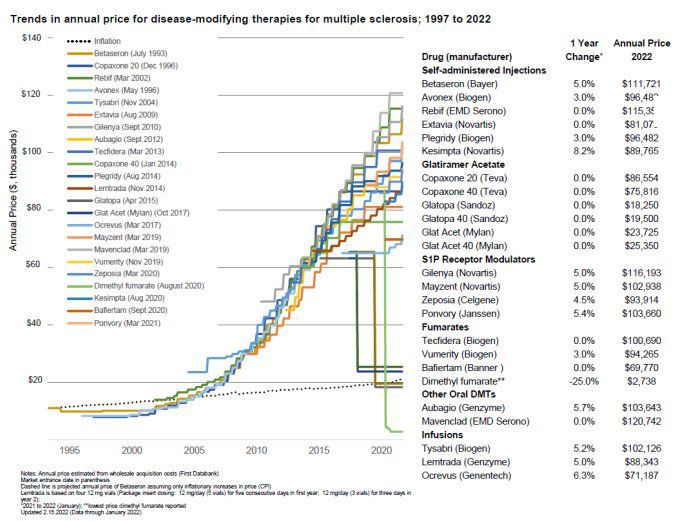 Daisley says some treatments are still out of reach for him. His illness has gotten much worse over the last few years. His doctor wants him to try a new medication called Ocrevus, but the cost is about $70,000 a year. It's not clear if his Medicare plan will cover it.
"People should be able to take advantage of good, effective medication without huge financial burdens," Daisley said.
Exercise is one treatment that costs him nothing. It's another way to keep his neurons and muscles active. While it's not a replacement for the medication he needs, he plans to move as much as he can while he can.
David Wilcox from Concord is a doctor of nursing. He wrote a book recently about the cost of the health care system. He says prices are increasing because the pharmaceutical industry in the U.S. is largely unregulated.
"What has to occur at some point is there needs to be price caps set or we need to force the drug company to say it really does cost this amount to produce this drug," Wilcox said. "They have to show us the actual cost, instead of just saying we have research and development costs."
A bill in Congress right now aims to address the rising costs of medication. It's called the Build Back Better Act. Among several items, it would impose a tax penalty on drug companies that increase prices faster than the rate of inflation. It would also let Medicare negotiate drug prices and create lower out-of-pocket costs for seniors.
"Until the average American says enough is enough, then it's not going to happen," Wilcox said. "It's up to elected leaders."
The Build Back Better Act has passed the House and next heads to the Senate.