COLLEGE STATION, Texas — Sydney Carter has many passions, but none compare to the one she has for being on the hardwood. Her basketball journey started at Texas A&M over a decade ago, and now she's back — only this time as a coach, not a player.
When Sydney Carter steps foot on the floor of Reed Arena, she's home.
"I really just came back because I knew I had home here. I started talking to Coach Blair to see if he could help me out in any type of way because he's always been willing to help me or anybody that's come through here," said Texas A&M womens basketball player development coach Sydney Carter.
The former WNBA player is now a player development coach for her alma mater, but her basketball journey didn't start in College Station. It began about 200 miles north at the age of 4.
"I started on an all-boys team in Dallas, Texas, at the YMCA locally around my house. It was probably at one of my first basketball games. I probably didn't dribble the ball, maybe twice the whole game. I was traveling the whole game," said Carter.
Carter didn't know it then, but from that moment on, she was hooked.
Her game improved throughout high school, enough to catch the attention of Coach Gary Blair and for her to become a contributing member of one of the most legendary groups of women to sport the maroon and white threads.
"I was Big-12 Freshman of the Week maybe twice, beat the No. 2 team at that time in Oklahoma here, which is the first time that anybody had stormed the floor for a women's basketball game, and then I was MVP of the Dallas regionals my junior year, the year we won the national championships in 2011," said Carter.
The lessons she took away from her four years in College Station have helped significantly in her professional career.
"What I got from that is the discipline to continue to work hard every day, and doing something repeatedly is going to make me great at it. I think it's helping me as a professional in this career now in coaching because it takes hard work. It takes discipline," said Carter. "There are a lot of nights where you're staying up late picking apart a game because you're trying to figure out how you can be better for your team the next time. So it's an everyday improvement as a coach."
And Carter is a coach who has style — a lot of it.
"I always kind of appreciated that part of her, that she was able to bring that whole other side, that swag side to it," said Texas A&M shooting guard Qadashah Hoppie.
Fashion has always been a passion of Coach Carter's, but she never expected her style to break the internet. Overnight, one of her outfits grew her social media following to hundreds of thousands.
"That picture with the little girl, I mean, the details — she had on clear jellies, she had on pants, the turtleneck. That actually brought a tear to my eye because at that point, it really made me realize the impact that I had on people, that I have had on people. I'm getting stories like 'I'm going to tell my daughters about you,' and that 'they're going to make another Coach Carter movie and it's going to be about you.'"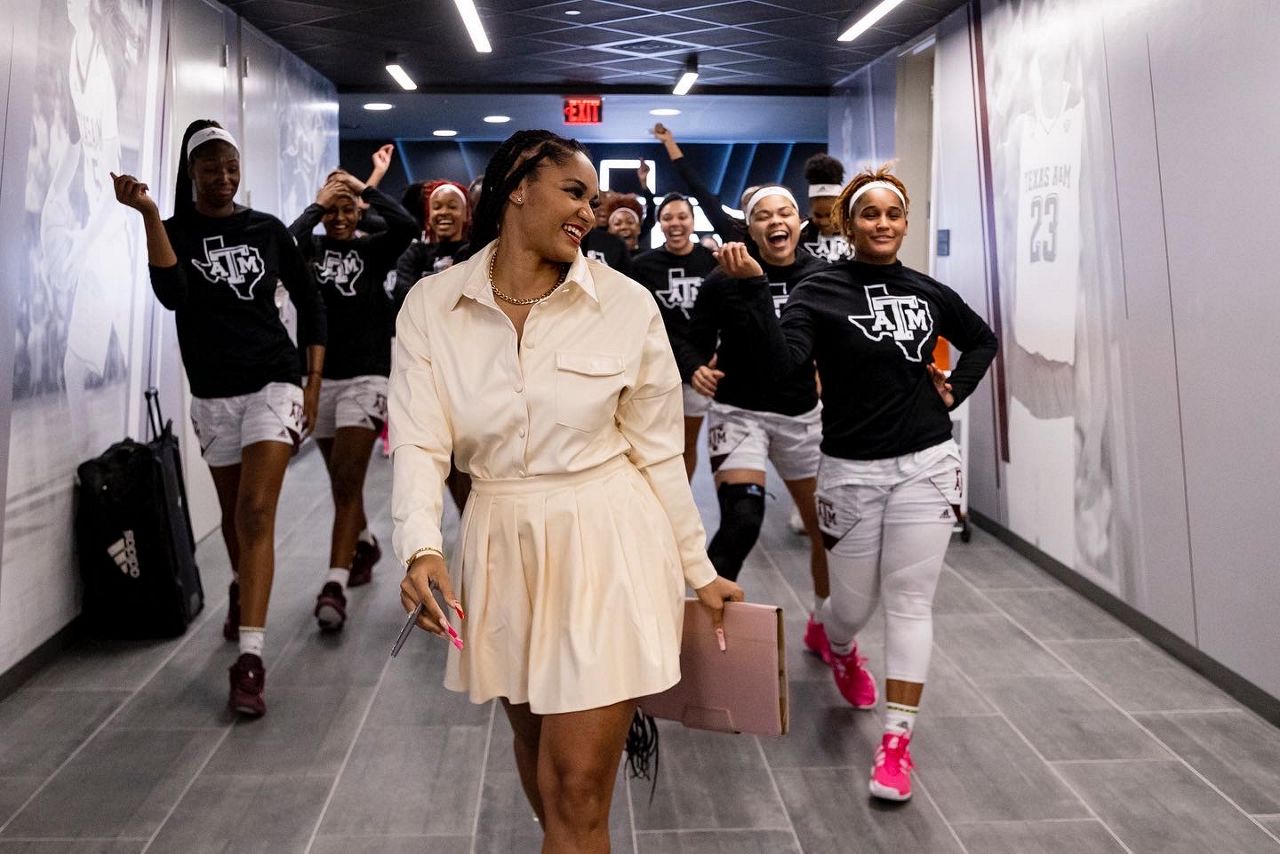 Carter hopes her message sticks with girls and women both on and off the courts.
"One of my favorite sayings is, I don't know if I'm ready, but I'm prepared. And I've always been a leader, so for me to actually stand in front of the world and stand on what I truly believe and not blink an eye or budge when I get negative opinions or comments or people trying to cyberbully me, I think it's important for people to see that because this is me at the end of the day and you are you and that's all you have," Carter said.