AUSTIN, Texas — Jews across Texas are taking a stance against antisemitism this Hanukkah in the wake of recent hate acts. In the last few months, there have been numerous antisemitic incidents in Central Texas.
This year, the community is using Festival of Lights to fight back.
Chabad Rabbi Yosef Levertov is fighting darkness with light. His congregation set up a massive menorah on the Far West Boulevard Bridge over the Mopac Highway in West Austin. This is the first time in his nearly 40 years in Austin he's held a menorah lighting ceremony on top of a bridge, but this Hanukkah celebration is making a statement.
"To show you can't push it away darkness with a broom, you have to push it away with light," Rabbi Levertov said.
On Halloween weekend, a group of antisemites used the same bridge to spread messages of hate against Jews. Where the neo-Nazis once hung banners like "Vax the Jews," Rabbi Levertov hung a "Happy Chanukah" sign.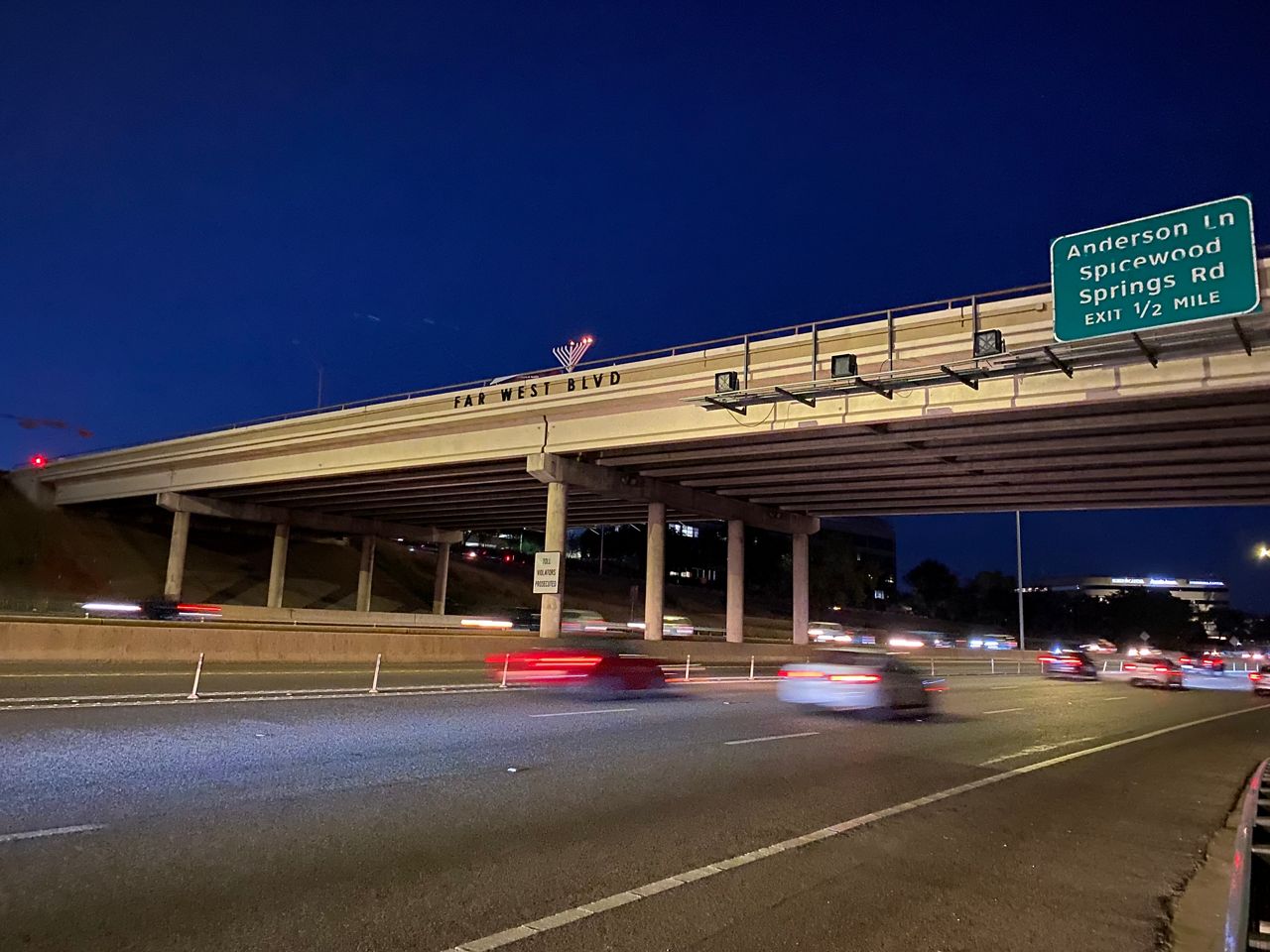 "I think it's gonna bring up the spirits of people here," he said.
The bridge is in the same neighborhood where many Jews live, worship and work. Chabad is just right up the street, and a few miles away is the Jewish Community Center.
Austin Anti-Defamation League Regional Director Renee Lafair says she is concerned that hate is being normalized.
"Is this really a reflection of what's going on in greater society that people feel like it's OK to express hate," she said.
Some of the other antisemitic incidents over the last few weeks include someone setting fire to a synagogue, vandals writing antisemitic slurs at a nearby high school and Jewish students receiving hateful messages in Hays County.
"The last six weeks has been pretty unusual," she said. "I haven't had time like this in my eight years in Austin of this many events this close together."
Numbers from ADL show antisemitic incidents doubled in May 2021 compared to May 2020, siting the Israeli-Palestinian conflict as the main cause, but harmful political rhetoric in the United States has also been a major motivator to these hate acts.
The American Jewish Committee's State of Antisemitism in America Report found one in four American Jews were a victim of antisemitism in 2021. Lafair says while the recent spike in hate acts against Jews has been troubling, it's not uncommon to see history repeat itself.
The types of antisemitism happening today use the same common tropes about greed, power, scapegoating, blame that have been repeated for centuries, even before the Holocaust.
"We're used it, this is, you know, thousands of years," Rabbi Levertov said.
Despite this long history of hate, the rabbi says Jews have survived against all odds.
"We're here and we're celebrating, we're not intimidated," he said.
Texas Gov. Greg Abbott will be participating in a menorah lighting ceremony on Sunday at the Capitol building.