DALLAS — Immigration is the top concern among people in Texas, and getting a handle on immigration is the most important issue people in the Lone Star State want their next governor to address, an exclusive new Spectrum News/Ipsos poll shows.
Just over a third of Texans surveyed said they feel that the top issue facing the state today was immigration, the poll said. Texas shares a 1,200-mile border with Mexico on its southern flank. A surge in migrants during the past year has challenged state, local and federal authorities and made immigration a political hot-button issue.
Texas voters were asked about their attitudes towards the issues facing the state and nation today, as well as various laws and mandates that went into effect recently in the state in the poll conducted from Nov. 16 to 26. About 2,000 interviews were taken from a representative sample of Texas' population. The poll, which was released on Dec. 1, has a margin of error of +/- 3.8 percentage points.
When Texans were asked what the main issue facing their state was, immigration has continued to rise to the top since the last survey, when the pandemic and getting a handle on the spread of COVID-19 topped the list of Texans' concerns.
COVID remained in the top three of Texans' concerns, but its importance has declined steadily since this summer.
"COVID was a top-tier concern, but it is no longer the single area of focus taking up all the oxygen in the room as it did in the 2020 poll," said Mallory Newall, the vice president of public affairs at Ipsos. "It has even receded in importance since our July 2021 poll."
That level of concern may change again very soon. The poll concluded the day before the world learned a new variant of the virus, omicron, had emerged in southern Africa and was quickly spreading. At the time of the poll, infection rates in Texas of the most prominent variant, delta, were declining.
On Wednesday, the U.S. announced that the first case of the omicron had been detected in California.
Republicans surveyed in the poll were the drivers behind the view that immigration was a top issue in the state. About 62% of those surveyed who put immigration at the top identified as Republican, compared to just 23% of those who identified as Democrats.
Overall, when considering the most important concerns of the state, Democrats have split their focus compared with earlier polls, Newall said.
"Where Republicans have strongly coalesced behind immigration as a top concern, Democrats have split their focus on what problems face the state between four main issues: health care and COVID, immigration, gun control and climate change," she said.
The partisan divisions in views on what concerns Texans are similar to the deep divides seen across the country. This year, in particular, much of the most heated discourse has played out in Texas, with several laws, mandates and executive orders from Republican Gov. Greg Abbott taking center stage in American politics.
This year, as the world continued to struggle to come to grips with the pandemic, Abbott issued several executive orders addressing some of the most divisive issues around containing COVID, such as a ban on mask and vaccine mandates, as well as so-called "vaccine passports."
The Texas Legislature passed several Republican-led conservative bills that eventually became law, including a ban on abortions after six weeks of pregnancy, a ban on the use of "critical race theory" in public schools, and a ban on transgender students participating in public school sports.
All of these issues drew national attention to the Lone Star State.
According to the Spectrum News/Ipsos poll, voters took notice and weren't always pleased.
Two-thirds of Texans and more than seven in 10 registered Texas voters surveyed agreed that Texas has become a political battleground state. In addition, 57% of the registered voters surveyed said they thought the Texas governor was "more interested in playing politics than effectively running the state."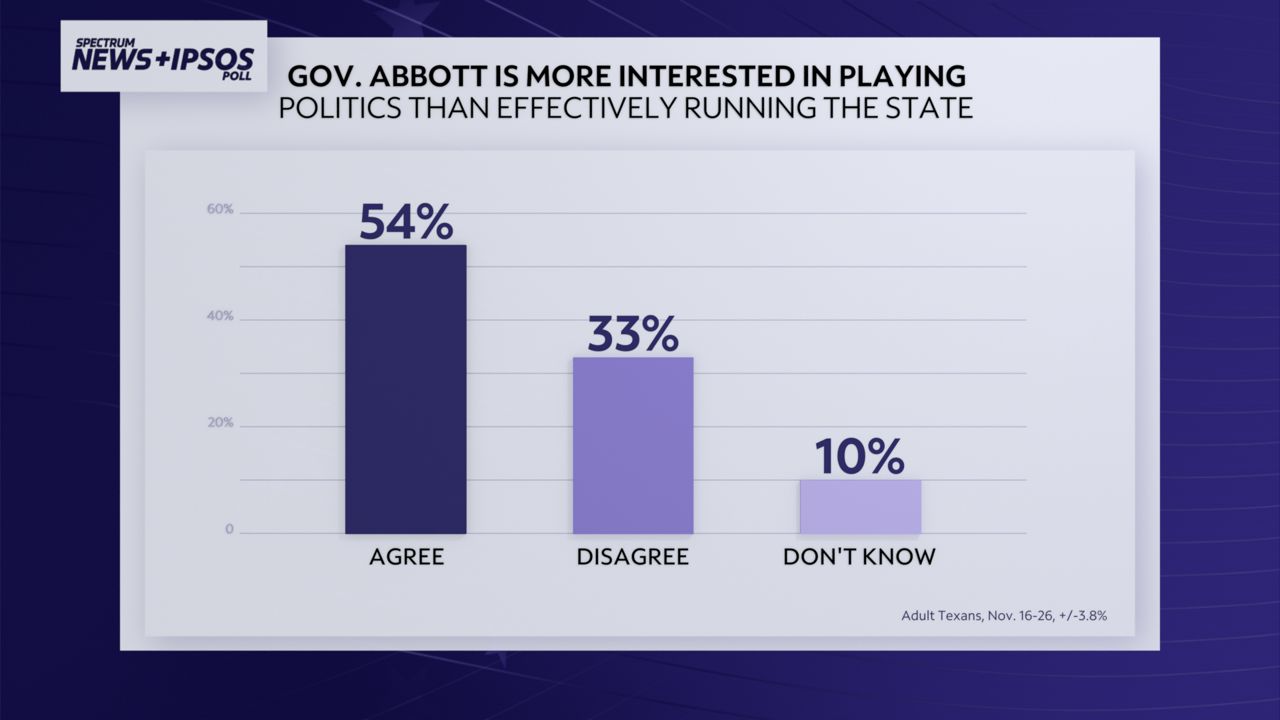 "We've seen close elections in recent years and there definitely is a sentiment that Texas is a battleground," Newall said. "That is something that I believe there is broad agreement on. A majority of people both Republican, Democrats and Independents alike all agree."
Still, some of the biggest and most controversial political policies this year did garner a majority of support among Texans.
The highest level of support was for Abbott's executive order banning vaccine mandates, where 45% of Texans supported the governor's order, while 53% opposed it.
On masks, 58% of those surveyed opposed Abbott's ban on letting local governments impose their own mandates, while 39% supported it.
Support for the new abortion law, known as Senate Bill 8, was much lower. More than half of those surveyed, or 55%, opposed the law. There was even less support for the abortion law's enforcement mechanism that allows private citizens to sue anyone who helps a woman obtain an abortion. On that, 63% opposed it.
There was also plurality but not necessarily a majority in the recent redistricting plan drawn up by the Republican-led state legislature, which is expected to increase or at least maintain Republican power in the state for another decade. Just over half, or 54%, opposed the new redistricting plan, while 41% supported it.
Texas this year also passed a controversial voting reform bill that Democrats said would hinder voting rights. The battle in Austin over the bill spilled into the nation's capital when state House Democrats fled to Washington, D.C., to break quorum in an effort to derail the bill. The bill eventually passed in a special session this summer.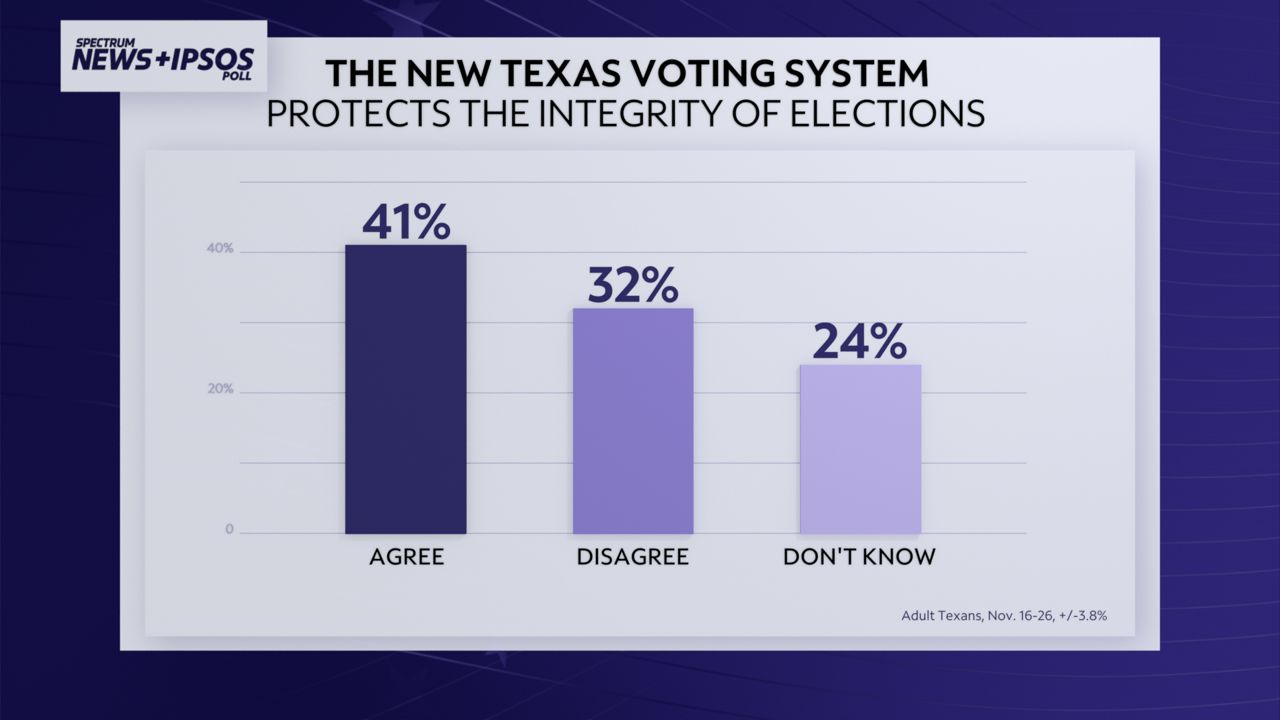 About one in three Texans surveyed in the Spectrum News/Ipsos poll last month said they disagreed that the new voting system would protect the integrity of elections, while 41% agreed that it would.