AUSTIN, Texas — The world's leaders are desperately trying to come up solutions to save the Earth. The United Nation's recent climate change report has renewed those efforts. Austin, Texas, is at the forefront of that conversation.
The city's goal is to be zero waste by 2040. To help achieve that goal, city leaders hosted a competition for sustainable small businesses. The creators of Locoal Charcoal are the winners. Co-founder Petey Peterson sounds like a scientist more than a business owner.
"It goes through a process called paralysis where it releases sin gas," Peterson said.
Locoal Charcoal takes commercial wood waste and then up-cycles it to create clean energy. Then from that waste they create biochar which filters soil and water.
"Our first proprietary rainmaker system, which is a waste-to-energy gasifier," he said.
Even though most of us have no idea what he's saying, you don't need a translator to hear the passion in his voice.
"There are 500 million pallets that go into our landfills every year and we're going to take all that and create clean energy for humanity," he said.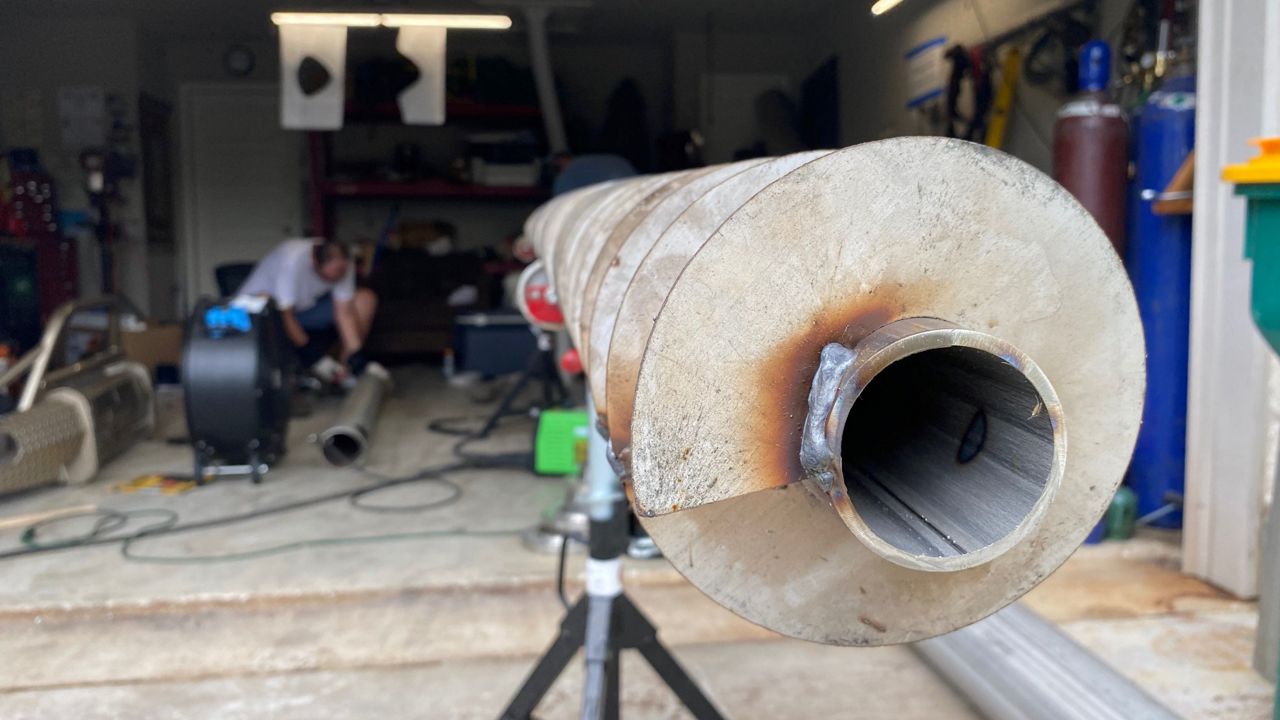 And "passion" is the word to describe all the team members of this sustainable startup.
"We filter the gas so cleanly that it can operate existing, commercial, off-the-shelf natural gas engines," CEO Miles Murray said.
"My desire and my passion has always been in renewable resources and to do what we can to protect and restore the environment," engineer Garrett Gordon said. "We need to bring the solution to the waste instead of bringing the waste to the solution."
The company is building is a portable garbage disposal, but it doesn't just get rid of waste. It turns old wood into new energy and profitable products, which might be why they call it the green piggy bank.
"It's about $5 for a pallet to be recycled, we can turn a $5 pallet into $13 of value," Murray said.
The reason why the Rainmaker won over city leaders at Austin's Circular Economy Showcase is because of how it can solve some of the planet's biggest problems, and some of the city's recent troubles like toxic algae.
Biochar can also filter toxic runoff flowing into area waterways, creating toxic algae that has killed seven dogs in the Austin area since 2019. City of Austin Chief Economic Recovery Officer Veronica Briseño says this idea isn't just great for the earth, it's also a big boost to the economy.
"We conducted an economic impact study in 2020 and as a result of that we saw that circular businesses support over $1 billion in our local economic activity and over 6,300 jobs," she said.
Locoal Charcoal has already created jobs in Central Texas. COO Joshua Rasey was actually a chef not too long ago until he lost his kitchen to the pandemic.
"I had no idea what biochar was," Rasey said.
The one impact not included in the business model was bringing old friends back together.
"He called me down to hang out and pitched it at me and I was like, I'm in," Timothy Parkison, company welder and fabricator, said. "Now it's more than a reunion, it's uh, haha, we're definitely committed."
Like Parkison, most of the team are veterans, who all served in the army together.
"We said, hey, instead of deploying overseas to go to war, how about we fight a war on climate change right now," Murray said.
Now this platoon of soldiers is taking on a different kind of fight, to save the Earth. Locoal Charcoal beat out nine other innovative entrepreneurs to win a grand prize of $3,000.
Peterson says right now they have a few products on the market, but the team found at least 55 applications for biochar. He says the Rainmaker machine should be ready in the next few months.