SAN MARCOS, Texas — Jada Gipson is laying the foundation for her football dreams.
She started with the equipment team at Texas State University, but for the past two seasons, the senior has been a student assistant coach for the Bobcats. It's her first step in a coaching career that she's eyed for years.
"Coach Spav [Jake Spavital] has done a great job of letting me be involved in everything and treating me the same as anyone else and giving me the same opportunity," Gipson said.
Her desire to coach football at first didn't seem attainable. Women like Kathryn Smith and Katie Sowers changed Gipson's outlook when they became full-time coaches in the National Football League a few years ago.
"I knew I wanted to coach but I didn't think I could, because I haven't seen anyone do it," Gipson said. "When I saw people do it, I was like alright, it's possible now."
Now Gipson is one of the women helping change sideline demographics.
"When I first started reaching out to them, it was early on," said Gipson about contacting other female coaches. "They're like, 'you're in a good position, just keep growing every day, learning and grinding'."
Gipson was one of 40 participants at the NFL Women's Careers in Football Forum in February. This summer, she was selected for a Bill Walsh Diversity Coaching Fellowship with the Cleveland Browns.
"I worked with the defensive backs, learning from coach Brandon Lynch," Gipson said. "It was awesome. He's an awesome coach, awesome person to learn from. He taught me everything."
It's another line on a coaching resume that keeps growing.
"She shows up every single day," said Texas State coach Jake Spavital. "This is a tough profession. It's early mornings, long nights, especially when you're a student. She's putting that time in."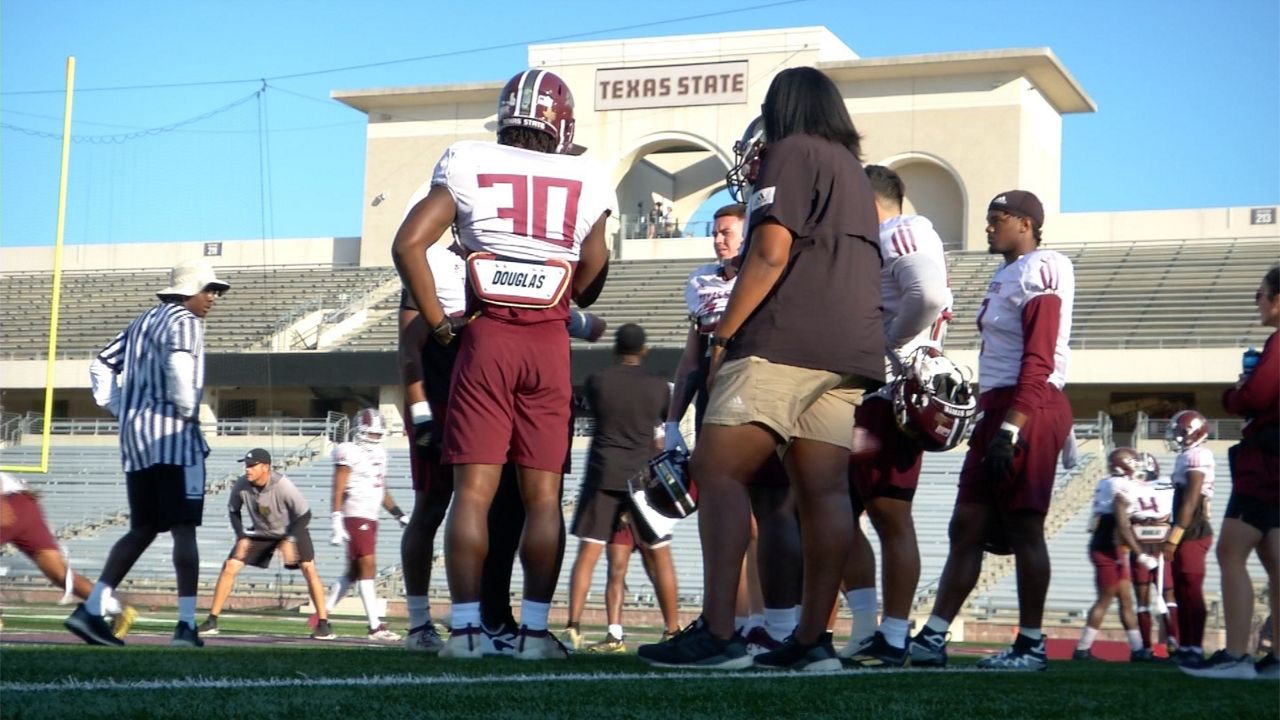 She's also earning the admiration of Bobcats players in the process.
"They trust me," said Gipson, who helps coach the inside linebackers. "They respect me enough to know that I know what I'm doing to help them."
This work could make Gipson the first full-time female assistant at the FBS level after she graduates in the spring.
"I trust myself. I know that I know the information," Gipson said. "I'm learning each and every day. I just need to keep improving."
"She's a valuable asset for our program and I think she's got a very bright future in this profession," Spavital said.
It's a profession she now wants others to break into, too.
"When I didn't know anything, I reached out to the coaches in the NFL," Gipson said. "They helped me, so I'm trying to share my knowledge with the younger coaches trying to come up in the business."
Her presence is changing the makeup on the sidelines, and the football coaching fraternity, for years to come.